Open Access
Article
Readily Available Chiral Benzimidazoles-Derived Guanidines as Organocatalysts in the Asymmetric α-Amination of 1,3-Dicarbonyl Compounds
Received: 25 July 2017 / Revised: 7 August 2017 / Accepted: 9 August 2017 / Published: 11 August 2017
PDF Full-text (1145 KB) | HTML Full-text | XML Full-text | Supplementary Files
Abstract
The synthesis and the evaluation as organocatalysts of new chiral guanidines derived from benzimidazoles in the enantioselective α-amination of 1,3-dicarbonyl compounds using di-t-butylazodicarboxylate as aminating agent is herein disclosed. The catalysts are readily synthesized through the reaction of 2-chlorobezimidazole and a
[...] Read more.
The synthesis and the evaluation as organocatalysts of new chiral guanidines derived from benzimidazoles in the enantioselective α-amination of 1,3-dicarbonyl compounds using di-
t
-butylazodicarboxylate as aminating agent is herein disclosed. The catalysts are readily synthesized through the reaction of 2-chlorobezimidazole and a chiral amine in moderate-to-good yields. Among all of them, those derived from (
R
)-1-phenylethan-1-amine (
1
) and (
S
)-1-(2-naphthyl)ethan-1-amine (
3
) turned out to be the most efficient for such asymmetric transformation, rendering good-to-high yields and moderate-to-good enantioselectivities for the amination products.
Full article
►

▼

Figures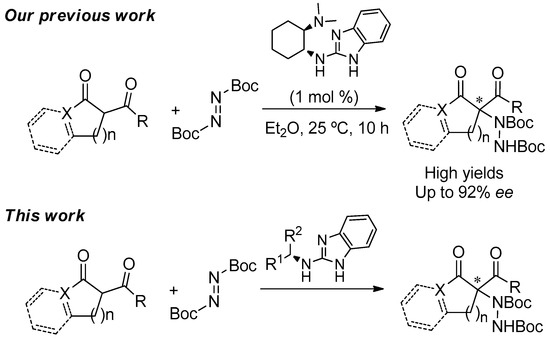 Figure 1