Open Access
Article
Expedient Organocatalytic Syntheses of 4-Substituted Pyrazolidines and Isoxazolidines
Received: 9 November 2016 / Revised: 24 November 2016 / Accepted: 28 November 2016 / Published: 1 December 2016
PDF Full-text (1699 KB) | HTML Full-text | XML Full-text | Supplementary Files
Abstract
The efficient organocatalytic synthesis of heterocyclic systems of biological relevance is a subject of growing interest. We have found that the pyrrolidine/benzoic acid-catalyzed reaction of α-substituted propenals such as methacrolein, 2-benzylpropenal and 2-(n-hexyl)propenal with activated hydrazines takes place in very good
[...] Read more.
The efficient organocatalytic synthesis of heterocyclic systems of biological relevance is a subject of growing interest. We have found that the pyrrolidine/benzoic acid-catalyzed reaction of α-substituted propenals such as methacrolein, 2-benzylpropenal and 2-(
n
-hexyl)propenal with activated hydrazines takes place in very good yields (83%–99.6%) under very mild conditions to afford 4-substituted pyrazolidin-3-ols (as diastereomer mixtures); subsequent oxidation with PCC affords the corresponding-4-substituted-3-pyrazolidinones in essentially quantitative yields. In a similar way, 4-substituted isoxazolidinones are obtained with
N
-Cbz-hydroxylamine as a reagent. The use of chiral diarylprolinol trimethylsilyl ethers as catalysts allows the synthesis of several of these compounds in optically active form, in some cases with excellent enantioselectivity (up to 96:4 er). A preliminary evaluation of the biological activity shows that some of these compounds exhibit interesting antibacterial and antifungal activities.
Full article
►

▼

Figures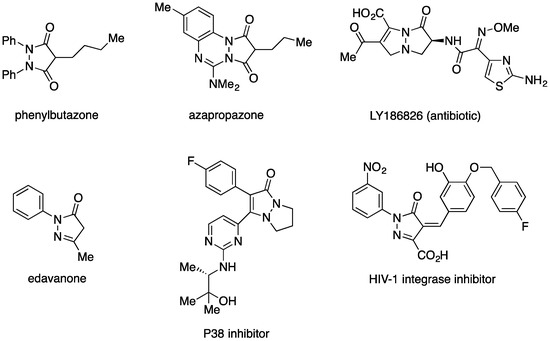 Figure 1