Open Access
Review
NHC-Based Iron Sensitizers for DSSCs
Received: 25 May 2018 / Revised: 15 June 2018 / Accepted: 15 June 2018 / Published: 19 June 2018
Cited by 1 | PDF Full-text (12647 KB) | HTML Full-text | XML Full-text
Abstract
Nanostructured dye-sensitized solar cells (DSSCs) are promising photovoltaic devices because of their low cost and transparency. Ruthenium polypyridine complexes have long been considered as lead sensitizers for DSSCs, allowing them to reach up to 11% conversion efficiency. However, ruthenium suffers from serious drawbacks
[...] Read more.
Nanostructured dye-sensitized solar cells (DSSCs) are promising photovoltaic devices because of their low cost and transparency. Ruthenium polypyridine complexes have long been considered as lead sensitizers for DSSCs, allowing them to reach up to 11% conversion efficiency. However, ruthenium suffers from serious drawbacks potentially limiting its widespread applicability, mainly related to its potential toxicity and scarcity. This has motivated continuous research efforts to develop valuable alternatives from cheap earth-abundant metals, and among them, iron is particularly attractive. Making iron complexes applicable in DSSCs is highly challenging due to an ultrafast deactivation of the metal–ligand charge-transfer (MLCT) states into metal-centered (MC) states, leading to inefficient injection into TiO
2
. In this review, we present our latest developments in the field using Fe(II)-based photosensitizers bearing
N
-heterocyclic carbene (NHC) ligands, and their use in DSSCs. Special attention is paid to synthesis, photophysical, electrochemical, and computational characterization.
Full article
►

▼

Figures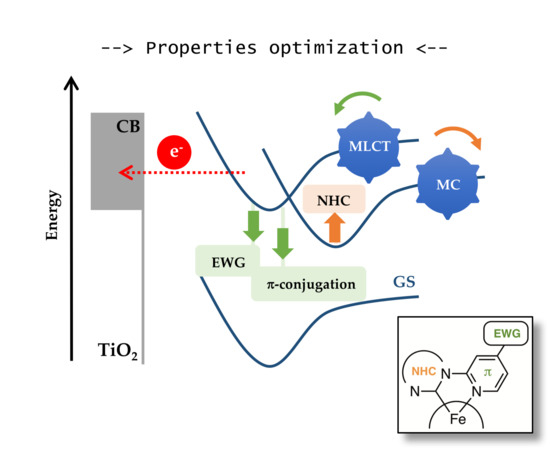 Graphical abstract