Trap Nesting Wasps and Bees in Agriculture: A Comparison of Sown Wildflower and Fallow Plots in Florida
1
Steinmetz Hall, Department of Entomology and Nematology, University of Florida, Natural Area Dr., Gainesville, FL 32611, USA
2
Upland Habitat Research & Monitoring, Wildlife Research Laboratory, Fish and Wildlife Research Institute (FWRI), 1105 SW Williston Road, Gainesville, FL 32601, USA
3
Wildlife International, Progress Park, Alachua, FL 32615, USA
4
McGuire Center for Lepidoptera and Biodiversity, Florida Museum of Natural History, 3215 Hull Road, P.O. Box 112710, Gainesville, FL 32611-2710, USA
*
Authors to whom correspondence should be addressed.
Academic Editors: Andrew G. S. Cuthbertson and Archie K. Murchie
Received: 18 September 2017 / Revised: 29 September 2017 / Accepted: 7 October 2017 / Published: 10 October 2017
Abstract
Wildflower strip plantings in intensive agricultural systems have become a widespread tool for promoting pollination services and biological conservation because of their use by wasps and bees. Many of the trap-nesting wasps are important predators of common crop pests, and cavity-nesting bees that utilize trap-nests are important pollinators for native plants and many crops. The impact of wildflower strips on the nesting frequency of trap-nesting wasps or bees within localized areas has not been thoroughly investigated. Trap-nests made of bamboo reeds (
Bambusa
sp.) were placed adjacent to eight 0.1 ha wildflower plots and paired fallow areas (control plots) to determine if wildflower strips encourage the nesting of wasps and bees. From August 2014 to November 2015, occupied reeds were gathered and adults were collected as they emerged from the trap-nests. Treatment (wildflower or fallow plots) did not impact the number of occupied reeds or species richness of trap-nesting wasps using the occupied reeds. The wasps
Pachodynerus erynnis
,
Euodynerus megaera
,
Parancistrocerus pedestris
, and
Isodontia
spp. were the most common trap-nesting species collected. Less than 2% of the occupied reeds contained bees, and all were from the genus
Megachile
. The nesting wasp and bee species demonstrated preferences for reeds with certain inside diameters (IDs). The narrow range of ID preferences exhibited by each bee/wasp may provide opportunities to take advantage of their natural histories for biological control and/or pollination purposes.
View Full-Text
►

▼

Figures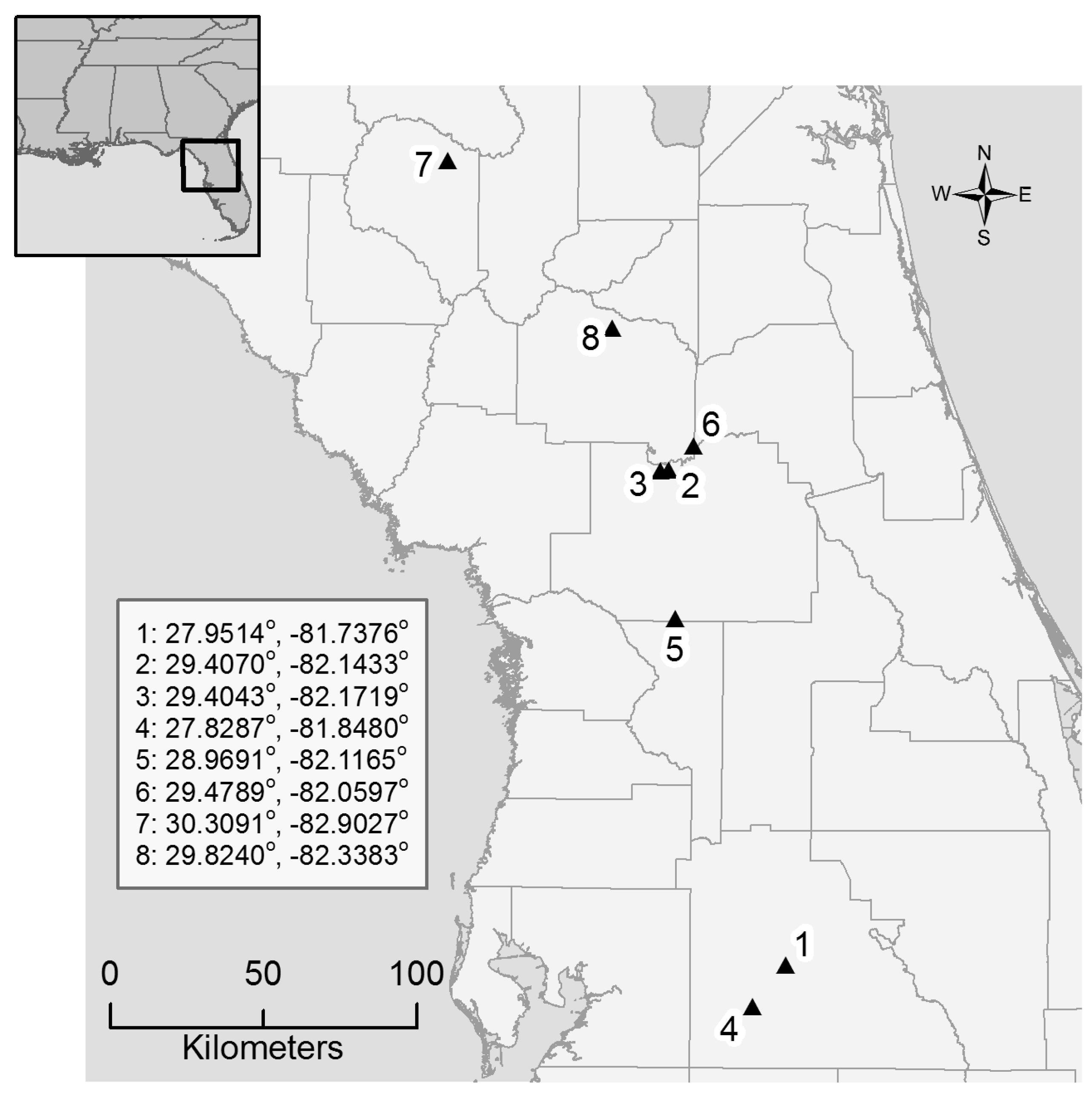 Figure 1
This is an open access article distributed under the
Creative Commons Attribution License
which permits unrestricted use, distribution, and reproduction in any medium, provided the original work is properly cited. (CC BY 4.0).
Share & Cite This Article
MDPI and ACS Style
Campbell, J.W.; Smithers, C.; Irvin, A.; Kimmel, C.B.; Stanley-Stahr, C.; Daniels, J.C.; Ellis, J.D. Trap Nesting Wasps and Bees in Agriculture: A Comparison of Sown Wildflower and Fallow Plots in Florida. Insects 2017, 8, 107.
Note that from the first issue of 2016, MDPI journals use article numbers instead of page numbers. See further details here.
Related Articles
Comments
[Return to top]