Open Access This article is
freely available
re-usable
Review
Targets and Mechanisms of Photodynamic Therapy in Lung Cancer Cells: A Brief Overview
Department of Biologia e Patologia Cellulare e Molecolare "L. Califano" - Università Federico II, Via S. Pansini, 5 80131 Naples, Italy
*
To whom correspondance should be addressed; Tel.: + 39 081 7463249.
†
These authors contributed equally to this work.
Received: 31 December 2010; in revised form: 20 February 2011 / Accepted: 1 March 2011 / Published: 3 March 2011
Abstract
: Lung cancer remains one of the most common cancer-related causes of death. This type of cancer typically develops over a period of many years, and if detected at an early enough stage can be eliminated by a variety of treatments including photodynamic therapy (PDT). A critical discussion on the clinical applications of PDT in lung cancer is well outside the scope of the present report, which, in turn focuses on mechanistic and other aspects of the photodynamic action at a molecular and cellular level. The knowledge of these issues at pre-clinical levels is necessary to develop, check and adopt appropriate clinical protocols in the future. This report, besides providing general information, includes a brief overview of present experimental PDT and provides some non-exhaustive information on current strategies aimed at further improving the efficacy, especially in regard to lung cancer cells.
Keywords:
photodynamic therapy; photosensitizers; lung cancer cells
1. Photodynamic Therapy in Cancer
1.1. General Concepts
Photodynamic therapy (PDT) is a minimally invasive approach used in oncology that is based on the administration (systemic or topical) of a photosensitizer (PS) agent followed by light activation. The ensuing rapid and intense oxidative burst, results in cytotoxic toxic effects that, in ideal conditions, kill tumor cells sparing the healthy ones.
Since its initial application, PDT continues to find increasing application to treat or relieve the symptoms of selected cases of certain types of malignancies including esophageal, head and neck, breast, prostate, bladder, skin, and lung tumors. Numerous clinical trials are under way to evaluate its use for cancers of the brain, prostate, cervix, and peritoneal cavity (pancreas, intestines, stomach, and liver).
In more recent years, researchers have continued to explore new strategies to improve the effectiveness of PDT, whose adverse effects are essentially limited to prolonged residual photosensitivity. Initially the major research focus was on the development of more powerful photosensitizers. Researchers have also investigated how to improve the light sources and the characteristics of the activating light that can penetrate tissue and treat deep or large tumors. A more recent field of investigations considers the possibility of merging PDT with other conventional therapies as radio, immuno- or chemo-therapy. The rationale of this combined approach is based on the possibility of reducing the dose of the most toxic component (drug, X radiation) preserving the overall therapeutic efficacy. Selective photosensitizer delivery is another current field of investigation.
The word "phototherapy" was introduced about one century ago to indicate the treatment of cutaneous tuberculosis with ultraviolet light [1,2]. Just a few years later researchers observed that a combination of light and certain chemicals could be exploited to induce tissue-damage. In this regard, von Tappeiner and Jesionek [3] used eosin and white light to kill skin tumor cells in patients. However, the current concept of photodynamic therapy and subsequent clinical use has began more recently, less than 50 years ago, thanks to the pioneering work of Thomas Dougherty. In this paper the authors showed that the topical administration of a photosensitizable molecule, namely hematoporphyrin IX, and red light, successfully eradicated mammary and bladder tumor in mice [4]. Following this initial success in animal models, PDT was introduced in human therapy. Since then several trials, almost everywhere in the world, have been conducted to evaluate the use of PDT for cancers of the brain, skin, prostate, cervix, intestines, stomach, and liver, lung and others. Unfortunately, in many cases, success has been considered only partial. Today, except a few exceptions, PDT in clinics is used to eradicate pre-malignant, selected early-stage cancers and to reduce the tumor size in end-stage cancers.
The question is: can PDT be further improved? Could it find increased efficiency when used in combination with conventional therapy? May it strike exclusively and specifically the cancer cells, sparing healthy ones? To answer these questions, a lot of work has to be done with regard to several aspects of PDT including having a better knowledge of the nature of the tumor cell, the nature and properties of the photosensitizer, characterization of specific sub-cellular targets of PDT and understanding the effective cytotoxic mechanism.
1.2. Photosensitizers
Among the several photosensitizers (PS) available, very few have been selected for clinical trials owing to many important factors. They include selectivity in terms of target cells versus healthy cells, suitable extinction coefficients and accumulation rates in target tissues, stable composition and a chemical nature that may facilitate the entrance in the cell avoiding precipitation in aqueous environments [5]. The recent introduction of nanocarriers has partially modified this view, in that the properties of the PS may be not so important and that specificity toward target tissues may be improved using specific drug delivery strategies, whose detailed discussion is out of the scope of the present review [5].
Photosensitizers are generally classified as porphyrins or non-porphyrins. Porphyrin-derived PS, in turn are classified as first, second or third generation PS.
First-generation PS are hematoporphyrin, its derivative HpD, and the purified, commercially available and yet largely employed Photofrin. This molecule originally approved for use in humans in 1993 in Canada, is now the PS most commonly used in Europe for the treatment of advanced stage lung cancer; in Japan and Europe for early-stage oesophageal, gastric and cervical cancer; and in the United States for advanced esophageal cancer [6,7].
Beside the absence of intrinsic toxicity, other advantages offered by Photofrin include the possibility of using small drug doses, the good clearance from normal tissue and possibility of repeated administrations without serious consequences (but prolonged photosensitivity) for the neoplastic patient [8,9].
The "second generation" PS include benzoporphyrin derivative, chlorins, phthalocyanines and texaphrins as well as naturally occurring compounds, such as hypericin, and substances that promote the production of the endogenous protoporphyrin IX (PpIX) as 5-aminolevulinic acid (5-ALA) and some related esters [10].
Delta (or 5)-aminolevulinic acid (5-ALA) is a stable molecule [11] that behaves as a pro-drug, since it is metabolically converted to the photo-sensitizable protoporphyrin IX. Both 5-ALA and PpIX are naturally occurring intermediates in heme biosynthesis. Normally, heme inhibits the endogenous formation of excess 5-ALA by a negative feedback control mechanism, thereby avoiding natural PpIX photosensitization [12]. However, the presence of exogenous 5-ALA bypasses this regulatory mechanism and results in the intracellular accumulation of PpIX. Following application (that can be systemic or topical, as required), high concentrations of the potent endogenous PS protoporphyrin IX (PpIX) are generated in neoplastic cells that become sensitive to light. In addition to good tumor selectivity, 5-ALA-induced PpIX is characterized by limited systemic toxicity and low skin photosensitization [13]. It is interesting to underline that several Authors have reported that PpIX accumulation is made easy in tumors because the particular porphyrin metabolism in malignant tissues that are characterized by high cellular turnover [14-18].
Besides the peak corresponding to the Soret band at about 405 nm, PpIX has additional absorption peaks namely at 510, 545, 580 and 630 nm (Q-bands). The last wavelength has found application in clinics because red light penetrates into the skin deeper [19].
Hypericin is a phenanthro-perylene-quinone, naturally occurring in plants of the genus Hypericum, especially Hypericum perforatum. Hypericin salts produce wine-red solutions in organic solvents with absorbance maxima around 595 nm [20].
The photosensitizing properties of hypericin were first recognized in animals observing cutaneous photosensitivity following the ingestion of very large quantities of Hypericum plants and exposure to sunlight [21].
Although hypericin is an interesting alternative to chemically synthesized photosensitizers, it absorbs in a spectral region in which the light penetration is limited. Hypericin, in fact, has an action spectrum that peaks around 595 nm, and does not absorb light above 630 nm. Attempts to shift the absorption spectrum of hypericin by chemical modification achieved only partial success so its potential in clinical PDT mainly lies in the treatment of superficial lesions [22,23].
Ongoing clinical work is addressing the potential of hypericin as the PS of choice in bladder cancer PDT. This is because of its attested, specific accumulation in urothelial carcinoma lesions and its proven safety and efficacy as a diagnostic tool when administered intravesically [24,25]. Reports on the localization of hypericin following cellular uptake indicate a general association with lipid membranes including the endoplasmic reticulum the Golgi apparatus [26] and lysosomes [27]. Currently hypericin alone or in combination is the object of some interesting in vitro [28] and in vivo [29,30] investigations which have important implications for recurrent breast cancer therapy.
An extremely potent second generation PS approved in Europe for the palliative treatment of neck and head cancers is the meso-tetra-hydroxyphenyl-chlorine (named Foscan or Temoporfin). This molecule, which has been shown to have a short plasma half-life in humans, is hydrophobic in nature, is strongly photoactivable at 652 nm with very high singlet oxygen yield while appearing to preferentially accumulate in tumor cells [2,31-33]. In addition, beside a direct damage to tumour cells, the curative effect of Foscan is also attributed to its pharmacokinetic behavior that causes intense and sustained vascular damage [34].
Another PS that deserves particular mention is Talaporfin sodium (TS) ((+)-tetrasodium (2S,S)-18-carboxylato-20-[N-(S)-1,2-dicarboxylatoethyl]-carbamoylmethyl-13-ethyl-3,7,1,17-tetramethyl-8-vinylchlorin-2-propanoate) a second-generation PS with a core chlorin structure containing a highly aromatic system. The very good water solubility and the shorter half-life make TS an attractive drug [35]. In preclinical experiments, activation of Talaporfin sodium with laser light at 664 nm generated singlet oxygen in a drug dose-dependent fashion. The depth of treatment is dependent on the ability of light to penetrate the target tissue with enough photons to activate the drug. Singlet oxygen causes significant alteration of macromolecules via oxidation of biological substrates such as DNA, membrane lipids, cholesterol and solvated molecules [36]. Preclinical studies have demonstrated that TS activation induces also systemic, tumor-specific immuno-modulation mediated by CD8+ T cells which involves up-regulation of both cytolytic and memory cells [37] and microvessels closure that may help in overcoming tumor resistance [38,39].
An incomplete list of photosensitizers used in clinics, clinical trials or at preclinical stages is indicated in Table 1.
3. Subcellular Targets of PDT
The main damages induced by PDT occur where the photoactivable agents localize within the cell [61]. Sensitizers can accumulate almost everywhere within the cell; there they cause specific detrimental effects. Nevertheless, mitochondria and endoplasmic reticulum represent the preferential targets [6].
4. PDT in Lung Cancer Cells
When high doses of light directly hit a cancer cell, sufficient oxygen radicals are generated to kill cells rather instantaneously. However not all cells in a tumor are exposed directly to light. Inner cell layers, in fact, are reached by progressively lower light doses. In this instance the commitment events as well as the modality of cell death induced by PDT are more complex.
Below an overview of the principal cellular and molecular effects that have been observed is reported.
4.1. Instant and Delayed Lethal Effects
4.2. Cellular and Molecular Effects in Cells Surviving PDT
4.2.1. Cell Cycle
The ultimate effects of a photodynamic treatment on cancer cell lines depend on several factors. Efficient cell death (necrosis or apoptosis) is observed when light, oxygen and the photosensitizer are not limiting ("high dose PDT"). When one of these components is defect ("low dose PDT"), cells may face different fates including apoptosis, autophagy and senescence through activation of specific molecular pathways. Most of them require an initial cell cycle arrest. Up to now only limited data report cell cycle arrest after PDT in lung cancer cells and most of them have been obtained in our laboratory. In this regard, studying non-small cell lung cancer cell line H1299, we observed that Photofrin/PDT targeted G0/G1 phase inducing simultaneously a significant reduction in Bcl-2 expression [124]. This finding coincides with previous observations reporting that the light activation of specific photosensitizers involve Bcl-2 degradation [109]. In A549 and H1299 lung adenocarcinoma cells, furthermore, we have demonstrated that PDT, causing an "early proteasome malfunctioning" induced a time limited G2/M phase arrest [110].
In general, however, literature data about cell cycle after PDT treatment in other cancer cell lines were contrasting. Vantieghem et al. demonstrated that hypericyn/PDT in HeLa cells caused a CDK1-mediated G2/M arrest and Bcl-2 phosphorylation in a dose and time-dependent manner delaying the onset of apoptosis [48].
In contrast G0/G1 arrest was observed upon photosensitization in other systems. For example, we observed accumulation of human breast cell cancer cells (MCF7) in this phase upon photosensitization with indocyanine green and infrared laser. This arrest was accompanied with the up-regulation of p21 and p53 expression levels and transient destruction of Bcl-2 [125]. Similar observations were reported by Ahmad et al. studying silicon phthalocyanine Pc4/PDT photoactivation in A431 human epidermoid carcinoma cells. In this case the observed G0/G1 cell cycle arrest was associated with inhibition of the expression and activity of the two CDK2 and CDK6 cyclin kinases and of their regulatory partners cyclin E and cyclin D1 [126]. The role of different cyclin upon PDT treatment has been, indeed, more closely investigated. It is known that the D/CDK4/6, A/CDK2 and E/CDK2 complexes are all involved in the phosphorylation of Rb during the cell cycle. The observed decreases in CDKs expressions in photosensitized cells may well explain the reduction in Rb phosphorylation. Such a reduction caused by PDT may ultimately be responsible for the induction of WAF1/CIP1/p21 and the consequent cycle arrest [127]. This has been, in addition, directly observed by photoactivating silicon phthalocyanine Pc4 in vivo in OVCAR-3 tumor xenografts (athymic nude) and in vitro (human ovarian carcinoma cells) [128].
The hypo-phosphorylated status of Rb, furthermore involved the inhibition of E2F family of transcription factors, with important consequences on cell cycle. In this regard, the photodynamic response of human epidermoid carcinoma A431 cells (lung) sensitized with silicon phthalocyanine Pc4, was accompanied by a down-regulation of all five members of the E2F transcription factor family [129].
4.2.2. MAPK and Akt
Mitogen-activated protein (MAP) kinases are serine/threonine-specific protein kinases that act in response to extracellular stimuli (i.e., mitogens, osmotic and oxidative stress, heat, cytokines) and master cell activity including gene expression, mitosis, differentiation, proliferation, and survival/apoptosis. Three distinct MAPK pathways have been described: the extracellular signal-regulated kinase (ERK) cascade which is usually triggered by mitogens, the c-Jun N-terminal kinase and the p38 MAP kinase cascades that are both activated in response to chemical and environmental stimuli [130,131]. As these kinases are strongly implicated in the biology of cancer cells, their signaling pathways have been chosen as important targets for purposely designed drugs [132,133]. Since MAPKs are sensitive to oxidative stress, it is not surprising that PDT may elicit their activation and function as effectors of cell response [71]. Nevertheless their functions in the regulation of cell death/survival have not been yet fully elucidated, and remain controversial. In fact, these stress kinases have been reported, from time to time, to promote [134] or to protect from apoptosis [135].
Similarly controversial, is the function of Akt kinase. This protein rules other survival pathways that are oxidation sensitive and therefore, also responsive to PDT. As reported in a few studies, it may apparently induce cell survival or apoptosis according to specific conditions determined by variables [136-138]. Besides other vaguely defined conditions, the action of Akt (as that of the stress kinases ERK, p38 and JNK) appear to depend on cell type, photosensitizer used and light doses. As far as lung cancer cells are concerned, no literature data are available. However, preliminary findings from our laboratory regarding the effects of 5-ALA/PDT on two lung adenocarcinoma cell lines indicate that Akt was rapidly upregulated while ERK activation was dependant on the particular cell phenotype [123].
4.2.3. NF-κB
Since its discovery in the late 1980s, a tremendous number of reports have been published concerning the role of the nuclear factor-kappa B (NF-κB) and its implication in a variety of physiological (organ development, cell survival, proliferation and migration) and pathological processes (including cancer).
NF-κB activation has been granted a positive role as it can cause tumor destruction by eliciting the onset of the immune defense. Interesting enough, NF-κB is also involved in the modulation of the expression of antiapoptotic genes which, in apparent contrast with the previous statement, may favor tumor cell survival, especially in response to pharmacological induction of apoptosis [139,140]. Another feature that characterizes NF-κB is its possible involvement in tumor recurrence because it may upregulate the expression of specific factors stimulating proliferation and angiogenesis [141].
As the effects of PDT on NF-κB activation and function in cancer cells are concerned, not surprisingly, contentious conclusions have been gathered [142]. To now this apparent behavioral dichotomy in activity has not yet been fully deciphered; in this regard, however, it has been hypothesized that a particular mechanism of NF-κB activation and successive function depends on the photosensitizer used as well as the specific cell type studied [143].
We are not aware of specific studies on PDT-mediated regulation of NF-κB in lung cancer cells, however, current experimental activity in our laboratory has enlightened an important involvement as pro-survival factor in cell response to 5-ALA/PDT [123].
4.2.4. Proteasome
The synthesis of NF-κB precursor or the degradation of NF-κB suppressor can be regulated by the proteasome [144,145]. Then the proteasome activity strictly influences the NF-κB activity. Proteasome substrates include signaling molecules, tumor suppressors, cell cycle regulators, transcription factors, inhibitory molecules, anti-apoptotic proteins as Bcl-2 and others [146]. When the degradation of these proteins is interrupted, the effect is particularly significant in rapidly dividing cancer cells, which need continuous supply of growth-promoting proteins to sustain the accelerated and uncontrolled proliferation [147]. Inhibition of the proteasome may therefore arrest or retard cancer progression by interfering with the ordered degradation of cell-cycle proteins and other factors, including NF-κB.
PDT and proteasome activity in lung adenocarcinoma cells has been extensively studied in our laboratory [110]. In this study, while it was proven that sublethal Photophrin/PDT reversibly inhibited proteasome activity within a short time following the photosensitization, we demonstrated that inhibition of the proteasome through specific inhibitors (Bortezomib or even Aspirin) could synergistically strengthen the therapeutic effect of photodynamic therapy.
5. Current and Expected Approaches
5.1. Combination Therapy
Several preclinical studies and some clinical trials suggest that the use of PDT in combination with standard antineoplastic drugs may become a workable anticancer strategy [2,148].
Indeed, this approach may present several potential advantages as, in the most favorable conditions, it may allow the reduction of the dosage of individual drugs and consequently the lessening of important side effects, while the overall efficacy may be preserved or even augmented. This concept may also be applied to a combined therapy that merges PDT with more traditional treatments such as specific drugs. However, combination protocols are far from being established as the final therapeutic outcome, even in vitro, it appears to depend on assorted (cellular and/or molecular) factors. Several years ago, it was generically indicated that the combination of Adriamycin and Hematoporphyrin-Derivative/PDT may have potentiated the photodynamic effect in an in vivo transplantable mouse tumor assay [149]. More recently, Ma et al. [150] demonstrated in a murine model that the combination of Meso-tetra(di-adjacent-sulfonatophenyl)-porphine/PDT with vincristine (a microtubule inhibitor), enhanced antitumor activity. However, it was reported that this favorable event occurred only when PDT was administered to animals within a defined time span. Another combined PDT-based strategy to treat cancer used in preclinical models, proposed a photosensitizable dye conjugated to monoclonal antibodies raised against tumor specific antigens [151]. While some success was reported, some drawbacks are immediately apparent since the use of large molecules (such as monoclonal antibodies) in PDT is complicated by the difficult synthesis of dye-antibody complex and also the potential toxicity which is not easy to predict [152,153].
At a molecular level, we and others observed that doses of drugs used as standard regimen for first-line treatment of advanced non-small-cell lung cancer and Photofrin/PDT were far more effective in killing H1299 cells when used in combination with specific antineoplastic drugs [124]. This paper is the first to report that the additivity in combined therapy takes place often, but synergy occurs only when the two approaches used in combination (i.e., two different drugs or PDT plus a specific drug), exert disjointed activities on cell cycle [124]. This conclusion was also supported by more recent observations on esophageal cells describing PDT in combination with an anticancer drug [154].
5.2. Drug Delivery and Nanoparticles
The obvious ways to improve PDT efficacy require the development of new photosensitizers, optimization of protocols and precise dosimetry [155]. However, even for PDT, innovation in drug delivery and precise targeting may be a real breakthrough.
Drug delivery is one of the main challenges in medicine to be overcome today. PDT does not make an exception. In this regard, nanoparticles represent an emerging strategy that show great promise for PDT to carry suitable sensitizers directly to the diseased cell, sparing, if possible, the healthy ones. A major disadvantage of nanoparticles is their susceptibility to be taken up by the macrophages after intravenous administration. However, it has been demonstrated that coating nanoparticles with polyethylene glycol (PEG) enhances their circulation time in the bloodstream, so facilitating the accumulation in tumors [157]. As far as photosensitizers and PDT are concerned, several approaches (namely, liposomes, oil-dispersions, polymeric particles and hydrophilic polymer–PS conjugates, etc.) have been proposed, with encouraging results [157]. In particular, it has been recently reported the use of dendrimer phthalocyanine (DPc)-encapsulated non active polymeric micelles as basis for lung cancer-related photodynamic treatment. These nanoparticles have been successfully used, in fact, either in vitro or in vivo in human lung adenocarcinoma A549 cells and in mice bearing subcutaneous A549 tumors, respectively [158]. In both experimental systems the authors claimed significantly higher PDT efficiency as compared to the traditional modality of drug administration due to the specific photosensitizer localization in cellular mitochondria [158].
A more direct and specific localization of the photosensitizer with increased efficiency and selectivity can be accomplished by active targeting. This approach relies on conjugates that contain a receptor-targeting moiety and photosensitizer that, not only increases the affinity of the binding moiety to the receptor or antigen on the targeted cell surface, but also allows for a lower effective dose of the PDT drug [159].
6. Conclusions
Over the last three decades and more, researchers have continued to study new ways to improve the effectiveness of PDT and diffuse its use in human therapy. During this time the enthusiasm has incessantly alternated with coolness. For this we must ask ourselves what does the future hold for PDT? This is difficult to predict but, as this short overview may have indicated, the multidisciplinary nature of this approach allows substantial room for improvement in the near future.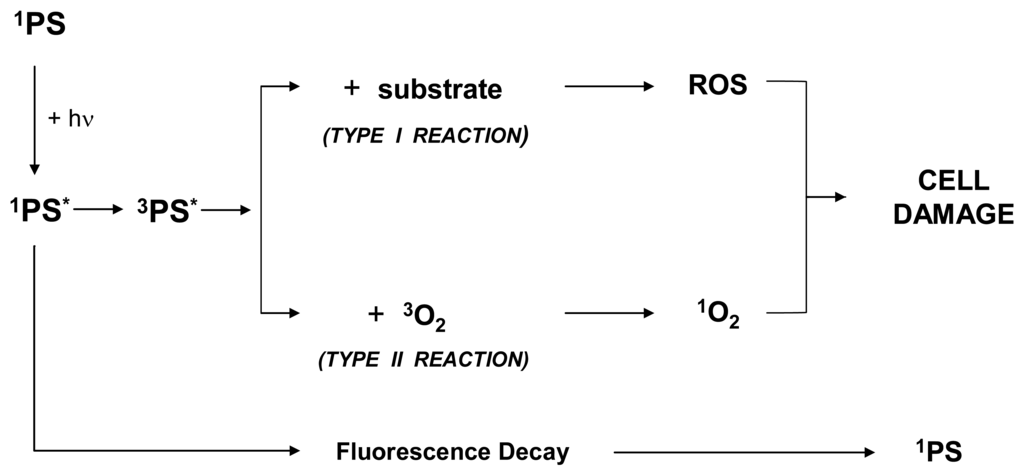 Scheme 1. Formation of Reactive Oxygen Species (ROS) according to Photo-Type I and Type II reactions. hν indicates an excited photon; 1PS and 3PS* denote the photosensitizer in its ground and excited states; all molecular components of a living cell are comprised under the expression "substrate". ROS (including 1O2) are the ultimate species responsible for cell damage.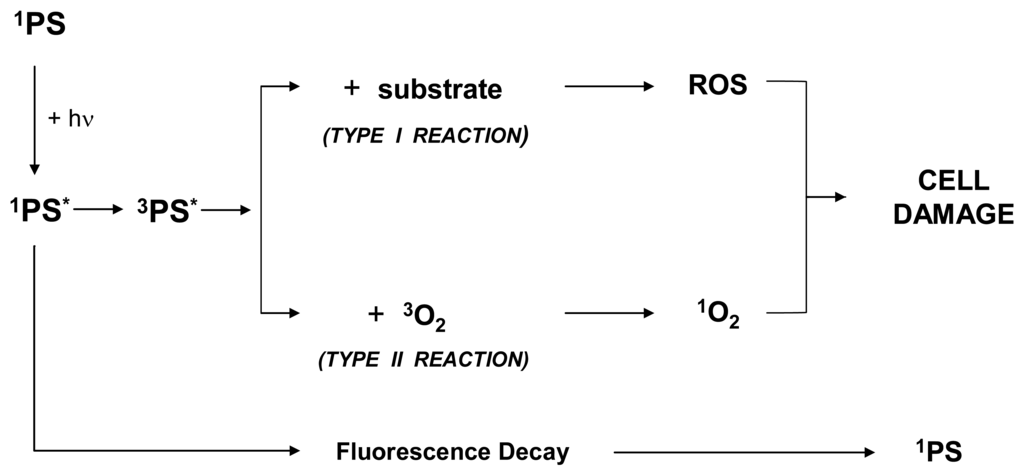 Table 1. Photosensitizers commonly used in

in vitro

and

in vivo

studies.

| Photosensitizer | Trade name | Reported applications | ∼ λ (nm) |
| --- | --- | --- | --- |
| Porfimer Na | Photofrin | Cervix, advanced and early lung, bladder, superficial gastric, brain, esophageal cancers. | 630 |
| m-THPC | Foscan | | 650 |
| BPD-MA | Verteporfin | Basal cell carcinoma | 690 |
| 5-ALA | Levulan | Basal carcinoma, head and neck cancer, gynecological cancer | 635 |
| Mono-asparylchlorin e6 or Taloporfin Na, Npe6 | Laserphyrin | Early endobronchial carcinoma. Preclinical studies | 664 |
| Disulfonate-Al phtalocyanine | Photosens | Head and neck. Preclinical studies | 650–800 |
| [5,10,15,20]-tetraks-m-hydroxil phenyl-chlorin | SQN 400 mTHPBC | Liver metastasis, preclinical studies. | 740 |
| Pd-bact-pheophorbide | Tookad | Prostate. Preclinical studies | 763 |
| 2-[1-hexyloxyethyl]-2-divinyl pyropheophobide | HPPH Photochlor | Esophageal cancer. Preclinical studies | 665 |
| Sulfonated aluminium phtalocyanines | ALPcSn | Animal studies, cell lines | 650–700 |
| Hypericin | | Cell lines | 550–590 |
| Indocyanine green | ICG | Cell lines | 790 |
© 2011 by the authors; licensee MDPI, Basel, Switzerland. This article is an open access article distributed under the terms and conditions of the Creative Commons Attribution license (http://creativecommons.org/licenses/by/3.0/).