Anti-Tumor Effects of an Oncolytic Adenovirus Expressing Hemagglutinin-Neuraminidase of Newcastle Disease Virus in Vitro and in Vivo
1
Department of Gastroenterology, The First Hospital of Jilin University, Changchun 130021, China
2
Institute of Military Veterinary, Academy of Military Medical Sciences of PLA, Changchun 130122, China
3
Department of Gynaecology and Obstetrics, China-Japan Union Hospital of Jilin University, Changchun 130031, China
4
Head and Neck Surgery, The Tumor hospital of Jilin province, Changchun 130001, China
5
The Key Laboratory of Jilin Province for Zoonosis Prevention and Control, Changchun 130021, China
*
Authors to whom correspondence should be addressed.
Received: 20 January 2014 / Revised: 7 February 2014 / Accepted: 8 February 2014 / Published: 18 February 2014
Abstract
Oncolytic virotherapy has been an attractive drug platform for targeted therapy of cancer over the past few years. Viral vectors can be used to target and lyse cancer cells, but achieving good efficacy and specificity with this treatment approach is a major challenge. Here, we assessed the ability of a novel dual-specific anti-tumor oncolytic adenovirus, expressing the hemagglutinin-neuraminidase (HN) gene from the Newcastle disease virus under the human telomerase reverse transcriptase (hTERT) promoter (Ad-hTERTp-E1a-HN), to inhibit esophageal cancer EC-109 cells in culture and to reduce tumor burden in xenografted BALB/c nude mice.
In vitro
, infection with Ad-hTERT-E1a-HN could inhibit the growth of EC-109 cells significantly and also protect normal human liver cell line L02 from growth suppression in 3-(4,5-dimethylthiazol-2-yl)-2,5-diphenyltetrazolium bromide (MTT) assays. Ad-hTERT-E1a-HN also effectively and selectively decreased the sialic acid level on EC-109 cells, but not on L02 cells. Furthermore, Ad-hTERT-E1a-HN was shown to induce the apoptosis pathway via acridine orange and ethidium bromide staining (AO/EB staining), increase reactive oxygen species (ROS), reduce mitochondrial membrane potential and release cytochrome c.
In vivo
, xenografted BALB/c nude mice were treated via intratumoral or intravenous injections of Ad-hTERT-E1a-HN. Although both treatments showed an obvious suppression in tumor volume, only Ad-hTERT-E1a-HN delivered via intratumoral injection elicited a complete response to treatment. These results reinforced previous findings and highlighted the potential therapeutic application of Ad-hTERT-E1a-HN for treatment of esophageal cancer in clinical trials.
View Full-Text
►

▼

Figures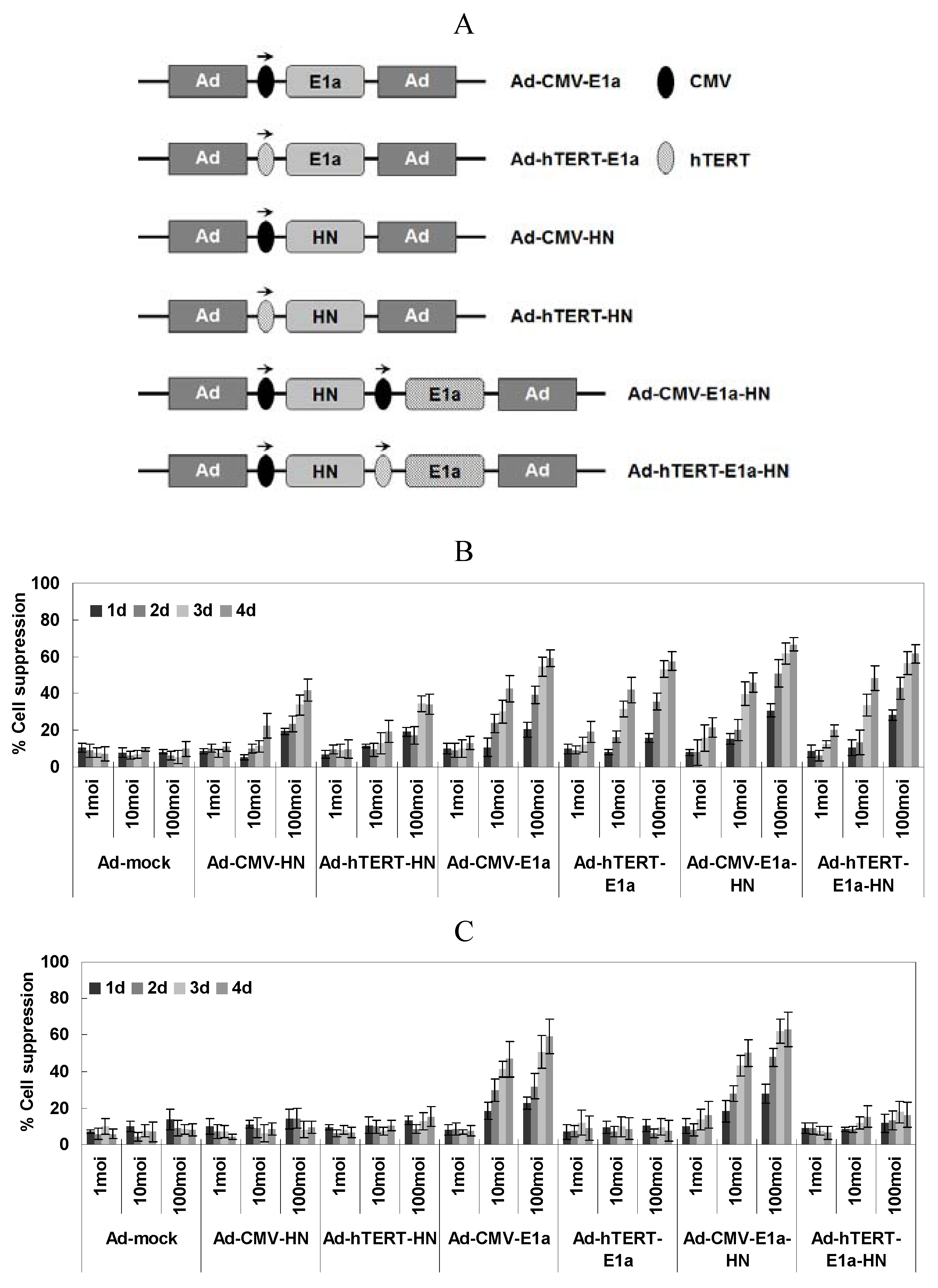 Figure 1
Share & Cite This Article
MDPI and ACS Style
He, D.; Sun, L.; Li, C.; Hu, N.; Sheng, Y.; Chen, Z.; Li, X.; Chi, B.; Jin, N. Anti-Tumor Effects of an Oncolytic Adenovirus Expressing Hemagglutinin-Neuraminidase of Newcastle Disease Virus in Vitro and in Vivo. Viruses 2014, 6, 856-874.
Related Articles
Comments
[Return to top]