Open Access This article is
freely available
re-usable
Article
Design and Calibration of an Organic Diffusive Probe to Extend the Diffusion Gradient Technique to Organic Pollutants
1
Department of Chemical Technology, Lipetsk State Technical University, 398600 Lipetsk, Russia; E-Mail:
antonina_vlad@lipetsk.ru
2
Dipartimento di Fisica e Ingegneria dei Materiali e del Territorio, Università Politecnica delle Marche, 60131 Ancona, Italy; E-Mail:
d.sani@univpm.it
*
Author to whom correspondence should be addressed; E-Mail:
m.l.ruello@univpm.it
; Tel.: +39-0712204726; Fax: +39-0712204729.
Received: 20 July 2011 / Accepted: 11 August 2011 / Published: 15 August 2011
Abstract
: The objective of this study was to develop a method for measuring the mobility of persistent organic pollutants in the solid phase of soils within the context of environmental pollution risk assessment. A new diffusive probe, purposely designed by adapting the diffusive gradient technique method, measures labile organic species by immobilizing them after diffusion through a thin deionized water layer. The measure of the mass accumulated is used to calculate the flow of pollutant from solid phase to pore water. Naphthalene was chosen as a model persistent organic pollutant. The probe was calibrated at different temperatures and was then tested in several microcosms at different porosity and reactivities with naphthalene (one clay soil, two sandy soils and one natural soil). The probe response showed good agreement with the expected different abilities of the solid phases in restoring the solution phase. The concentration of naphthalene in the pore water was well buffered by rapid equilibria with the solid phase in the investigated natural soil. In contrast, pore water concentration in the sandy soils decreased rapidly and the flow was slackened, especially for the sandy soil with finer particles. In clay, only a fraction of the total naphthalene content was present in the labile fraction, while the remaining was tightly bound and was not released to the pore water. Therefore, this first stage of testing points out that the diffusive gradient technique, if optimized, can properly quantify the mobility of organic pollutants in soil.
Keywords:
pollutant mobility; DGT; persistent organic pollutant; passive sampling; risk assessment in soil
The authors thank the "Istituto Nazionale per il Commercio Estero" (ICE) for funding the international mobility between the Lipetsk State Technical University and the Università Politecnica delle Marche in the framework of the research project N° 053 Prot. ICE 1181/2 17/10/2008, and Silvia Mangialardo for her kindly and competent support in project management.
References
Christie, S; Teeuw, RM. Varied policy of European union states on contaminated land.

Environ. Impact Assess. Rev

1998,

18

, 175–197.

Ministerio de Agricultura.

In

Pesca y Alimentacion

; Boletin Oficial del Estado: Madrid, Spain, 1998;

Volume 131

, p. 18069.

Decreto Ministeriale N°. 471, 25-10-1999. Gazzetta Ufficiale della Repubblica Italiana N°. 293, 15-12-1999 (Supplemento Ordinario N°. 218/L).

Istituto Poligrafico e Zecca dello Stato: Roma, Italy, 1999.
Rodrigues, SM; Pereira, ME; da Silva, EF; Hursthouse, AS; Duarte, AC. A review of regulatory decisions for environmental protection: Part II—The case-study of contaminated land management in Portugal.

Environ. Int

2009,

35

, 214–225.
Ehlers, GAC; Loibner, AP. Linking organic pollutant (bio)availability with geosorbent properties and biomimetic methodology: A review of geosorbent characterisation and (bio)availability prediction.

Environ. Pollut

2006,

141

, 494–512.
Moolenaar, SW; Van Der Zee, SEATM; Lexmond, TM. Indicators of the sustainability of heavy-metal management in agro-ecosystems.

Sci. Total Environ

1997,

201

, 155–169.
Marschner, H.

Mineral Nutrition of Higher Plants

, 2nd ed ed.; Academic Press: London, UK, 1995.
Barriuso, E; Koskinen, WC; Sadowsky, MJ. Solvent extraction characterization of bioavailability of atrazine residues in soils.

J. Agric. Food Chem

2004,

52

, 6552–6556.
Arias-Estevez, M; Lopez-Periago, E; Martinez-Carballo, E; Simal-Gandara, J; Mejuto, J-C; Garcia-Rio, L. The mobility and degradation of pesticides in soils and the pollution of groundwater resources.

Agric. Ecosyst. Environ

2008,

123

, 247–260.
Houba, VJG; Lexmond, TM; Novozamsky, I; van der Lee, JJ. State of the art and future developments in soil analysis for bioavailability assessment.

Sci. Total. Environ

1996,

178

, 21–28.
Sposito, G.

The Chemistry of Soils

; Oxford University Press: New York, NY, USA, 1989.
Zhang, H; Davison, W. Performance characteristics of the technique of diffusion gradients in thin-films (DGT) for the measurement of trace metals in aqueous solution.

Anal. Chem

1995,

67

, 3391–3400.
Zhang, H; Davison, W; Grime, GW. New

In-Situ

procedures for measuring trace metals in pore waters.

Amer. Soc. Test Mat. STP 1293

1995, 170–181.
Zhang, H; Davison, W; Miller, S; Tych, W. In situ high resolution measurements of fluxes of Ni, Cu, Fe and Mn and concentrations of Zn and Cd in porewaters by DGT.

Geochim. Cosmochim. Acta

1995,

59

, 4181–4192.
Zhang, H; Davison, W; Knight, B; McGrath, S.

In Situ

measurements of solution concentrations and fluxes of trace metals in soils using DGT.

Environ. Sci. Technol

1998,

32

, 704–710.
Degryse, F; Smolders, E; Oliver, IW; Zhang, H. Relating soil solution Zn concentration to diffusive gradients in thin films measurements in contaminated soils.

Environ. Sci. Technol

2003,

37

, 3958–3965.
Lehto, NJ; Sochaczewski, Ł; Davison, W; Tych, W; Zhang, H. Quantitative assessment of soil parameter (KD and TC) estimation using DGT measurements and the 2D DIFS model.

Chemosphere

2008,

71

, 795–801.
DiGiano, FA; Elliot, D; Leit, D. Application of passive dosimetry to the detection of trace organic contaminants in water.

Environ. Sci. Technol

1988,

22

, 1365–1367.
Kingston, JK; Greenwood, R; Mills, GA; Morrison, GM; Persson, LB. Development of a novel passive sampling system for the time-averaged measurement of a range of organic pollutants in aquatic environments.

J. Environ. Monit

2000,

2

, 487–495.
Vrana, B; Allan, IJ; Greenwood, R; Mills, GA; Dominiak, E; Svensson, K; Knutsson, J; Morrison, G. Passive sampling techniques for monitoring pollutants in water.

Trends Anal. Chem

2005,

24

, 845–868.
Zhang, H; William, D. Diffusional characteristics of hydrogels used in DGT and DET techniques.

Anal. Chim. Acta

1999,

398

, 329–340.
Scally, S; Davison, W; Zhang, H. In Situ measurements of dissociation kinetics and labilities of metal complexes in solution using DGT.

Environ. Sci. Technol

2003,

37

, 1379–1384.
Tucker, WA; Nelken, LH.

Diffusion Coefficients in Air and Water.

In

Handbook of Chemical Property Estimation Methods. Environmental Behavior of Organic Compounds

; Lyman, WJ, Reehl, WF, Rosenblatt, DH, Eds.; McGraw-Hill: New York, NY, USA, 1982. Chapter 17.

ASTM D2487-10. Standard Practice for Classification of Soils for Engineering Purposes (Unified Soil Classification System)

; ASTM International: West Conshohocken, PA, USA, 2010. doi:10.1520/D2487-10.
Alexander, M. Aging, bioavailability of genotoxic compounds in soil.

Environ. Sci. Technol

2000,

34

, 1589–1593.
Nowack, B; Köhler, S; Schulin, R. Use of diffusive Gradients in Thin Films (DGT) in undisturbed field soils.

Environ. Sci. Technol

2004,

38

, 1133–1138.
Hooda, PS; Zhang, H; Davison, W; Edwards, AC. Measuring bioavailable trace metals by diffusive gradients in thin films (DGT): Soil moisture effects on its performance in soils.

Eur. J. Soil Sci

1999,

50

, 285–294.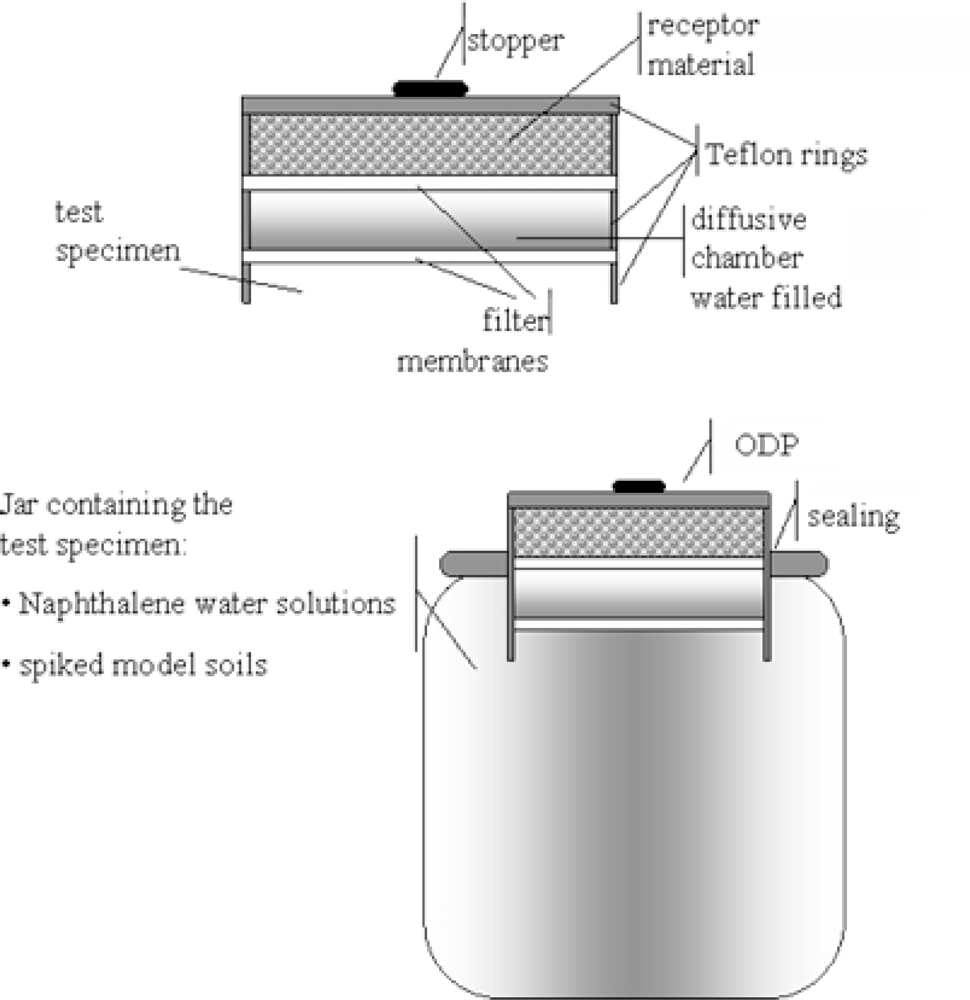 Figure 1. Organic diffusive probe (ODP) and testing device: schematic representations (not to scale).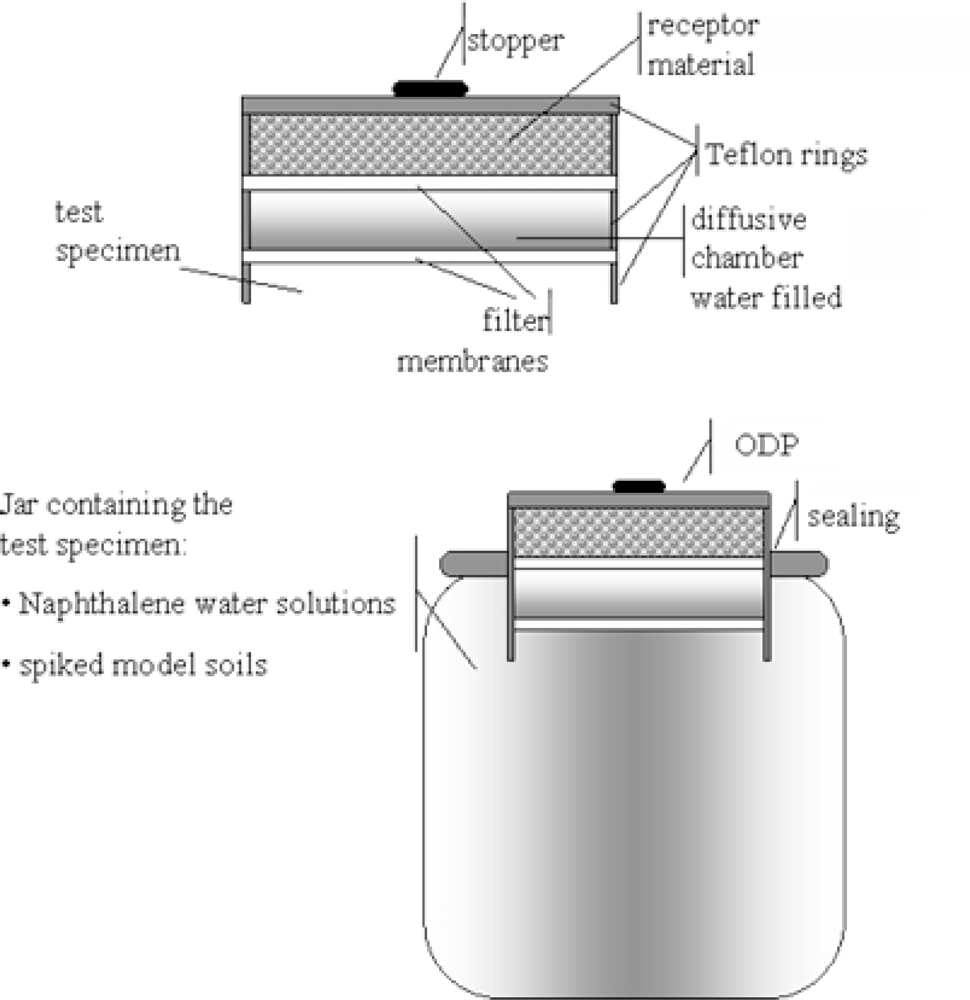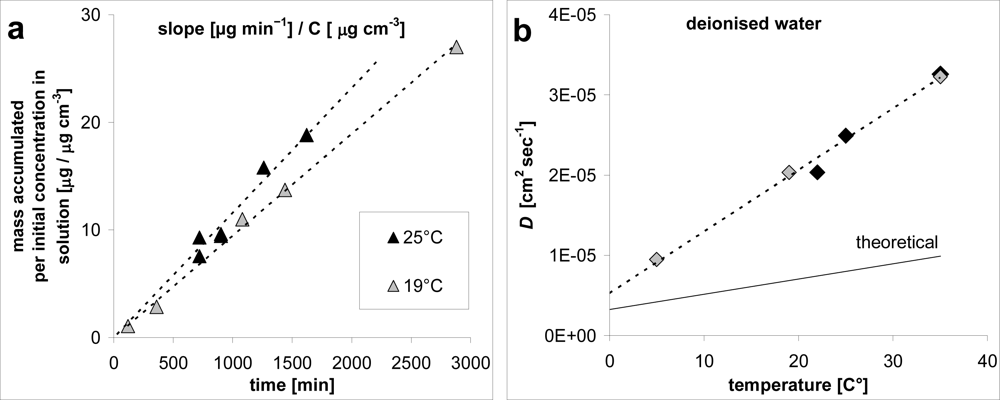 Figure 2.
Calibration of the ODP by calculating the diffusion coefficient (
D
). (
a
) Linear regression of the experimental data to obtain the slope (the data for only two temperatures are shown as an example). (
b
) Relations of
D
with temperature; each value of
D
is calculated with
Equation (1)
; black symbols indicate tests with activated carbon, grey symbols indicate tests with cyclohexane as receptor material.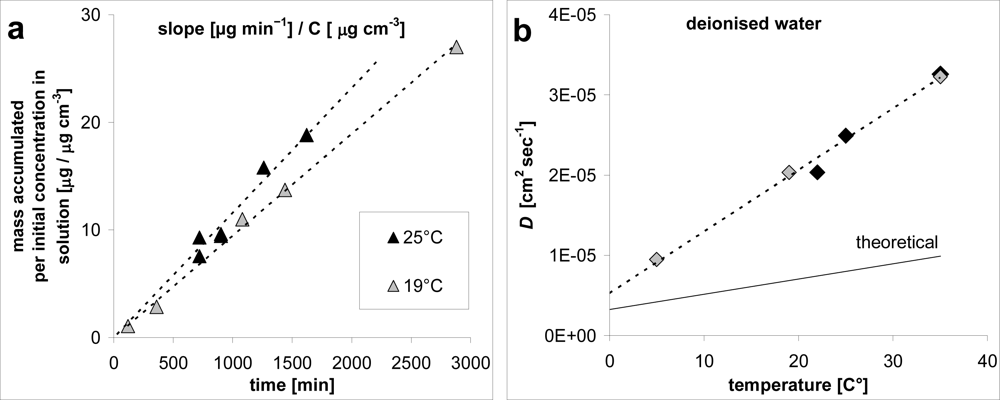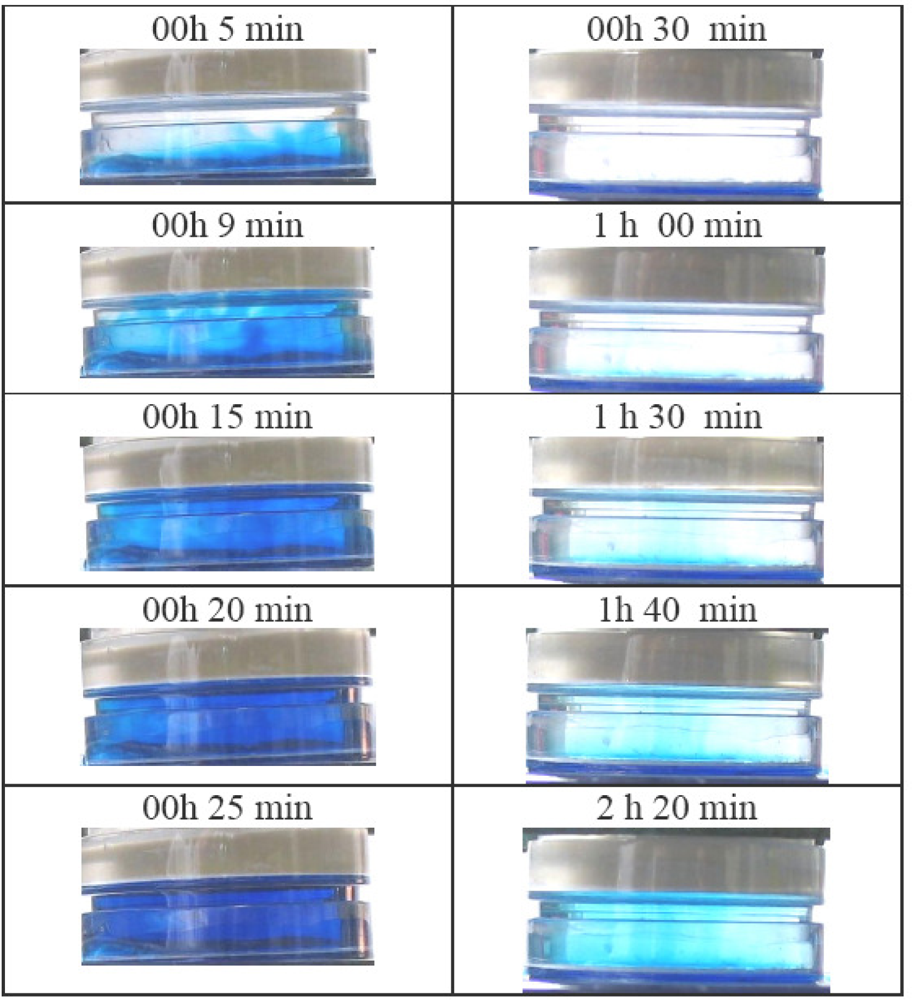 Figure 3. Methylene blue diffusion under stirred (left side) and unstirred (right side) conditions. The images focus the methylene blue diffusion in the diffusive chamber.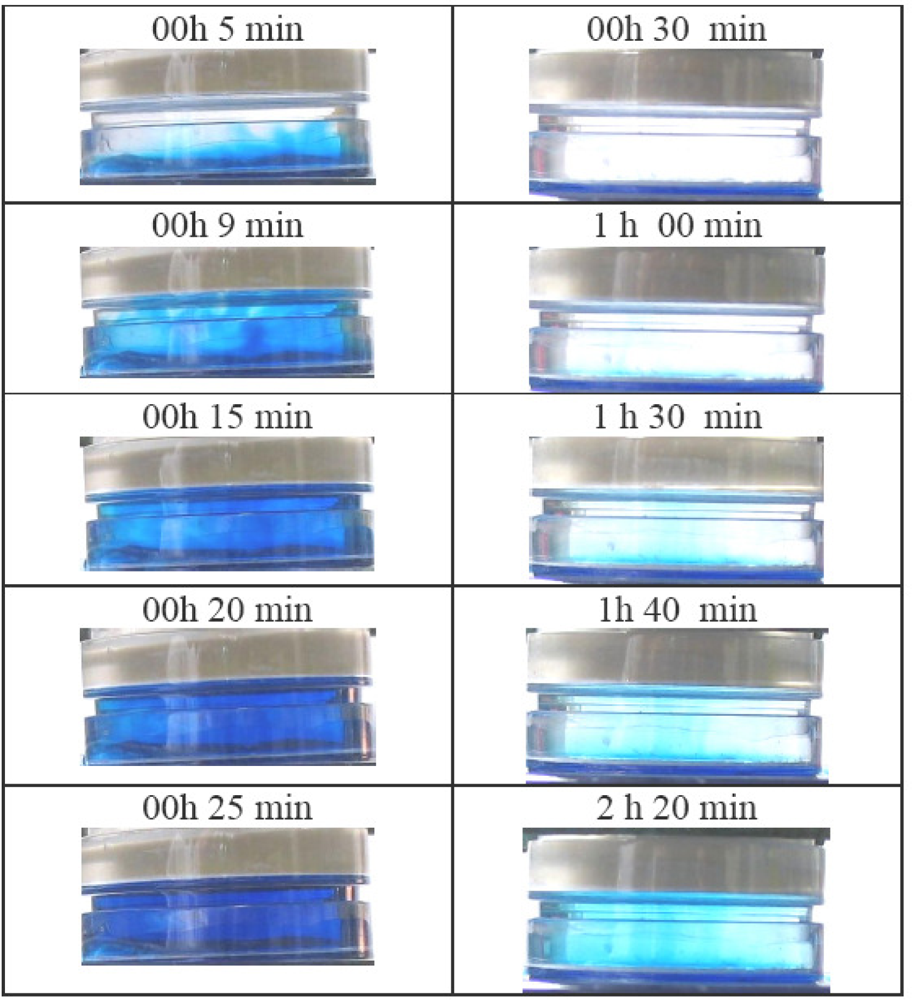 Figure 4. Isotherm of water vapor adsorption of the material used for testing the ODP performance.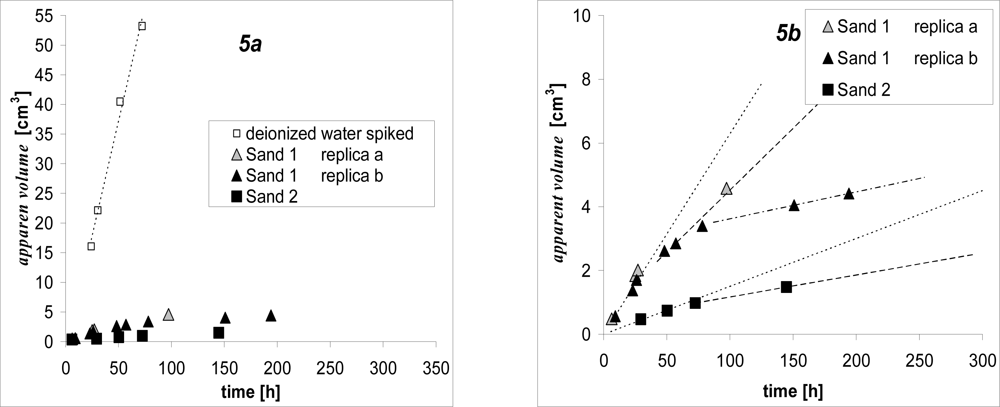 Figure 5.
Trend in time of the apparent volume sampled by the ODP in microcosms with
Unsustained
flux. (
a
) All the samples are compared with the apparent volumes measured in free solution of naphthalene (deionized water spiked). (
b
) The dotted, dashed and dotted-dashed lines are regression lines on small range of time, these lines point out the apparent volume continuing to increase more and more slowly over time. For Sand 1 there are only three lines because "replica a" and "replica b" were interpolated as one data set.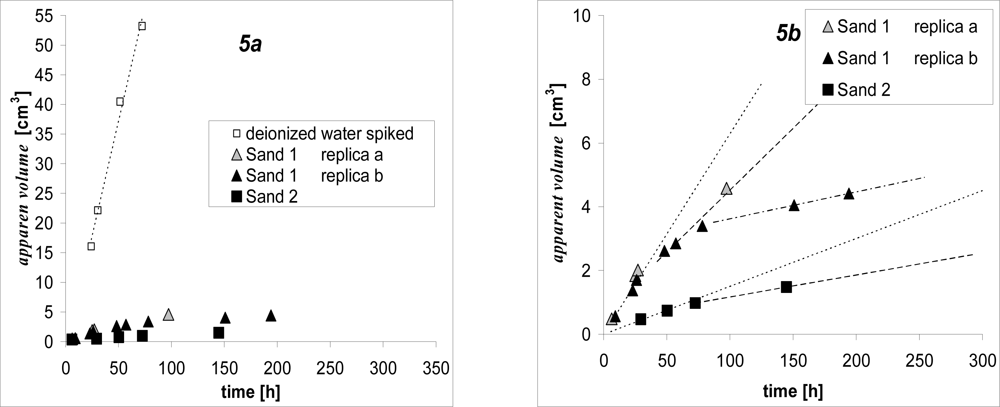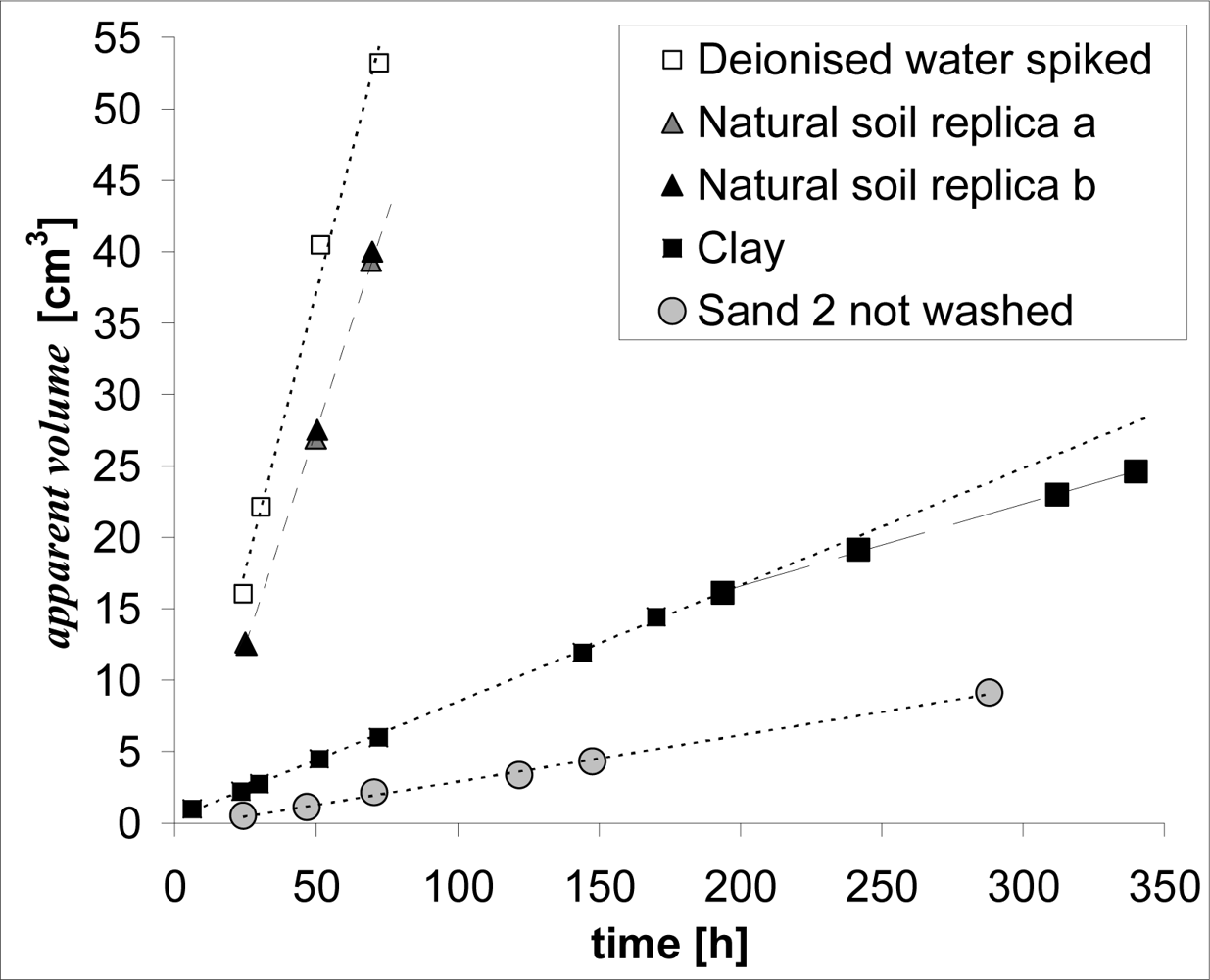 Figure 6.
Trend in time of the apparent volume sampled by the ODP in microcosm samples with
Partially Sustained
and
Fully Sustained
flux. Two lines are drawn for clay (the steeper line dotted, and the shallower line solid) to point out a lowering of flux due to presence of a fraction of naphthalene adsorbed in a kinetically inert manner.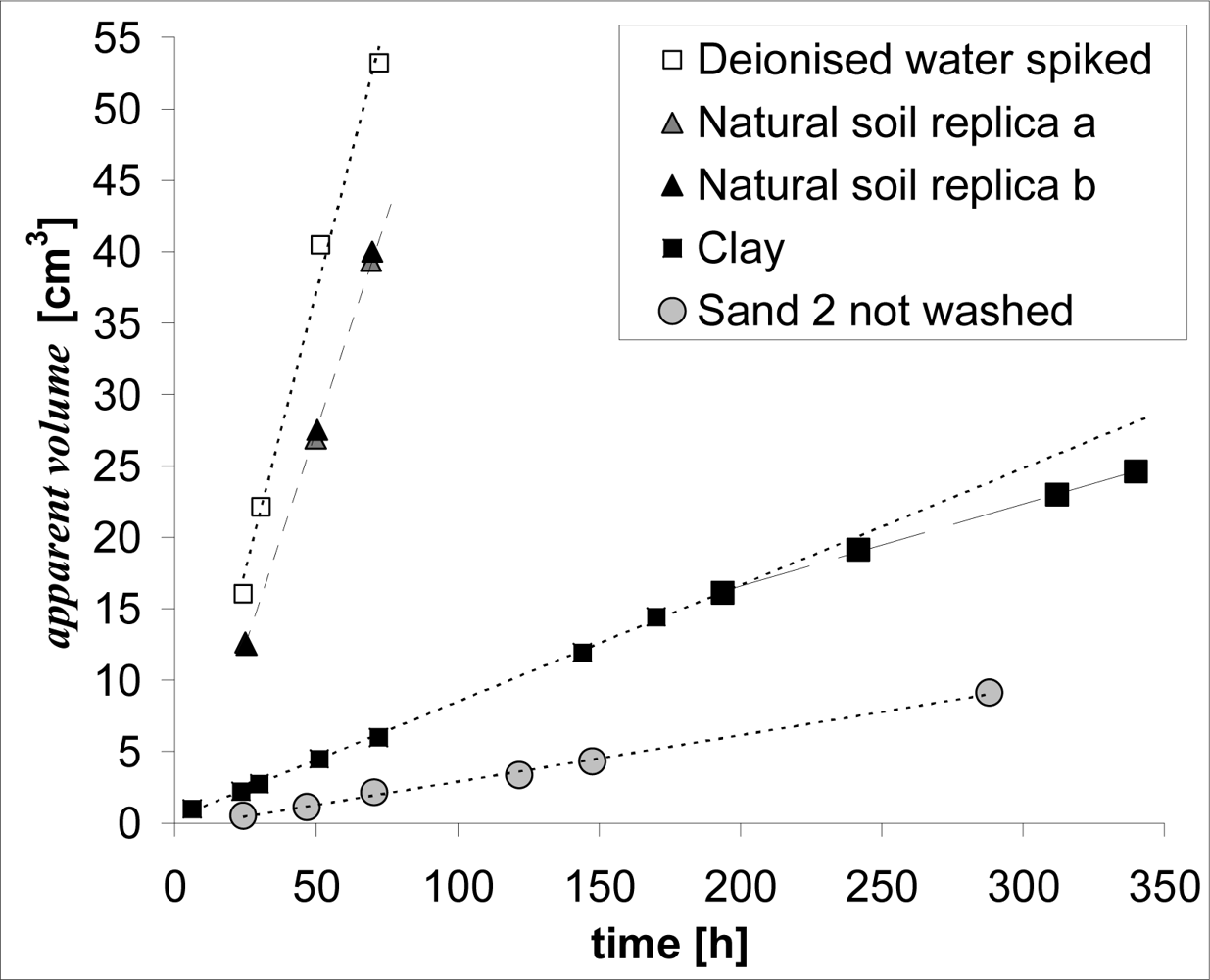 Table 1. Experimental values of diffusion coefficient (

D

).
Table 1. Experimental values of diffusion coefficient (

D

).
Temperature (°C)

D

(cm2 sec−1)
Regressive equation
n
R2
Material
5
9.50E-06
y = 7.368E-05x
6
9.957E-01
Cyclohexane
19
2.03E-05
y = 1.577E-04x
5
9.977E-01
Cyclohexane
35
3.22E-05
y = 2.500E-04x
4
9.632E-01
Cyclohexane
22
2.03E-05
y = 1.577E-04x
5
9.977E-01
Carbon
25
2.49E-05
y = 1.932E-04x
6
9.548E-01
Carbon
35
3.26E-05
y = 2.525E-04x
3
9.984E-01
Carbon
x (sec) = sampling time; y (cm3) = amount of naphthalene (μg) accumulated at prefixed time divided for the concentration of naphthalene (μg cm−3) in the test solution.
| | |
| --- | --- |
| | Table 2. Properties of the materials used as model soils. |
Table 2. Properties of the materials used as model soils.
(a)

---

Material
Particle size (mm)
Adsorptive monolayer capacity (mmol g−1)
Surface area (m2 g−1)
Limited sorption volume (cm3 g−1)
Sand 1
0.85–1.75
0.035
2.7
0.0009
Sand 2
0.21–0.355
0.056
4.2
0.0046
Clay (bentonite)
<0.075
1.39
105
0.253
(b)

---

Material
Particle size (mm)
Fine fraction (%)
Porosity (−)
pH
EC (μS/cm)
Natural soil (silty clay)
<0.05
76
0.55
8.16
221
© 2011 by the authors; licensee MDPI, Basel, Switzerland. This article is an open-access article distributed under the terms and conditions of the Creative Commons Attribution license (http://creativecommons.org/licenses/by/3.0/).