Open Access
Article
Bioactivity-Guided Screening of Wound-Healing Active Constituents from American Cockroach (Periplaneta americana)
Molecules 2018, 23(1), 101; doi:10.3390/molecules23010101 (registering DOI)
Received: 12 December 2017 / Revised: 30 December 2017 / Accepted: 31 December 2017 / Published: 20 January 2018
PDF Full-text (2783 KB) | HTML Full-text | XML Full-text | Supplementary Files
Abstract
Ethanol extract (EE) from Periplaneta americana (PA) is the main ingredient of Kangfuxin, which is a popular traditional chinese medicine (TCM) and has long been used for the clinical treatment of burns, wounds and ulcers. We compared the wound-healing activities of three extracts
[...] Read more.
Ethanol extract (EE) from
Periplaneta americana
(PA) is the main ingredient of Kangfuxin, which is a popular traditional chinese medicine (TCM) and has long been used for the clinical treatment of burns, wounds and ulcers. We compared the wound-healing activities of three extracts of PA using cutaneous wound-healing in mice as the bioactivity model. These three extracts were EE, total polysaccharide and total protein. We also tracked bioactive fractions in the EE by organic reagent extraction, column chromatography and HPLC. Seven compounds were successfully identified from the water elution fraction of the EE of PA using UPLC-MS. Among these compounds, four compounds (
P2
,
P3
,
P4
,
P5(1)
) were first reported in PA. Some of these compounds have been previously reported to have various pharmacological activities that could contribute to the high wound-healing activity of PA.
Full article
►

▼

Figures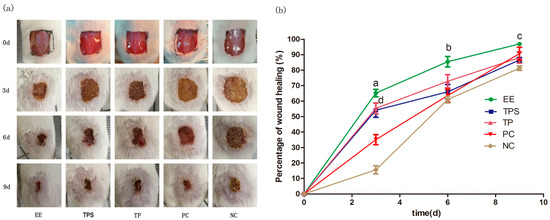 Figure 1