Increasing Phosphatidylinositol (4,5)-Bisphosphate Biosynthesis Affects Basal Signaling and Chloroplast Metabolism in Arabidopsis thaliana
1
Department of Plant and Microbial Biology, North Carolina State University, Raleigh, NC 27695, USA
2
DOE-Plant Research Laboratory, Michigan State University, East Lansing, MI 48824, USA
†
Present address: Monsanto Company, 700 W Chesterfield Parkway, Chesterfield, MO 63017, USA.
*
Author to whom correspondence should be addressed.
Received: 4 November 2013 / Revised: 18 December 2013 / Accepted: 20 December 2013 / Published: 3 January 2014
Abstract
One challenge in studying the second messenger inositol(1,4,5)-trisphosphate (InsP
3
) is that it is present in very low amounts and increases only transiently in response to stimuli. To identify events downstream of InsP
3
, we generated transgenic plants constitutively expressing the high specific activity, human phosphatidylinositol 4-phosphate 5-kinase Iα (
Hs
PIPKIα). PIP5K is the enzyme that synthesizes phosphatidylinositol (4,5)-bisphosphate (PtdIns(4,5)P
2
); this reaction is flux limiting in InsP
3
biosynthesis in plants. Plasma membranes from transgenic
Arabidopsis
expressing
Hs
PIPKIα had 2–3 fold higher PIP5K specific activity, and basal InsP
3
levels in seedlings and leaves were >2-fold higher than wild type. Although there was no significant difference in photosynthetic electron transport,
Hs
PIPKIα plants had significantly higher starch (2–4 fold) and 20% higher anthocyanin compared to controls. Starch content was higher both during the day and at the end of dark period. In addition, transcripts of genes involved in starch metabolism such as SEX1 (glucan water dikinase) and SEX4 (phosphoglucan phosphatase), DBE (debranching enzyme), MEX1 (maltose transporter), APL3 (ADP-glucose pyrophosphorylase) and glucose-6-phosphate transporter (Glc6PT) were up-regulated in the
Hs
PIPKIα plants. Our results reveal that increasing the phosphoinositide (PI) pathway affects chloroplast carbon metabolism and suggest that InsP
3
is one component of an inter-organelle signaling network regulating chloroplast metabolism.
View Full-Text
►

▼

Figures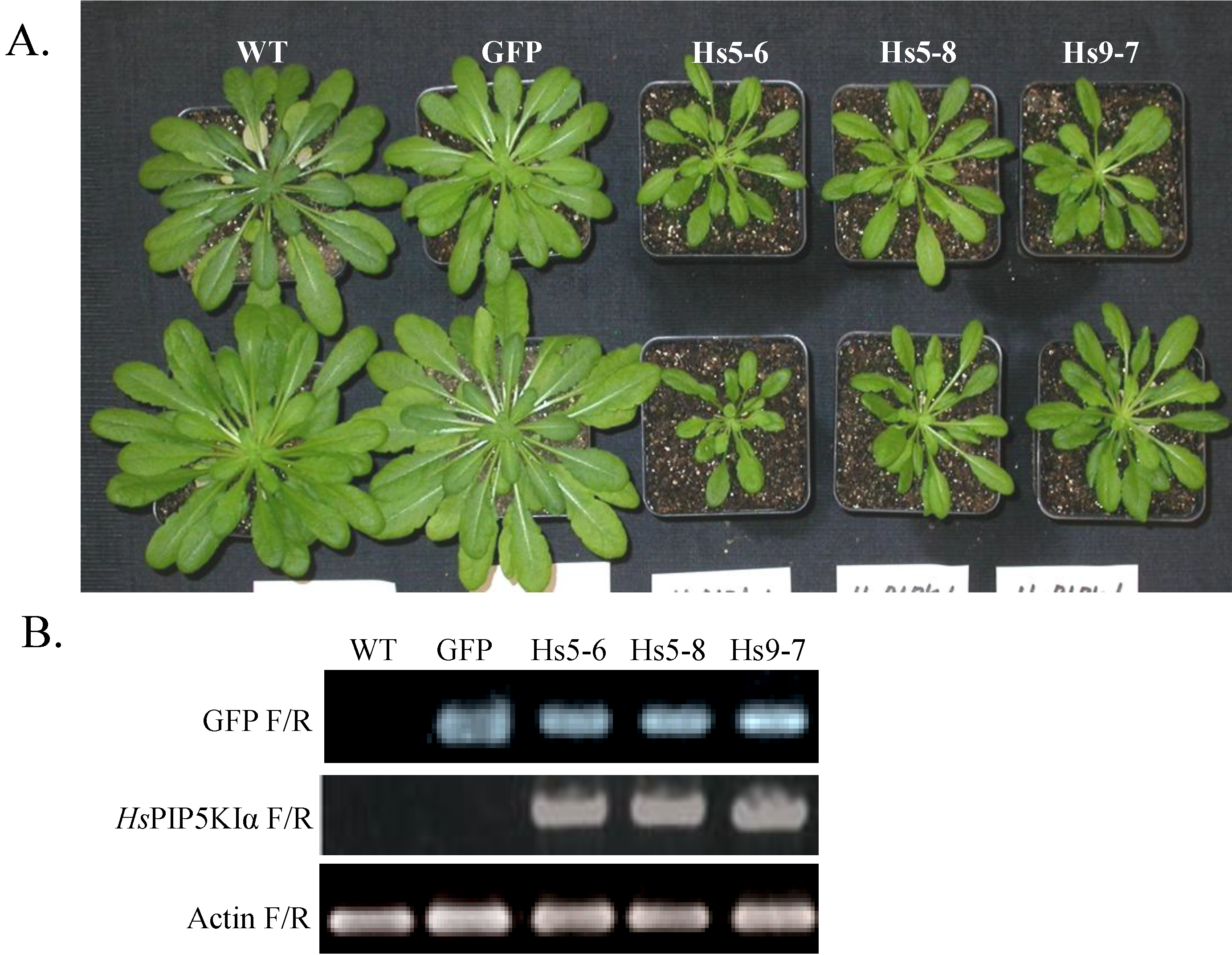 Figure 1
Share & Cite This Article
MDPI and ACS Style
Im, Y.J.; Smith, C.M.; Phillippy, B.Q.; Strand, D.; Kramer, D.M.; Grunden, A.M.; Boss, W.F. Increasing Phosphatidylinositol (4,5)-Bisphosphate Biosynthesis Affects Basal Signaling and Chloroplast Metabolism in Arabidopsis thaliana. Plants 2014, 3, 27-57.
Related Articles
Comments
[Return to top]