Identification of a Bioactive Compound against Adult T-cell Leukaemia from Bitter Gourd Seeds
1
Department of Pharmaceutical Health Sciences, School of Pharmaceutical Sciences, Kyushu University of Health and Welfare, 1714-1 Yoshino-machi, Nobeoka, Miyazaki 882-8508, Japan
2
Research Promotion Bureau for Collaboration of Regional Entities, Miyazaki Prefectural Industrial Support Foundation, 16500-2 Higashi-Kaminaka, Sadowara-cho, Miyazaki, Miyazaki 880-0303, Japan
3
Miyazaki Prefectural Food Research and Development Center, 16500-2 Higashi-Kaminaka, Sadowara-cho, Miyazaki, Miyazaki 880-0303, Japan
4
Department of Biochemical Science and Technology, Faculty of Agriculture, Kagoshima University, 1-21-24 Korimoto, Kagoshima, Kagoshima 890-0065, Japan
5
Miyazaki Agricultural Experiment Station, 5805 Shimonaka, Sadowara-cho, Miyazaki, Miyazaki 880-0212, Japan
6
Department of Biochemistry and Applied Biosciences, Faculty of Agriculture, University of Miyazaki, 1-1 Gakuenkibanadai-nishi, Miyazaki, Miyazaki 889-2192, Japan
7
Department of Rheumatology, Infectious Diseases and Laboratory Medicine, Faculty of Medicine, University of Miyazaki, 5200 Kihara Kiyotake, Miyazaki, Miyazaki 889-1692, Japan
8
Division of Tumor and Cellular Biochemistry, Department of Medical Sciences, Faculty of Medicine, University of Miyazaki, 5200 Kihara Kiyotake, Miyazaki, Miyazaki 889-1692, Japan
9
Section of Oncopathology and Regenerative Biology, Department of Pathology, Faculty of Medicine, University of Miyazaki, 5200 Kihara Kiyotake, Miyazaki, Miyazaki 889-1692, Japan
*
Author to whom correspondence should be addressed.
Received: 31 October 2013 / Revised: 18 December 2013 / Accepted: 19 December 2013 / Published: 27 December 2013
Abstract
In our previous report, an 80% ethanol bitter gourd seed extract (BGSE) was found to suppress proliferation of adult T-cell leukemia (ATL) cell lines. The present study aimed to identify the bioactive compounds from BGSE specific against ATL. From the result of an HPLC-MS analysis, α-eleostearic acid (α-ESA) was present in BGSE at 0.68% ± 0.0022% (±SD,
n
= 5). In the cell proliferation test, α-ESA potently suppressed proliferation of two ATL cell lines (ED and Su9T01; IC
50
= 8.9 and 29.3 µM, respectively) more than several other octadecanoic acids. However, α-ESA moderately inhibited phytohemagglutinin-activated human peripheral blood mononuclear cells (PBMC; IC
50
= 31.0 µM). These results suggest that BGSE-derived α-ESA has potential as a functional food constituent because of its activity against ATL, particularly against ED cells. Moreover, α-ESA might be effective for the prevention of moderate adverse effects of ATL on normal T cells.
View Full-Text
►

▼

Figures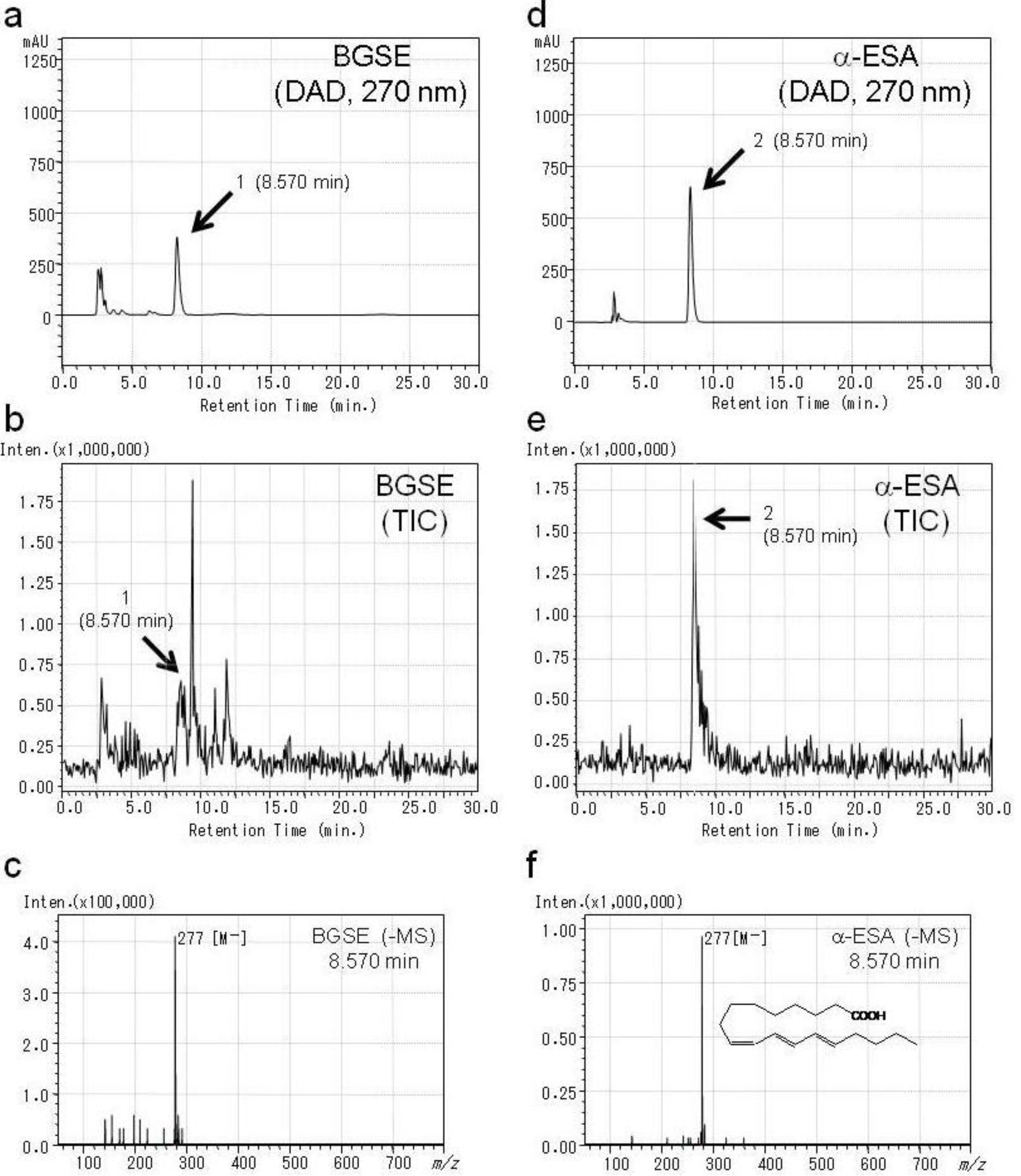 Figure 1
Share & Cite This Article
MDPI and ACS Style
Kai, H.; Akamatsu, E.; Torii, E.; Kodama, H.; Yukizaki, C.; Akagi, I.; Ino, H.; Sakakibara, Y.; Suiko, M.; Yamamoto, I.; Okayama, A.; Morishita, K.; Kataoka, H.; Matsuno, K. Identification of a Bioactive Compound against Adult T-cell Leukaemia from Bitter Gourd Seeds. Plants 2014, 3, 18-26.
Related Articles
Comments
[Return to top]