Base Flipping in Open Complex Formation at Bacterial Promoters
1
Department of Chemistry, Grand Valley State University, 1 Campus Drive, 312 Padnos Hall, Allendale, MI 49401, USA
2
Center for RNA Molecular Biology, Case Western Reserve University, 2109 Adelbert Road, Cleveland, OH 44106, USA
3
Department of Biochemistry, Case Western Reserve University, 2109 Adelbert Road, Cleveland, OH 44106, USA
*
Author to whom correspondence should be addressed.
Academic Editors: Sivaramesh Wigneshweraraj and Deborah M. Hinton
Received: 30 January 2015 / Revised: 16 March 2015 / Accepted: 14 April 2015 / Published: 28 April 2015
Abstract
In the process of transcription initiation, the bacterial RNA polymerase binds double-stranded (ds) promoter DNA and subsequently effects strand separation of 12 to 14 base pairs (bp), including the start site of transcription, to form the so-called "open complex" (also referred to as RP
o
). This complex is competent to initiate RNA synthesis. Here we will review the role of σ
70
and its homologs in the strand separation process, and evidence that strand separation is initiated at the −11A (the A of the non-template strand that is 11 bp upstream from the transcription start site) of the promoter. By using the fluorescent adenine analog, 2-aminopurine, it was demonstrated that the −11A on the non-template strand flips out of the DNA helix and into a hydrophobic pocket where it stacks with tyrosine 430 of σ
70
. Open complexes are remarkably stable, even though
in vivo
, and under most experimental conditions
in vitro
, dsDNA is much more stable than its strand-separated form. Subsequent structural studies of other researchers have confirmed that in the open complex the −11A has flipped into a hydrophobic pocket of σ
70
. It was also revealed that RP
o
was stabilized by three additional bases of the non-template strand being flipped out of the helix and into hydrophobic pockets, further preventing re-annealing of the two complementary DNA strands.
View Full-Text
►

▼

Figures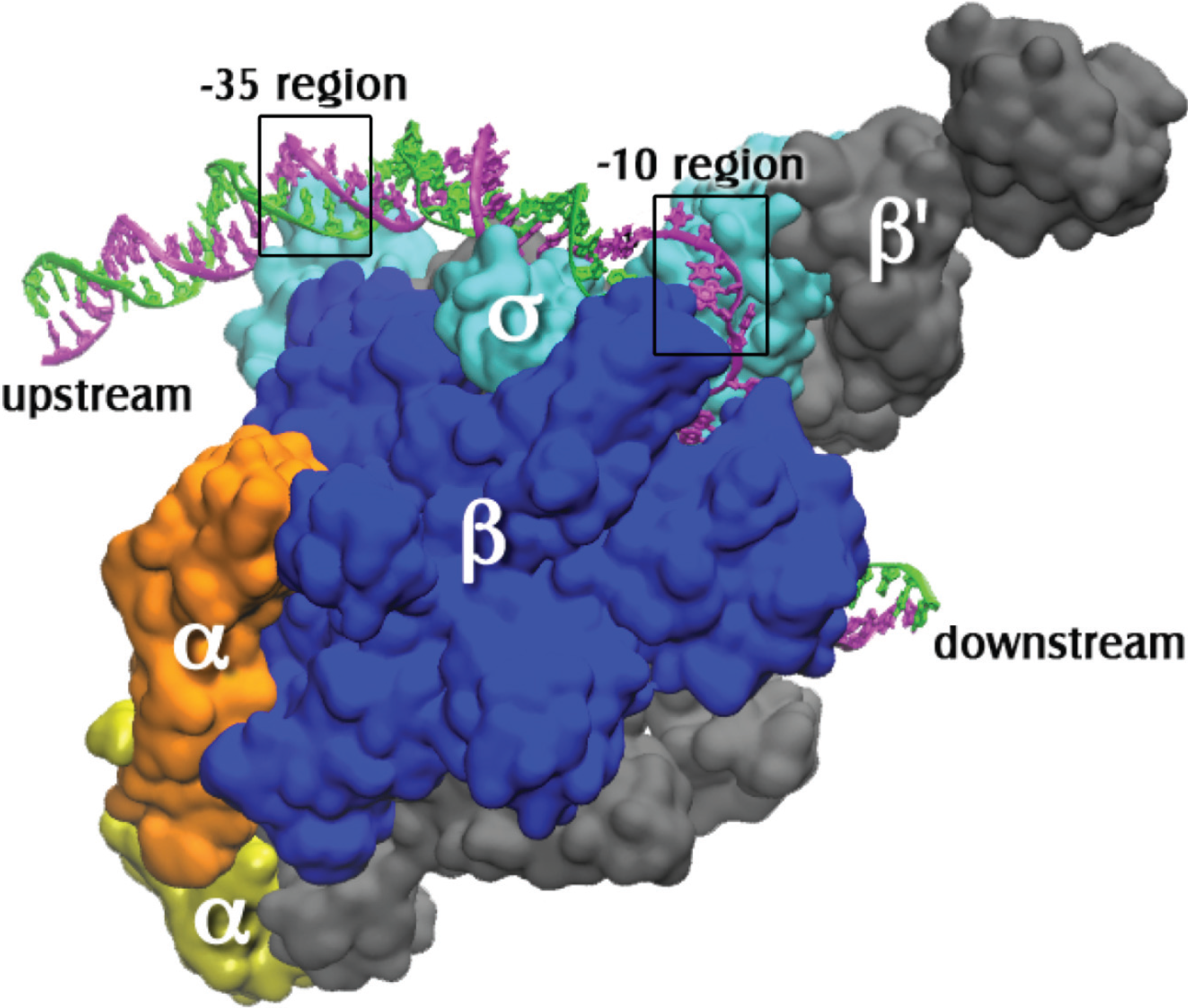 Figure 1
This is an open access article distributed under the
Creative Commons Attribution License
which permits unrestricted use, distribution, and reproduction in any medium, provided the original work is properly cited. (CC BY 4.0).
Share & Cite This Article
MDPI and ACS Style
Karpen, M.E.; deHaseth, P.L. Base Flipping in Open Complex Formation at Bacterial Promoters. Biomolecules 2015, 5, 668-678.
Related Articles
Comments
[Return to top]