Open Access This article is
freely available
re-usable
Review
The Impact of Sphingosine Kinase-1 in Head and Neck Cancer
1
Cancer Biology Program, University of Hawaii Cancer Center, 701 Ilalo Street, Honolulu, HI 96813, USA
2
Department of Molecular Biosciences and Bioengineering, University of Hawaii at Manoa, Honolulu, HI 96818, USA
*
Author to whom correspondence should be addressed; Tel.: +1-808-441-7718; Fax: +1-808-587-0742.
Received: 1 July 2013; in revised form: 2 August 2013 / Accepted: 3 August 2013 / Published: 12 August 2013
Abstract
:
Head and neck squamous cell carcinoma (HNSCC) has a high reoccurrence rate and an extremely low survival rate. There is limited availability of effective therapies to reduce the rate of recurrence, resulting in high morbidity and mortality of advanced cases. Late presentation, delay in detection of lesions, and a high rate of metastasis make HNSCC a devastating disease. This review offers insight into the role of sphingosine kinase-1 (SphK1), a key enzyme in sphingolipid metabolism, in HNSCC. Sphingolipids not only play a structural role in cellular membranes, but also modulate cell signal transduction pathways to influence biological outcomes such as senescence, differentiation, apoptosis, migration, proliferation, and angiogenesis. SphK1 is a critical regulator of the delicate balance between proliferation and apoptosis. The highest expression of SphK1 is found in the advanced stage of disease, and there is a positive correlation between SphK1 expression and recurrent tumors. On the other hand, silencing SphK1 reduces HNSCC tumor growth and sensitizes tumors to radiation-induced death. Thus, SphK1 plays an important and influential role in determining HNSCC proliferation and metastasis. We discuss roles of SphK1 and other sphingolipids in HNSCC development and therapeutic strategies against HNSCC.
Keywords:
sphingolipids; SphK1; S1P; head and neck cancer; invasion and proliferation
1. Introduction
Recurrence rates for advanced-stage head and neck squamous cell carcinoma (HNSCC) is greater than 50% [
1
]. In addition, the five-year survival rate for HNSCC is 50%, and has not drastically improved over the last 30 years [
2
]. This may be due to late presentation and the subsequent delay in detection of lesions, and a high rate of metastasis and invasion into locoregional lymph nodes [
2
]. Furthermore, there is limited availability of effective therapies to reduce the rate of recurrence, resulting in high morbidity and mortality of advanced cases [
2
]. Therefore, the purpose of this review is to provide an overview of the effect of sphingosine kinase-1 (SphK1) on HNSCC and offer insight into possible uses of SphK1 levels affect other sphingolipid metabolites and enzymes, this review also summarizes the contributions of other sphingolipids to HNSCC etiology.
3. Head and Neck Cancer Background
Given the growing incidence of HNSCC, effective therapies need to be developed to reduce mobility and increase survival in these patients. Results of recent studies identify SphK1 as a potential modulator of carcinogenesis in head and neck cancer. Manipulating SphK1 levels may be an effective approach in treating HNSCC.
4. SphK1 Is a Major Player in HNSCC
Collectively, these studies indicate that SphK1 promotes cell proliferation, metastasis and invasion. In addition, increased SphK1 levels are associated with poor outcome, while lower SphK1 levels are associated with increased patient survival.
5. SphK1 Influence in Head and Neck Cancer
It is well-documented that SphK1 is a key player in tumor growth, but the mechanism underlying its influence on invasion and proliferation has not been fully elucidated. The effects of SphK1 on invasion are probably dependent upon S1P, as previous studies demonstrate interaction between S1PR and other cell surface receptors. For example, S1P has shown to interact with TGFβ receptors in esophageal cancer cells [
39
], EGFR in breast cancer cells [
37
], VEGFR in thyroid cells [
49
], and of course its own S1P receptors. Alternatively, SphK1 may affect the mTOR pathway [
11
] or SphK1 may stimulate COX-2/PGE
2
-proliferative pathways [
40
,
41
,
42
] to ultimately affect proliferation, invasion, metastasis and angiogenesis. These pathways have not been fully delineated and described in HNSCC. However, based upon HNSCC characteristics and its similarities to previous research in different cancer models, it is not farfetched to postulate that these relationships may also exist with HNSCC. The following section summarizes findings from previous studies that offer data, which suggest that these pathways are functional in HNSCC (
Figure 1
).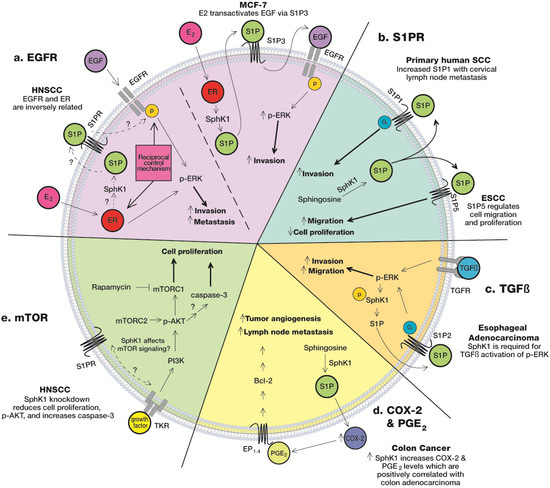 Figure 1. Suggested roles of SphK1 in HNSCC. EP: E-prostanoid receptor; TKR: tyrosine kinase receptor.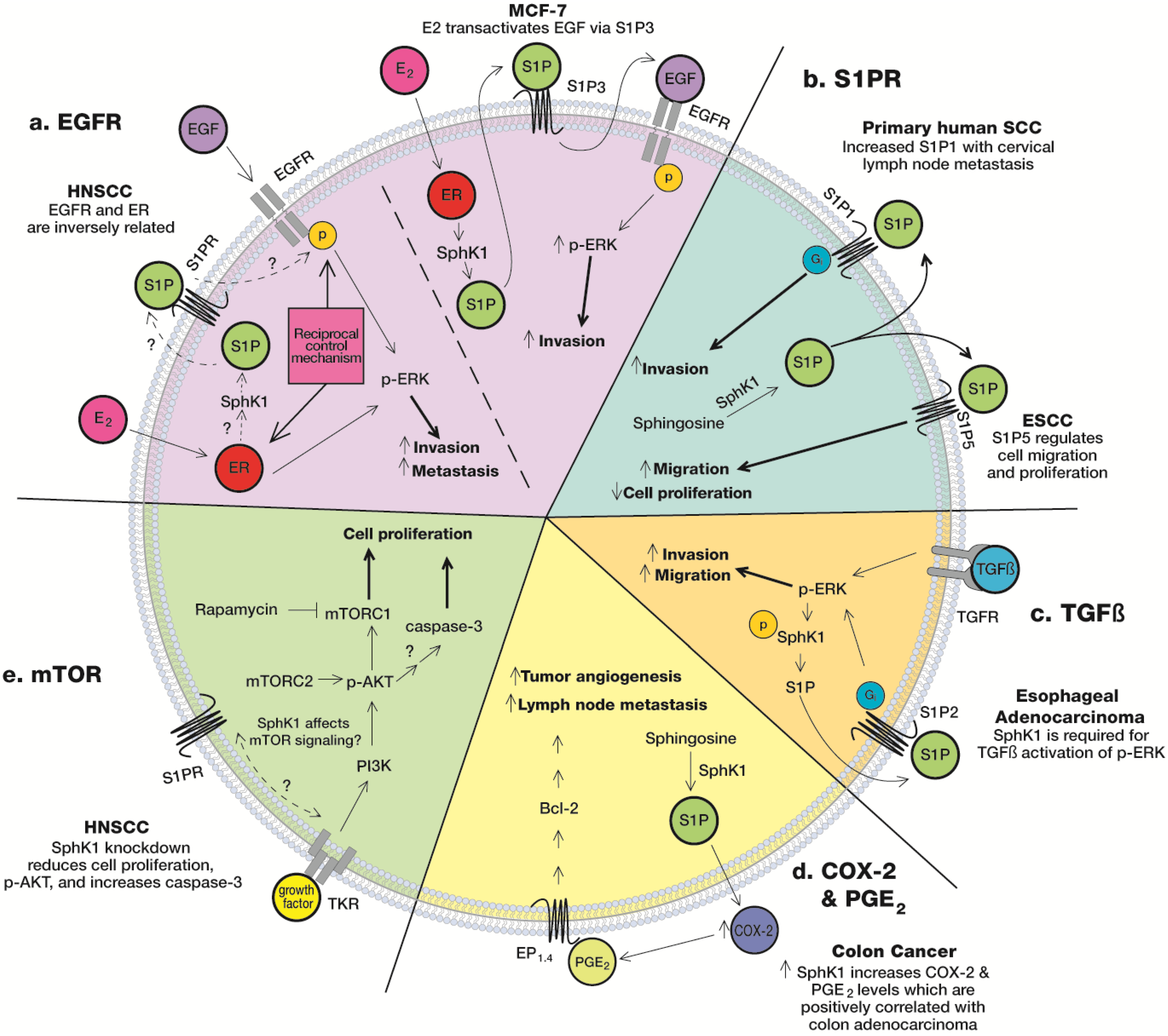 5.2. Epidermal Growth Factor Receptor (EGFR)
It is unclear if SphK1/S1P is involved in EGFR/ER signaling in HNSCC. Further research is needed to identify if SphK1/S1P is involved with these cell surface receptors and elucidate the relationship between them.
5.3. mTOR
The mammalian target of rapamycin (mTOR) is a serine/threonine kinase and a member of the phosphatidylinositol 3 (PI-3)-kinase-like kinases. mTOR is involved in various signal transduction pathways controlling cell growth, proliferation, and survival. As seen in other types of cancers, AKT/mTOR are dysregulated in 90%–100% of HNSCC [
69
] and this is associated with poor prognosis [
70
,
71
]. mTOR dysregulation is thought to be an early event because dysregulation is detected in dysplastic lesions [
72
]. Based upon the findings that p-AKT (ser473) was reduced in tongue tumors induced by 4-NQO in SphK1 KO mice [
11
] and mTOR inhibitor, rapamycin, significantly reduced malignant conversion of precancerous lesions and promoted regression of 4-NQO induced oral carcinogenesis [
72
], Shirai
et al
. [
11
] postulates that SphK1/S1P modulates downstream AKT signaling and plays a role in dysregulating mTOR signaling. No additional work was done in this area to test this hypothesis. Research determining how SphK1 and AKT are involved in head and neck carcinogenesis is required.
In a different study, two highly invasive human HNSCC cell lines (UMSCC2 & UMSCC17B) were orthotopically injected into the tongue of SCID/NOD mice, and these cells grew as highly aggressive tumors, invading the muscle & surrounding tissues. Treatment with mTOR inhibitors (rapamycin and rapamycin analog RAD001) reduced growth of primary orthotopic HNSCC tumors, prevented the metastatic spread of primary HNSCC lesions to cervical lymph nodes, reduced intratumoral lymphangiogenesis, and increased survival in mice [
2
]. Diabetes drug, metformin has also been shown to inhibit mTORC1 activity
via
an AMPK-independent action, retarding tumor size and the number of 4-NQO-induced oral tumoral lesions [
73
]. Clearly, mTOR is an important signaling pathway in HNSCC. However, aside from its regulation of p-AKT (ser 473) [
11
], SphK1 has not been directly linked to any other component of mTOR signaling in HNSCC. Additional work in this area is needed.
5.5. TGFβ
TGFβ is known to play a dual role in epithelial cancer development as it acts as a growth inhibitor with tumor-promoting activities. It can induce reversible growth arrest in G1, and on the other hand, promote epithelial mesenchymal transition, migration, invasion, and carcinogenesis [
86
,
87
]. The TGFβ growth arrest cascade consists of activation of its receptors (TGFβ receptors I and II), Smad2 and Smad3 phosphorylation, and Smad nuclear entry/action [
88
]. TGFβ also activates tumor promoting pathways, namely ERK1/2, p38 MAPK (mitogen-activated protein kinase), JNK, and PI3K (phosphatidylinositol 3-kinase) [
89
].
Interaction between S1P and TGFβ is well-established in a variety of cell lines [
90
,
91
,
92
,
93
,
94
]. S1P stimulates phosphorylation of Smad2 and Smad3 in keratinocytes [
92
], S1P activates TGFβR and Smad in rat mesangial cells [
93
], and S1P
3
is involved in Smad3 signaling in myofibroblast differentiation [
94
].
In head and neck cancer, Miller
et al
. [
39
] demonstrated that S1P interacts with TGFβ to affect invasion and migration of esophageal cancer cells in human esophageal adenocarcinoma (OE33). In this study, invasion was defined as a measure of the number of cells that degraded and moved through the matrigel, whereas migration was a measure of the number of cell that travelled into the lower chamber of the transwell model. In OE33 cells, they showed (1) ERK1/2 activation, migration and invasion are SphK1- and G
i
-dependent; (2) knockdown of SphK1 with siRNA reduced migration by 50%, while knockdown of SphK2 reduced migration by about 25%; (3) invasion was reduced with siRNA knockdown of SphK1, but not SphK2; (4) TGFβ stimulation caused phosphorylation of SphK1 (Ser225) in a time-dependent manner concomitant with increased S1P in cell lysates, and (5) S1P
2
knockdown blocked TGFβ-induced ERK1/2 phosphorylation, migration and invasion.
TGFβ induced SphK1 phosphorylation at residue Ser225 and subsequently increased S1P concentration 15 min post-stimulation. Surprisingly, SphK1 protein levels were not affected despite the increased SphK1 activity. PTX (a specific G
i
inhibitor) and SphK1 inhibitor DMS (N,N-dimethylsphingosine) reduced S1P- and TGFβ-induced ERK1/2 activation, migration and invasion, indicating both S1P and TGFβ activation of ERK1/2 are G
i
-dependent. Together these observations suggest that TGFβ modulates invasion
via
an SphK1/S1P/S1PR-dependent mechanism. Notably, SphK1, and SphK2 activity levels were independent of protein expression, as SphK activity increased for both kinases but mRNA remained unchanged [
39
].
In OE33 cells, S1P
2
and S1P
5
are present in high levels, S1P
1
and S1P
3
are present in low levels, and S1P
4
is not detectable [
39
]. To pinpoint the involved S1P receptor, JTE013, a S1P
2
antagonist and VPC23019 (S1P
1
/S1P
3
antagonist) were used. S1P
2
antagonist (JTE013), but not the S1P
1
/S1P
3
antagonist (VPC23019) blocked TGFβ- and S1P- induced invasion and migration. S1P
2
downregulation significantly inhibited S1P-and TGFβ-induced ERK1/2 activation, cell migration and invasion, indicating S1P
2
is critical in the TGFβ pathway. Downregulation of S1P
2
did not affect the other S1P receptors. S1P
2
is thought to inhibit migration largely due to the G
12/13
-dependent inhibition of Rho and Rac [
62
,
95
,
96
]. However, since inhibiting S1P
2
attenuated invasion and migration, the authors believe that S1P
2
may be coupled primarily to G
i
and not G
13
. TGFβ-induced activation of ERK1/2 occurred within 15 min and since Smad activation can take several hours to activate [
97
], the authors deduced the TGFβ activation of ERK1/2 was Smad-independent [
39
]. TGFβ-S1P interaction is a plausible pathway in which SphK1 mediates cell invasion and migration in SCC. However, this conclusion is supported mainly by only one study and thus, additional work in this area is required.
While the underlying mechanism of SphK1 in SCC is not definitive, the influence of SphK1 is probably due to a combination of pathways as outlined above (
i.e.
, EGFR, S1PR, mTOR, COX-2/PGE2, TGFβ). It is difficult to affirmatively state which pathway is the predominant factor because these studies have used different models, making comparison difficult. In addition, there are only a few studies focused on each of these pathways mentioned above. Without many studies to review, it is difficult to ascertain the mechanism of SphK1 in HNSCC. Systematic methodologies among future studies and more research on a whole are necessary to draw definitive conclusions about Sphk1's role in HNSCC.
6. SphK1/S1P Pathway and Thyroid Cancer: Mechanism of Action
Thyroid cancer is also a type of head and neck cancer, but originates from follicular epithelial cells, and therefore is pathologically different from HNSCC. However, research using this model has provided useful information, and should not be overlooked. Papillary and follicular carcinoma account for the most common forms of the well-differentiated carcinoma [
98
], and follicular and anaplastic carcinoma account for the majority of poorly-differentiated carcinomas [
99
]. This next section reviews studies that describe SphK1's role in thyroid cancer.
As seen in HNSCC, SphK1 is overexpressed in human thyroid cancer and expression levels correlate with the degree of malignancy. More specifically, 69% (29 out of 42) of thyroid cancer samples analyzed elicited SphK1 overexpressed as measured with IHC [
33
]. In addition, high SphK1 expression was observed in all 10 anaplastic tumor cancer (ATC) specimens examined. ATC has poor prognosis due to its aggressiveness (high mitotic rate and lymphovascular invasion) and resistance to treatment. In contrast, not all papillary thyroid cancer and follicular thyroid cancer samples examined stained strongly for SphK1. 59% (13 out of 22) and 60% (6 out of 10) of papillary thyroid cancer and follicular thyroid cancer, respectively, exhibited high SphK1 staining. These data indicate that SphK1 is associated with the degree of malignancy in thyroid cancer.
shRNA targeted knockdown of SphK1 resulted in reduced proliferation, and the number of floatage-independent colonies in thyroid cancer cell lines WRO (follicular), FRO (anaplastic), and S579 (poorly differentiated cancer with feature of papillary cancer) [
100
]. shRNA targeting SphK1 in thyroid cancer cells resulted in a cascade potentially increasing cell motility [
100
]. The specific cascade consisted of dephosphorylation (and inactivation) of Akt (ser473/thr308), dephosphorylation (and activation) of GSK-3β, decreased β-catenin protein in nuclear fractions (indicative of inactivation), and increased phosphorylation of β-catenin at Ser 33/Ser37/Thr41 (leading to degradation and inactivation of β-catenin) [
100
]. β-catenin-T cell factor/lymphoid enhancing factor (TCF/LEF) is not only a component in Wnt signaling, but it also floats actin cytoskeleton and plays an integral role in cell-to-cell adhesions. These observations are consistent with other reports of dysregulation of β-catenin in colon cancer, endometrial cancer, ovarian cancer, hepatocellular carcinoma, medulloblastoma, and melanoma (reviewed in [
101
]).
A series of studies confirm that SphK1 enhances cell migration in human thyroid follicular carcinoma cells (ML-1) [
102
]. Consistent with an enhanced migratory phenotype, SphK1 overexpression reduced adhesion of ML-1 cells to human collagen IV coated plates when compared to control cells [
58
]. In fact, SphK1 and S1P induced migration of ML-1 cells
via
activation of S1P
1
and S1P
3
, G
i
proteins and the PI3K-Akt pathway [
102
]. Overexpression of SphK1 in ML-1 cells enhanced S1P secretion and subsequent S1P action through autocrine activation. This increased migratory flux could be reversed by reducing S1P secretion with SphK inhibition and an ATP-binding cassette transporter which blocks S1P release from the cell. Together, these findings indicate that SphK1 and S1P regulate migration in an autocrine fashion in ML-1 cells [
102
].
PKC and ERK1/2 are also necessary for S1P-induced migration in ML-1 cells [
102
]. Inhibition of PKC-α and PKC-β1 with PKC inhibitor Go6971 resulted in inhibition of S1P-induced phosphorylation of ERK 1/2 [
102
]. In addition, PKC-α siRNA attenuated serum-induced migration in cells overexpressing SphK1, suggesting that PKC is necessary for S1P-induced migration. Along the same lines, inhibition of ERK1/2 by U0126 attenuated migration in SphK1 overexpressing cells, indicating that ERK1/2 is also essential to S1P-induced migration. The authors concluded that PKC and ERK1/2 may be the main mediators in serum-induced migration. They summarized their findings by stating that S1P acts on its cell surface receptor to activate PKC-α, which can stimulate both ERK1/2 and SphK1 (to increase S1P production and "inside-out" signaling) to stimulate S1PR in a repetitive autocrine cycle, resulting in sustained migration [
102
].
In a different study, Balthasar
et al
. [
49
] demonstrated that S1P works with VEGFR-2 to regulate migratory responses in ML-1 and FRO cells (anaplastic thyroid cancer cell). Treatment of ML-1 and FRO cells with S1P stimulated secretion of VEGF-A, while blocking S1P receptors (S1P
1
, S1P
2
, S1P
3
) and reduced VEGF-A secretion. In addition, they showed that S1P phosphorylates VEGFR-2 in ML-1 cells, indicating that S1P is capable of regulating VEGF-A. In addition, rapid downregulation of S1P
1
protein and mRNA expression occurred with inhibition of VEGFR-2 in ML-1 cells, indicating that VEGF also regulates SphK1. Moreover, inhibition of VEGFR-2: (1) attenuated migration through a transwell membrane in both ML-1 and FRO cells; (2) suppressed S1P
1
protein and mRNA expression; (3) suppressed S1P-induced migration; and (4) reduced S1P induced phosphorylation of AKT (ser473).
While it appears that S1P and VEGFR regulation works in unison, the interaction between S1P and VEGFR is not clear. Inhibition with VEGFR-2-inhibitor 1 (which inhibits receptor tyrosine kinase activity), but not neutralizing antibodies or inhibitor CBO-P11n (which interferes with VEGF-A/VEGFR interaction) reduced cell ML-1 cell proliferation independently of S1P stimulation. In addition, inhibition of VEGFR-2 increased S1P
3
mRNA but not S1P
3
protein levels. Nevertheless, on a whole, data from this study suggest that VEGFR and S1P act together to increase proliferation, invasion and migration [
49
]. These findings are consistent with previous studies, which showed that SphK1 overexpression increases invasion in esophageal SCC [
32
] and ML-1 cells [
102
]. These findings are also in line with data showing SphK1 overexpression in patient HNSCC samples correlate with reduced survival time [
103
].
In a follow-up study, Bergelin
et al
. [
58
] showed that S1P
1
and VEGFR-2 co-localize at plasma membrane domains and regulate PKC-α and ERK1/2 signaling in ML-1 cells. In fact, VEGFR-2, ERK1/2, and PKC- α were immunoprecipitated with each S1PR in ML-1 cells, indicating physical interaction among these components. In addition, PKC-α inhibition abrogated S1P
1
and VEGF-A induced ERK1/2 phosphorylation, indicating functional interaction among these players.
Bergelin
et al
. [
58
] also showed that VEGFR-2 inhibition attenuated ERK1/2 phosphorylation when stimulated with S1P
1
agonist (SEW-2871) and S1P [
58
]. S1P
1
inhibition attenuated ERK1/2 phosphorylation when stimulated with VEGF-A. Down regulation of SphK1 with siRNA inhibited VEGF-A-induced ERK/12 phosphorylation, indicating S1P is required for VEGF-induced ERK1/2 phosphorylation. Together this suggests that while S1P
1
/VEGFR-2 crosstalk is bidirectional (S1P
1
and VEGFR-2 regulate each other), S1P
1
is a key factor in regulating ERK1/2. In fact, SphK1 knockdown in ML-1 cells overexpressing SphK1 reduced basal levels of phosphorylated ERK1/2 further suggesting S1P is the primary regulator of ERK. Specifically, S1P
1-3
regulates phosphorylation of ERK1/2 through G
i/o
proteins. This was demonstrated as S1P
1
/S1P
3
antagonist (VPC23019), S1P
2
antagonist (JTE013) and PTX (G
i
-specific inhibitor) treatment inhibited ERK1/2 phosphorylation. In addition, siRNA targeted S1P
1
downregulation blocked S1P- and VEGF-A-induced directional motility toward collagen (haptotaxis), further showing S1P-S1PR activation is critical in this pathway. The authors concluded that S1P
1
and VEGF-A independently stimulate ERK1/2 phosphorylation through PKC-α. Taken together, these studies demonstrate that SphK1 is overexpressed in thyroid carcinoma, and SphK1/S1P is critical in regulating migration [
33
,
49
,
58
,
100
,
102
].
Research in thyroid cancer has identified that ERK1/2 and PKC is responsible for modulating SphK1/S1P-stimulated migration. The use of similar models and continuity in these studies elucidate that SphK1 regulates migration in thyroid cancer
via
a S1P-PKCα-ERK1/2 pathway. These studies provide an excellent model for SphK1-HNSCC research.
7. Other Sphingolipid Mediators and HNSCC
Sphingolipids do not exist in isolation and perturbation of one metabolite or enzyme affects surrounding metabolites. Therefore, it is important to review research involving other sphingolipid related players in HSNCC, namely SphK2, ceramide, and glucosylceramide. These mediators have been shown to be of importance in HNSCC, and they are outlined in
Figure 2
.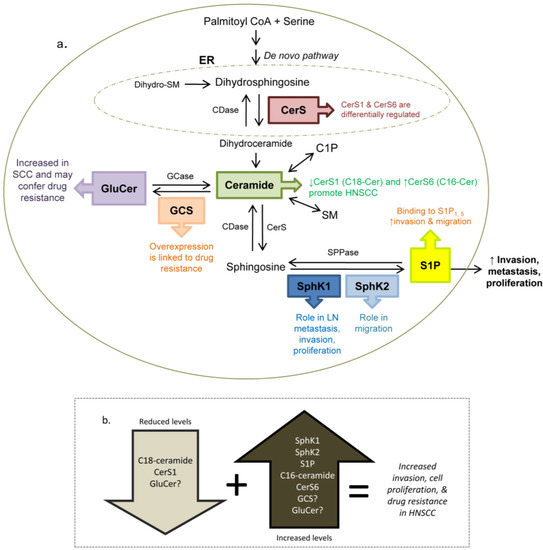 Figure 2.
Overview of sphingolipid enzymes and metabolites and their influence on HNSCC. (
a
)
S
phK1 is positively associated with increased lymph node (LN) metastasis [
32
], proliferation [
11
] and resistance to radiation-induced cell death. (
b
) Perturbation of specific sphingolipid players affects invasion, proliferation and drug resistance in HNSCC. Abbreviations: SPPase (sphingosine phosphate phosphatase), GCS (glucosyl ceramidase), GCase (glucosyl ceramidase), CDase (ceramidase), CerS (ceramide synthase), C1P (ceramide 1-phosphate), SM (sphingomyelin), ER (endoplasmic reticulum).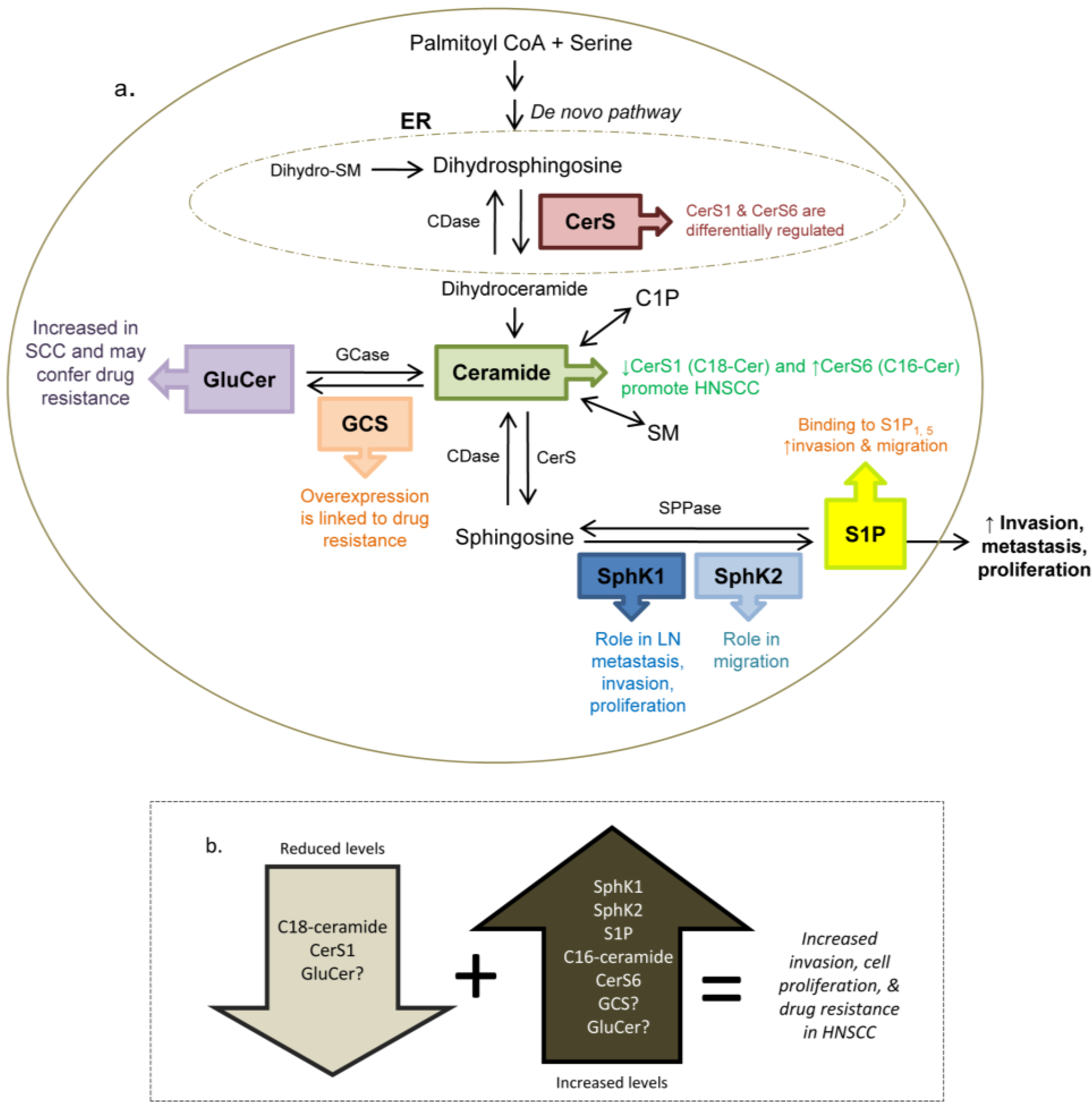 7.1. Sphingosine Kinase 2
The function of Sphk2 in head and neck cancer has not been widely examined. One of the few studies focusing on head and neck cancer reported that SphK2 knockdown in human esophageal adenocarcinoma (OE33) reduced migration (but not invasion)
in vitro
[
39
]. In addition, recent evidence shows SphK2 may play a critical role in regulating cell proliferation and apoptosis in other types of cancer,
i.e.
, mammary adenocarcinoma, hepatocellular carcinoma, leukemia [
109
,
110
]. Use of specific SphK2 inhibitor ABC294640, [3-(4-chlorophenyl)-adamantane-1-carboxylic acid (pyridin-4-ylmethyl)amide], results in cell death and inhibition of tumor growth in kidney, prostate and breast tumor cell lines [
111
,
112
,
113
,
114
,
115
]. Another specific SphK2 inhibitor, K145 (3-(2-amino-ethyl)-5-[3-(4-butoxyl-phenyl)-propylidene]-thiazolidine-2,4-dione)), reduced S1P levels in leukemia cells and demonstrated growth inhibitory and apoptotic effects in murine models [
116
]. Surprisingly, administration of SLR080811 ((S)-2-[3-(4-octylphenyl)-1,2,4-oxadiazol-5-yl] pyrrolidine-1-carboximidamide), a cationic amphiphilic small molecule and specific SphK2 inhibitor, resulted in a rapid increase in blood S1P [
117
]. This response is in contrast to SphK1 inhibitor administration, which resulted in down-regulated S1P levels. In fact, this response reflects a true physiological S1P response to SphK knockdown. Measurement of circulating S1P levels revealed that SphK1 KO mice had reduced S1P levels, while SphK2 KO mice had increased S1P levels [
117
]. The use of specific SphK2 inhibitors demonstrates that SphK2 is an important and influential modulator of carcinogenesis. Thus, while SphK1 has been the main focus in HNSCC, additional research is needed to determine the extent of SphK2 influence.
7.2. Ceramide
The effects of ceramide in HNSCC have been well-documented. Collectively, these studies have demonstrated that ceramide is influential in affecting tumor growth. GEM/DOX treatments resulting in increased C18- ceramide and decreased C16-ceramide levels in clinical trials show the importance of ceramide in head and neck cancer.
9. Summary and Conclusions
In summary, SphK1 upregulation is associated with tumorigenesis and poor survival in HNSCC patients. The role of SphK1 in HNSCC is most likely due to increased S1P levels in tumor microenvironments and S1P interaction with various cell surface receptors. S1P has been shown to interact with various receptors, (
i.e.
, EGFR, TGFβ, S1PR), and this may explain how SphK1 regulates HNSCC.
It cannot be excluded that modulations of SphK1 may be partly due to alterations of other sphingolipids and enzyme levels. Thus far, it seems that SphK1's effects in HNSCC are S1P-dependent and whether SphK1 is capable of exerting S1P-independent effects remains to be elucidated. Additional work is required to fully understand the effect of SphK1 on proliferation, invasion and metastasis in HNSCC.
There have been many studies describing the relationships between SphK1 and cell surface receptors in HNSCC. However, the lack of similar studies makes it difficult to verify the findings. In addition, it is difficult to weave the current available published data together to produce a cohesive story because of the different cell models used. In addition, these studies focused on a wide array of pathways, making it difficult to relate one study to another, resulting in a large overview of SphK1 in HNSCC, at the expense of complete understanding of a single pathway. Furthermore, many studies have identified overexpression of SphK1 in HNSCC tumors and provided preliminary evidence of involved mechanisms, but follow-up studies verifying and explaining the existence of these pathways does not exist. Albeit, the multiple plausible mechanisms underlying SphK1 in HNSCC makes studying all these pathways is a big task as the amount of research needed is quite large. Research showing a casual relationship between SphK1 and metastasis, invasion and proliferation in an intact physiological model is warranted. Nevertheless, SphK1 remains a promising avenue for the treatment and therapy of HNSCC as research to date identifies SphK1 association with malignancy of HNSCC. Knockdown of SphK1 through
in vivo
delivery or SphK1 inhibition may prove to effective therapeutic strategies to increase sensitivity of HNSCC tumors to radiation or chemotherapy. A more complete understanding of SphK1 in HNSCC is required to initiate the development and utilization of therapies exploiting SphK1.
Acknowledgments
This work was supported by U.S. National Institutes of Health (NIH) grants (R01CA124687 and P01CA97132) to TK. We regret being unable to cite other important studies because of space limitations.
Conflict of Interest
The authors declare no conflict of interest.
© 2013 by the authors; licensee MDPI, Basel, Switzerland. This article is an open access article distributed under the terms and conditions of the Creative Commons Attribution license ( http://creativecommons.org/licenses/by/3.0/).