Optimization of the Silver Nanoparticles PEALD Process on the Surface of 1-D Titania Coatings
1
Faculty of Chemistry, Nicolaus Copernicus University in Toruń, Gagarina 7, 87-100 Toruń, Poland
2
Nano-Implant Ltd., Gagarina 5, 87-100 Toruń, Poland
3
Faculty of Biology and Environmental Protection, Nicolaus Copernicus University in Toruń, Lwowska 1, 87-100 Toruń, Poland
4
Faculty of Biology and Environmental Protection, University of Lodz, Banacha 12/16, 90-237 Łódź, Poland
5
A. Chełkowski Institute of Physics, University of Silesia, Uniwersytecka 4, 40-007 Katowice, Poland
6
Department of Chemistry, University of Helsinki, P.O. Box 55, FI-00014 Helsinki, Finland
*
Author to whom correspondence should be addressed.
Received: 3 June 2017 / Revised: 14 July 2017 / Accepted: 20 July 2017 / Published: 24 July 2017
Abstract
Plasma enhanced atomic layer deposition (PEALD) of silver nanoparticles on the surface of 1-D titania coatings, such as nanotubes (TNT) and nanoneedles (TNN), has been carried out. The formation of TNT and TNN layers enriched with dispersed silver particles of strictly defined sizes and the estimation of their bioactivity was the aim of our investigations. The structure and the morphology of produced materials were determined using X-ray photoelectron spectroscopy (XPS) and scanning electron miscroscopy (SEM). Their bioactivity and potential usefulness in the modification of implants surface have been estimated on the basis of the fibroblasts adhesion and proliferation assays, and on the basis of the determination of their antibacterial activity. The cumulative silver release profiles have been checked with the use of inductively coupled plasma-mass spectrometry (ICPMS), in order to exclude potential cytotoxicity of silver decorated systems. Among the studied nanocomposite samples, TNT coatings, prepared at 3, 10, 12 V and enriched with silver nanoparticles produced during 25 cycles of PEALD, revealed suitable biointegration properties and may actively counteract the formation of bacterial biofilm.
View Full-Text
►

▼

Figures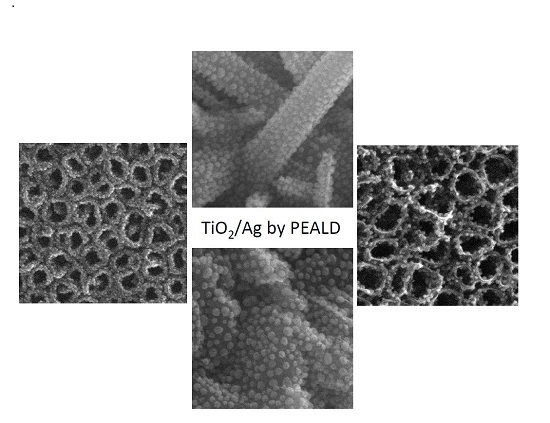 This is an open access article distributed under the
Creative Commons Attribution License
which permits unrestricted use, distribution, and reproduction in any medium, provided the original work is properly cited. (CC BY 4.0).
Share & Cite This Article
MDPI and ACS Style
Radtke, A.; Jędrzejewski, T.; Kozak, W.; Sadowska, B.; Więckowska-Szakiel, M.; Talik, E.; Mäkelä, M.; Leskelä, M.; Piszczek, P. Optimization of the Silver Nanoparticles PEALD Process on the Surface of 1-D Titania Coatings. Nanomaterials 2017, 7, 193.
Note that from the first issue of 2016, MDPI journals use article numbers instead of page numbers. See further details here.
Related Articles
Comments
[Return to top]