Targeting of Both the c-Met and EGFR Pathways Results in Additive Inhibition of Lung Tumorigenesis in Transgenic Mice
1
Department of Pharmacology and Chemical Biology, University of Pittsburgh, Pittsburgh, PA 15213, USA
2
Department of Environmental and Occupational Health, University of Pittsburgh, Pittsburgh, PA 15213, USA
3
Department of Biostatistics, University of Pittsburgh, Pittsburgh, PA 15213, USA
4
Galaxy Biotech, LLC, Sunnyvale, CA 94089, USA
5
Department of Medicine, University of Pittsburgh, Pittsburgh, PA 15213, USA
6
Lung and Thoracic Malignancy Program, University of Pittsburgh, Pittsburgh, PA 15213, USA
*
Author to whom correspondence should be addressed.
Received: 20 October 2010 / Revised: 25 November 2010 / Accepted: 21 December 2010 / Published: 22 December 2010
(This article belongs to the Special Issue
Lung Cancer
)
Abstract
EGFR and c-Met are both overexpressed in lung cancer and initiate similar downstream signaling, which may be redundant. To determine how frequently ligands that initiate signaling of both pathways are found in lung cancer, we analyzed serum for hepatocyte growth factor (HGF), transforming growth factor-alpha, and amphiregulin (AREG) in lung cancer cases and tobacco-exposed controls. HGF and AREG were both significantly elevated in cases compared to controls, suggesting that both HGF/c-Met and AREG/EGFR pathways are frequently active. When both HGF and AREG are present
in vitro
, downstream signaling to MAPK and Akt in non-small cell lung cancer (NSCLC) cells can only be completely inhibited by targeting both pathways. To test if dual blockade of the pathways could better suppress lung tumorigenesis in an animal model than single blockade, mice transgenic for airway expression of human HGF were treated with inhibitors of both pathways alone and in combination after exposure to a tobacco carcinogen. Mean tumor number in the group using both the HGF neutralizing antibody L2G7 and the EGFR inhibitor gefitinib was significantly lower than with single agents. A higher tumor K-
ras
mutation rate was observed with L2G7 alone compared to controls, suggesting that agents targeting HGF may be less effective against mutated K-
ras
lung tumors. This was not observed with combination treatment. A small molecule c-Met inhibitor decreased formation of both K-
ras
wild-type and mutant tumors and showed additive anti-tumor effects when combined with gefitinib. Dual targeting of c-Met/EGFR may have clinical benefit for lung cancer.
View Full-Text
►

▼

Figures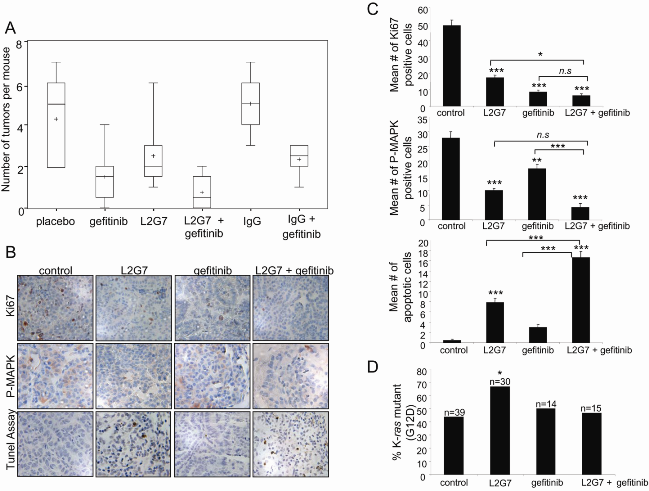 Share & Cite This Article
MDPI and ACS Style
Stabile, L.P.; Rothstein, M.E.; Keohavong, P.; Lenzner, D.; Land, S.R.; Gaither-Davis, A.L.; Kim, K.J.; Kaminski, N.; Siegfried, J.M. Targeting of Both the c-Met and EGFR Pathways Results in Additive Inhibition of Lung Tumorigenesis in Transgenic Mice. Cancers 2010, 2, 2153-2170.
Related Articles
Comments
[Return to top]