Open Access This article is
freely available
re-usable
Review
Mechanisms of Radiation Toxicity in Transformed and Non-Transformed Cells
Department of Pharmacology, Uniformed Services University of the Health Sciences, Bethesda, MD 20814-4799, USA
*
Author to whom correspondence should be addressed; Tel.: +1-301-295-3236; Fax: +1-301-295-3220.
Received: 17 June 2013; in revised form: 19 July 2013 / Accepted: 22 July 2013 / Published: 31 July 2013
Abstract
: Radiation damage to biological systems is determined by the type of radiation, the total dosage of exposure, the dose rate, and the region of the body exposed. Three modes of cell death—necrosis, apoptosis, and autophagy—as well as accelerated senescence have been demonstrated to occur

in vitro

and

in vivo

in response to radiation in cancer cells as well as in normal cells. The basis for cellular selection for each mode depends on various factors including the specific cell type involved, the dose of radiation absorbed by the cell, and whether it is proliferating and/or transformed. Here we review the signaling mechanisms activated by radiation for the induction of toxicity in transformed and normal cells. Understanding the molecular mechanisms of radiation toxicity is critical for the development of radiation countermeasures as well as for the improvement of clinical radiation in cancer treatment.
Keywords:
ionizing radiation; apoptosis; necrosis; senescence; autophagy; cancer; primary cell
1. Introduction
In Germany, 1895, Wilhelm Conrad Röntgen observed that invisible rays generated in a vacuum tube induced fluorescence from a barium platinocyanide-coated plate. He found that the rays could differentially penetrate objects of differing densities, and Röntgen generated the first radiographic images of bones. Later that same year, he reported his discovery in which he called these images X-rays, and later was awarded the Nobel Prize for Physics in 1901 [1,2]. Based on these findings, Antoine Henri Becquerel began investigations to determine whether other forms of naturally occurring phosphorescence were related to X-rays; in 1896 Becquerel discovered spontaneous radioactive properties of uranium ore, for which he too was awarded the Nobel Prize for Physics in 1903 [3]. Investigations conducted by Marie Curie on radioactive substances and their properties led to the discoveries of polonium and radium, which resulted in the receipt of Nobel Prizes in Physics in 1903 (shared with Becquerel and Pierre Curie) and in Chemistry 1911 [4]. The application of radiation has advanced the fields of medicine, biology, physics, astronomy, materials science, engineering. Indeed, the full extent of radiation application is still waiting to be realized.
Despite the many practical uses of ionizing radiation (IR), exposure to high levels of radiation has lethal consequences. The medical effects of radiation exposure have been classified into Acute Radiation Syndrome (ARS) and the Delayed Effects of Acute Radiation Exposure (DEARE). ARS consists in a constellation of health effects ensuing from an exposure of the total body or a significant area of the body to a relatively high dose (>2–5 Gy) delivered at a relatively high dose rate [5]. ARS is usually divided into three types of syndromes, based on the radiosensitivity of the organs/tissues involved: the Hematopoietic Syndrome (occurring after exposure to 0.7–10 Gy), the Gastrointestinal Syndrome (usually greater than 10 Gy), and the Cardiovascular/Central Nervous System Syndrome (>50 Gy) [5,6]. DEARE, on the other hand, consists of syndromes occurring months or years following radiation exposure which include: prolonged gastrointestinal effects, delayed immune reconstitution, delayed skin injury, renal failure, and radiation-induced lung injury [7]. Damage to normal tissue is often a limiting factor for the clinical use of radiation for cancer eradication; all forms of cell death as well as accelerated senescence have been linked to delayed cycles of inflammation, tissue dysfunction, atrophy, and/or fibrotic remodeling [8–12]. While there has been an exponentially growing number of studies attempting to explain the mechanisms of radiation toxicity over the years, there are only a limited number agents approved by the Food and Drug Administration as countermeasures for prevention, mitigation, or treatment of ARS or DEARE [13].
2. Ionizing Radiation-Induced Damage to Biological Molecules
Ionizing radiation (IR) generates both direct and indirect damage to biological molecules. In high linear energy transfer (LET) radiation, such as neutrons and alpha particles, most of the cellular damage results from the direct ionization of cellular macromolecules including DNA, RNA, lipids, and proteins [14]. In contrast, low LET radiation, such as X-rays and gamma rays, indirect damage to biological macromolecules occurs following the generation of reactive oxygen species (ROS) [14]. ROS, especially superoxide and hydroxide radicals from the radiolysis of intracellular H2O, can have many effects, including the oxidation of biological macromolecules and activation of intracellular signaling pathways [14–18].
A widely accepted dogma in the field of radiation biology is that DNA is the most important molecular target of radiation because of its critical role in cell replication and proliferation [19]. Both single-stranded DNA breaks (SSB) and double-stranded DNA breaks (DSB), along with nucleotide mutations, occur during IR exposure and lead to cell death or mutagenesis if not properly repaired [20,21]. DSB have more lethal consequences than SSB, as noted in low LET radiation when DSB are induced in a relatively large fraction of cells [20]. Overall, radiation-induced DNA damage is believed to activate a variety of signaling pathways leading to cell death as well as accelerated senescence.
Recent investigations have challenged the classical DNA-centric view of radiation injury by demonstrating that proteins are also critical radiation targets that influence cell death mechanisms. In some cases, radiation-induced death by protein damage is proposed to be a consequence of reduced DNA repair fidelity, indirectly decreasing cell viability [22]. In prokaryotes, Qui et al. [23] suggested that protein damage underlies the radiosensitivity of Shewanella oneidensis while Daly et al. [24] proposed that the extreme radioresistance of Deinococcus radiodurans has been attributed to the reduction of protein oxidation by a variety of protective mechanisms. Bdelloid rotifers also display resistance to radiation damage due to decreased protein oxidation [25]. Studies using cultured mammalian cells have also provided evidence for protein oxidation in the activation of pro-apoptotic signaling downstream of radiation damage [26,27]. However, a direct comparison has not yet been made for the contribution of protein damage versus DNA damage for overall cellular toxicity.
3. Ionizing Radiation-Induced Cell Toxicities
The molecular mechanisms of radiation-induced cellular injury depend on a number of factors including radiation dosage, the cell type, and the transformed status of the cell [21,28,29]. As suggested by the manifestation of acute and delayed radiation syndromes, specific tissues and organ systems have differential radio-sensitivity. In several cases, the vulnerability of tissues to radiation injury is predicted by the Law of Bergonie and Trebondeau which states that radiation is generally more damaging in rapidly dividing cells and in undifferentiated cells [28,30]. For example, untransformed epithelial cells of the gastrointestinal tract and progenitor cells of the hematopoietic system, which have rapid turnover rates, are generally more radiosensitive than the non-dividing neurons of the central nervous system. This differential proliferative capacity corresponds to the induction of Hematopoietic Syndrome at lower radiation exposures (0.7–10 Gy) compared to doses required for inducing Central Nervous System Syndrome (>50 Gy).
Unrepaired DNA damage can lead to mutations, genomic instability, and cell death. Cells have evolved complex systems for the repair of single- and double-stranded DNA breaks [31]. It has been demonstrated that normal (non-transformed, non-immortalized cells) can repair as many as 70 DSB/cell within 24 h of radiation exposure [32]. Different DNA repair mechanisms are thought to be activated during specific phases of the cell cycle [28,33]. DSB can be repaired via a homologous recombination-dependent mechanism during the G2/M phases of the cell cycle, whereas non-homologous end joining mechanisms are believed to be active during G1/G0. In contrast, DNA repair is relatively inefficient during the S phase of the cell cycle [28]. Importantly, the duration for activity of a particular DNA repair mechanism depends upon the time that the cell remains in a particular phase of the cycle [28]. Therefore, cells that move rapidly through the cell cycle have less time to repair their DNA than cells that are paused during a cycle in which a particular DNA repair mechanism is activated.
Our current understanding of the mechanisms of ionizing radiation-induced cell death comes from studies that are mostly conducted on immortalized cancer cell lines that do not represent the biological status of non-immortalized, non-transformed normal cells [29]. Although cancer cells proliferate more quickly than normal cells, leaving their DNA more susceptible to unrepaired damage, these cells often contain multiple mutations resulting in constitutive activation of mechanisms for DNA repair or allowing them to survive following damage that would render normal cells unviable [34].
Radiation exposure to cells has been demonstrated to result in a variety of mechanisms of cell death, including necrosis, apoptosis, or autophagy (see Figure 1) [35]. Additionally, radiation may induce accelerated cellular senescence, a state in which the cell remains viable but with altered functions, and which is no longer competent for proliferation [36]. In some cases, it has been demonstrated that increasing IR dosages shift the cellular response from senescence to apoptosis and/or autophagy, with higher doses leading to necrosis [27]. However, there is no absolute response of all cells to a given dose of radiation exposure. Some cell types rapidly undergo apoptosis in response to the same level of radiation that induces senescence in another cell type (e.g., primary human hematopoietic CD34+ cells undergo apoptosis whereas pulmonary artery endothelial cells primarily undergo accelerated senescence) [27,37]. The selection process resulting in a specific mode of cell death or senescence has not been clearly defined, but research indicates that it is affected by the radiation dose, the dose rate, and multiple aspects of the cellular context [31,32,34,38,39].
4. Conclusions
Radiation-induced toxicity in mammalian cells involves various modes of cell death including apoptosis, necrosis, and autophagy, as well as accelerated senescence. Complex signaling events are induced in these modes of cell death and the cellular response is likely dependent upon the radiation exposure as well as the myriad aspects of the cellular context. The precise mechanisms for the biological selection of a specific mode of cell death following IR exposure have not been unequivocally established. Additionally, the mechanism(s) by which radiation induces death in cells directly affected by radiation are likely different from the mechanism(s) by which bystander cells undergo cell death. Knowledge of the mechanisms for radiation-induced damage in the context of cell death modes may provide insights into the development of more effective therapeutic countermeasures and interventions for the mitigation of radiation associated pathologies.
Acknowledgments
Thanks to Elizabeth A. McCart for proofreading of this manuscript. Some of the authors are employees of the U.S. Government, and this manuscript was prepared as part of their official duties. Title 17 U.S.C. §105 provides that "Copyright protection under this title is not available for any work of the United States Government." Title 17 U.S.C §101 defined a U.S. Government work as a work prepared by a military service member or employees of the U.S. Government as part of that person's official duties. The views in this article are those of the authors and do not necessarily reflect the views, official policy, or position of the Uniformed Services University of the Health Sciences, Department of the Navy, Department of Defense, or the U.S. Federal Government.
Conflict of Interest
The authors declare no conflict of interest.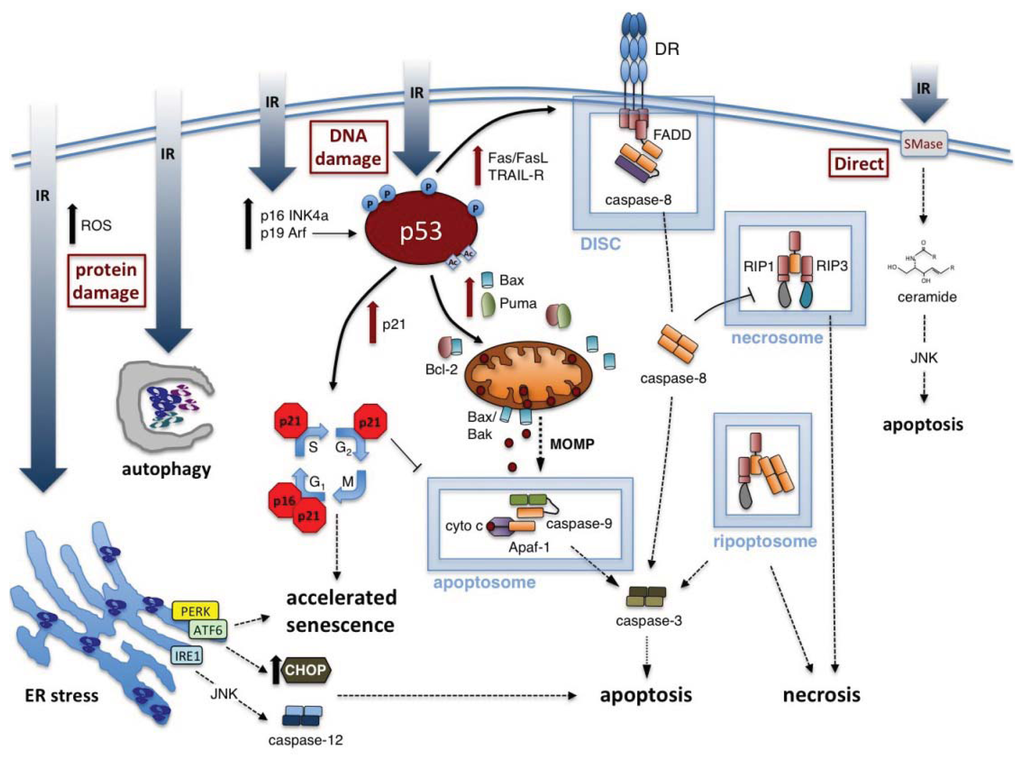 Figure 1.
Molecular responses to ionizing radiation (IR) in exposed cells. Depending on dose and radiosensitivity of the exposed cell, IR may induce cell death (through apoptosis or necrosis) or trigger accelerated senescence. Increased expression of p53, coupled to various post-translational modifications (e.g., phosphorylation (P), acetylation (Ac)), is a critical step in mediating the cellular response to IR-induced DNA damage. Accelerated senescence can result from p53-dependent induction of p21/waf1 or upregulation of other cell cycle inhibitory proteins (e.g., p16 INK4a). p53 activation also triggers
de novo
synthesis of pro-apoptotic molecules that mediate intrinsic (e.g., Bax, Puma) or extrinsic (e.g., Fas) apoptotic cell death (red arrows, p53-dependent). Intrinsic apoptosis is governed by Bcl-2 family proteins that regulate mitochondrial outer membrane permeabilization (MOMP), whereas extrinsic apoptosis is signaled through dedicated death receptors (DRs) such as Fas. Both forms of apoptosis rely on the assembly of large multiprotein platforms, including the apoptosome and death-inducing signaling complex (DISC), which facilitate caspase activation through recruitment, dimerization and autocatalytic cleavage. Separate protein complexes containing RIP-1 and/or RIP-3 (e.g., necrosome) can trigger programmed necrosis under certain conditions (e.g., caspase-8 inhibition). IR can also elicit ER stress and autophagy in response to the accumulation of oxidized or misfolded proteins, which may in turn induce apoptosis. Finally, apoptosis may also be triggered by increased ceramide levels, generated through direct IR-induced activation of sphingomyelinases (SMases) in the plasma membrane.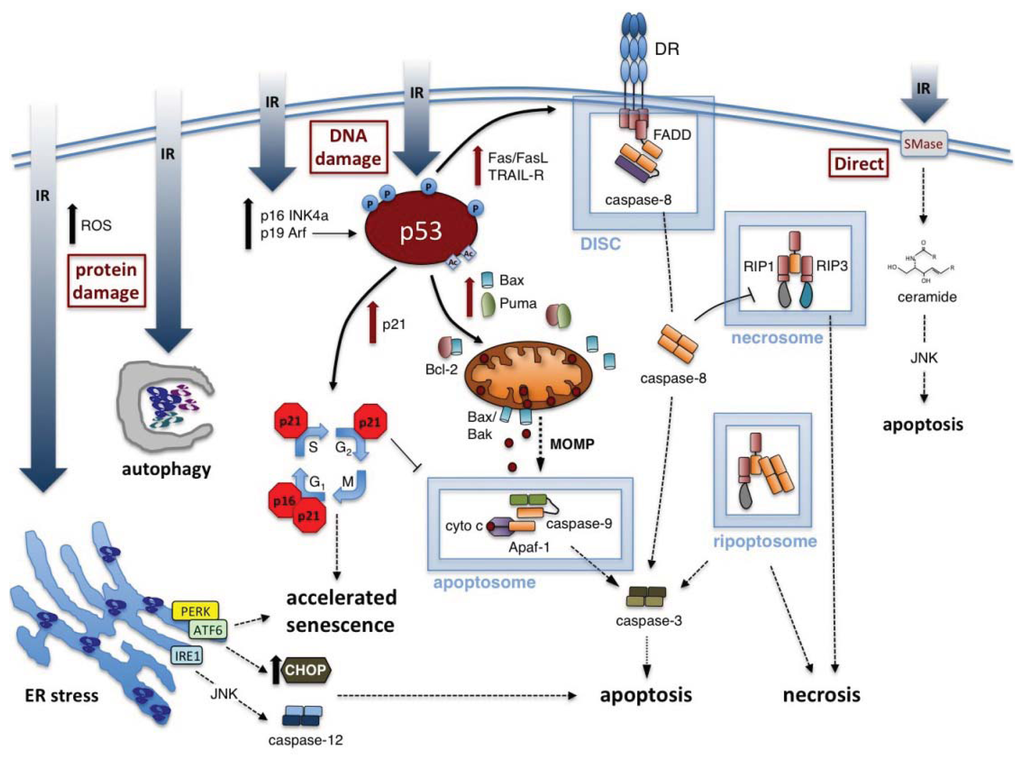 © 2013 by the authors; licensee MDPI, Basel, Switzerland This article is an open access article distributed under the terms and conditions of the Creative Commons Attribution license (http://creativecommons.org/licenses/by/3.0/).