Effect of δ-Opioid Receptor Activation on BDNF-TrkB vs. TNF-α in the Mouse Cortex Exposed to Prolonged Hypoxia
1
The Vivan L. Smith Department of Neurosurgery, The University of Texas Medical School at Houston, Houston, TX 77030, USA
2
Research Institute of Modern Medicine, The Third Medical College of Soochow University, Changzhou, Jiangsu 213002, China
3
Department of Life and Environment Sciences, University of Cagliari, Cagliari I-09124, Italy
4
Department of Pharmaceutical Sciences, University of Ferrara, Ferrara I-44100, Italy
*
Authors to whom correspondence should be addressed.
Received: 19 June 2013 / Revised: 25 July 2013 / Accepted: 25 July 2013 / Published: 31 July 2013
Abstract
We investigated whether δ-opioid receptor (DOR)-induced neuroprotection involves the brain-derived neurotrophic factor (BDNF) pathway. We studied the effect of DOR activation on the expression of BDNF and other proteins in the cortex of C57BL/6 mice exposed to hypoxia (10% of oxygen) for 1–10 days. The results showed that: (1) 1-day hypoxia had no appreciable effect on BDNF expression, while 3- and 10-day hypoxia progressively decreased BDNF expression, resulting in 37.3% reduction (
p <
0.05) after 10-day exposure; (2) DOR activation with UFP-512 (1 mg/kg, i.p., daily) partially reversed the hypoxia-induced reduction of BDNF expression in the 3- or 10-day exposed cortex; (3) DOR activation partially reversed the hypoxia-induced reduction in functional TrkB (140-kDa) and attenuated hypoxia-induced increase in truncated TrkB (90-kDa) in the 3- or 10-day hypoxic cortex; and (4) prolonged hypoxia (10 days) significantly increased TNF-α level and decreased CD11b expression in the cortex, which was completely reversed following DOR activation; and (5) there was no significant change in pCREB and pATF-1 levels in the hypoxic cortex. We conclude that prolonged hypoxia down-regulates BDNF-TrkB signaling leading to an increase in TNF-α in the cortex, while DOR activation up-regulates BDNF-TrkB signaling thereby decreasing TNF-α levels in the hypoxic cortex.
View Full-Text
►

▼

Figures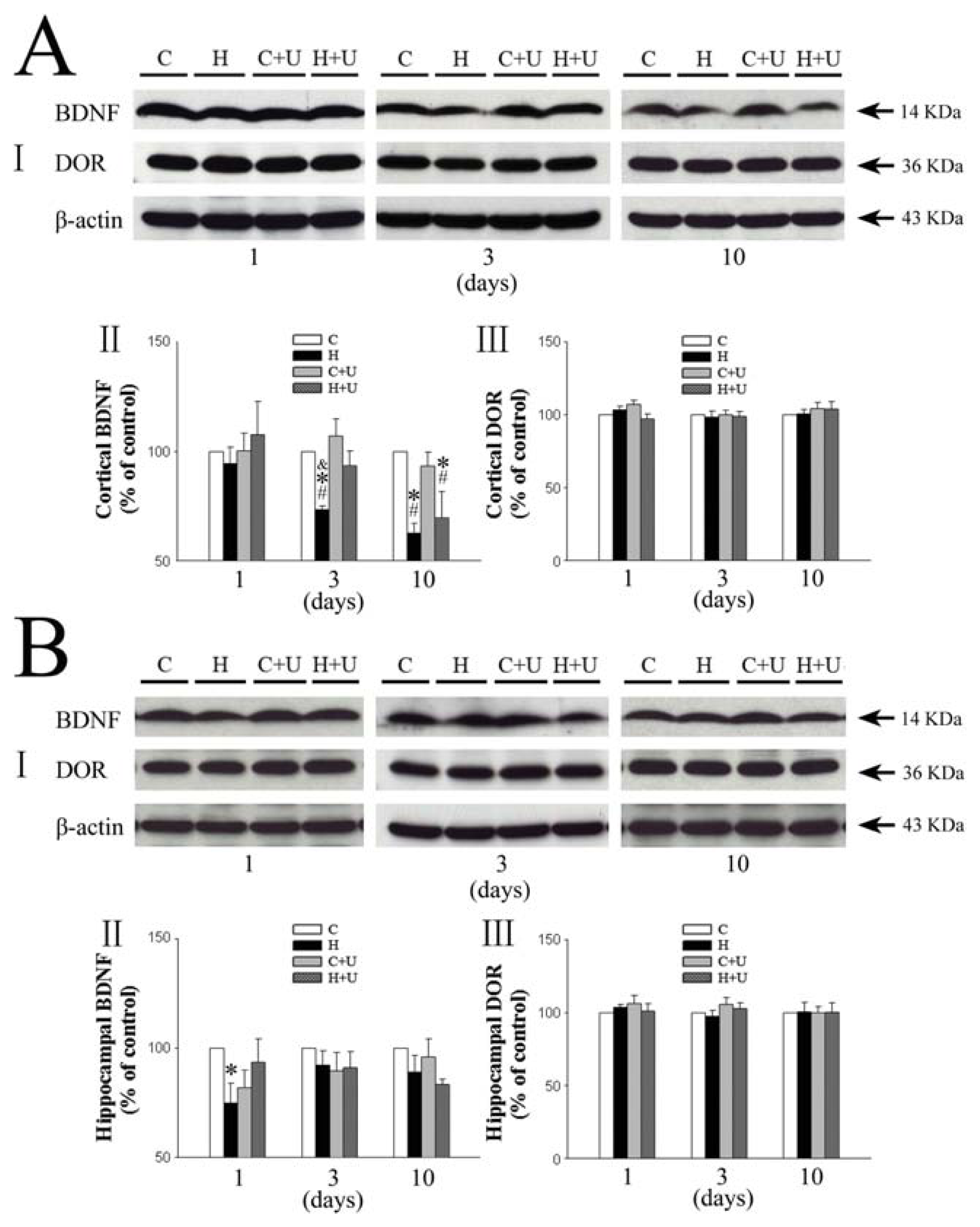 Share & Cite This Article
MDPI and ACS Style
Tian, X.; Hua, F.; Sandhu, H.K.; Chao, D.; Balboni, G.; Salvadori, S.; He, X.; Xia, Y. Effect of δ-Opioid Receptor Activation on BDNF-TrkB vs. TNF-α in the Mouse Cortex Exposed to Prolonged Hypoxia. Int. J. Mol. Sci. 2013, 14, 15959-15976.
Related Articles
Comments
[Return to top]