Post-Transcriptional Regulation of Iron Homeostasis in Saccharomyces cerevisiae
1
Departamento de Bioquímica y Biología Molecular, Universitat de València, Ave. Doctor Moliner 50, Burjassot E-46100, Valencia, Spain
2
Departamento de Biotecnología, Instituto de Agroquímica y Tecnología de Alimentos (IATA), Consejo Superior de Investigaciones Científicas (CSIC), Ave. Agustín Escardino 7, Paterna E-46980, Valencia, Spain
*
Author to whom correspondence should be addressed.
Received: 1 July 2013 / Revised: 15 July 2013 / Accepted: 18 July 2013 / Published: 30 July 2013
Abstract
Iron is an essential micronutrient for all eukaryotic organisms because it participates as a redox cofactor in a wide variety of biological processes. Recent studies in
Saccharomyces cerevisiae
have shown that in response to iron deficiency, an RNA-binding protein denoted Cth2 coordinates a global metabolic rearrangement that aims to optimize iron utilization. The Cth2 protein contains two Cx
8
Cx
5
Cx
3
H tandem zinc fingers (TZFs) that specifically bind to adenosine/uridine-rich elements within the 3' untranslated region of many mRNAs to promote their degradation. The Cth2 protein shuttles between the nucleus and the cytoplasm. Once inside the nucleus, Cth2 binds target mRNAs and stimulates alternative 3' end processing. A Cth2/mRNA-containing complex is required for export to the cytoplasm, where the mRNA is degraded by the 5' to 3' degradation pathway. This post-transcriptional regulatory mechanism limits iron utilization in nonessential pathways and activates essential iron-dependent enzymes such as ribonucleotide reductase, which is required for DNA synthesis and repair. Recent findings indicate that the TZF-containing tristetraprolin protein also functions in modulating human iron homeostasis. Elevated iron concentrations can also be detrimental for cells. The Rnt1 RNase III exonuclease protects cells from excess iron by promoting the degradation of a subset of the Fe acquisition system when iron levels rise.
View Full-Text
►

▼

Figures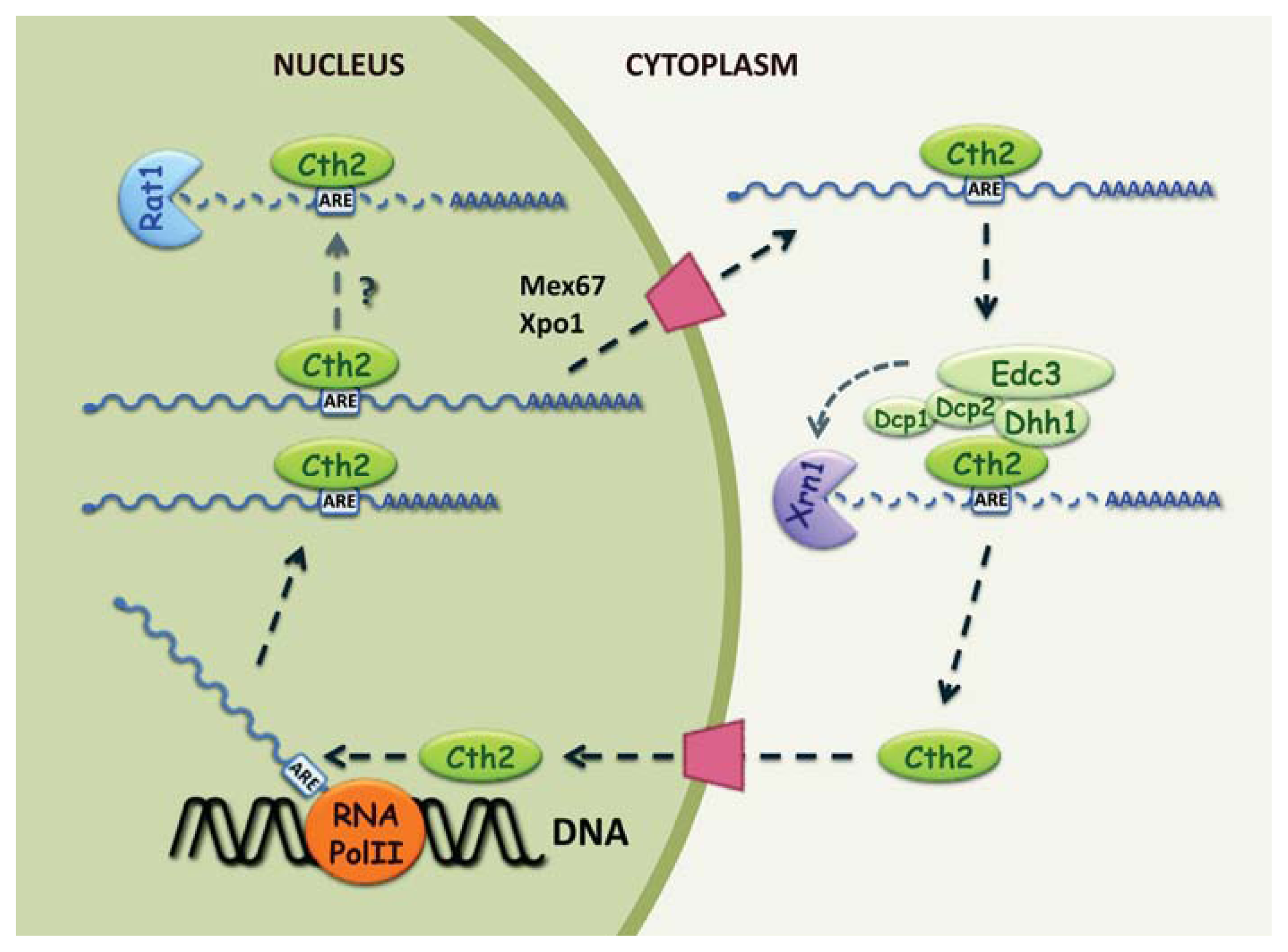 Share & Cite This Article
MDPI and ACS Style
Martínez-Pastor, M.T.; Llanos, R.D.; Romero, A.M.; Puig, S. Post-Transcriptional Regulation of Iron Homeostasis in Saccharomyces cerevisiae. Int. J. Mol. Sci. 2013, 14, 15785-15809.
Related Articles
Comments
[Return to top]