Protein Oxidation in the Lungs of C57BL/6J Mice Following X-Irradiation
1
Department of Pharmacology, Uniformed Services University of the Health Sciences, Bethesda, MD 20814, USA
2
Department of Anatomy, Physiology and Genetics, Uniformed Services University of the Health Sciences, Bethesda, MD 20814, USA
3
Operational Dosimetry Division, Armed Forces Radiobiology Research Institute, Uniformed Services University of the Health Sciences, Bethesda, MD 20889, USA
4
Radiation Countermeasures Program, Scientific Research Department, Armed Forces Radiobiology Research Institute, Uniformed Services University of the Health Sciences, Bethesda, MD 20889, USA
*
Authors to whom correspondence should be addressed.
Academic Editor: Soile Tapio
Received: 5 June 2015 / Revised: 6 August 2015 / Accepted: 12 August 2015 / Published: 19 August 2015
Abstract
Damage to normal lung tissue is a limiting factor when ionizing radiation is used in clinical applications. In addition, radiation pneumonitis and fibrosis are a major cause of mortality following accidental radiation exposure in humans. Although clinical symptoms may not develop for months after radiation exposure, immediate events induced by radiation are believed to generate molecular and cellular cascades that proceed during a clinical latent period. Oxidative damage to DNA is considered a primary cause of radiation injury to cells. DNA can be repaired by highly efficient mechanisms while repair of oxidized proteins is limited. Oxidized proteins are often destined for degradation. We examined protein oxidation following 17 Gy (0.6 Gy/min) thoracic X-irradiation in C57BL/6J mice. Seventeen Gy thoracic irradiation resulted in 100% mortality of mice within 127–189 days postirradiation. Necropsy findings indicated that pneumonitis and pulmonary fibrosis were the leading cause of mortality. We investigated the oxidation of lung proteins at 24 h postirradiation following 17 Gy thoracic irradiation using 2-D gel electrophoresis and OxyBlot for the detection of protein carbonylation. Seven carbonylated proteins were identified using mass spectrometry: serum albumin, selenium binding protein-1, alpha antitrypsin, cytoplasmic actin-1, carbonic anhydrase-2, peroxiredoxin-6, and apolipoprotein A1. The carbonylation status of carbonic anhydrase-2, selenium binding protein, and peroxiredoxin-6 was higher in control lung tissue. Apolipoprotein A1 and serum albumin carbonylation were increased following X-irradiation, as confirmed by OxyBlot immunoprecipitation and Western blotting. Our findings indicate that the profile of specific protein oxidation in the lung is altered following radiation exposure.
View Full-Text
►

▼

Figures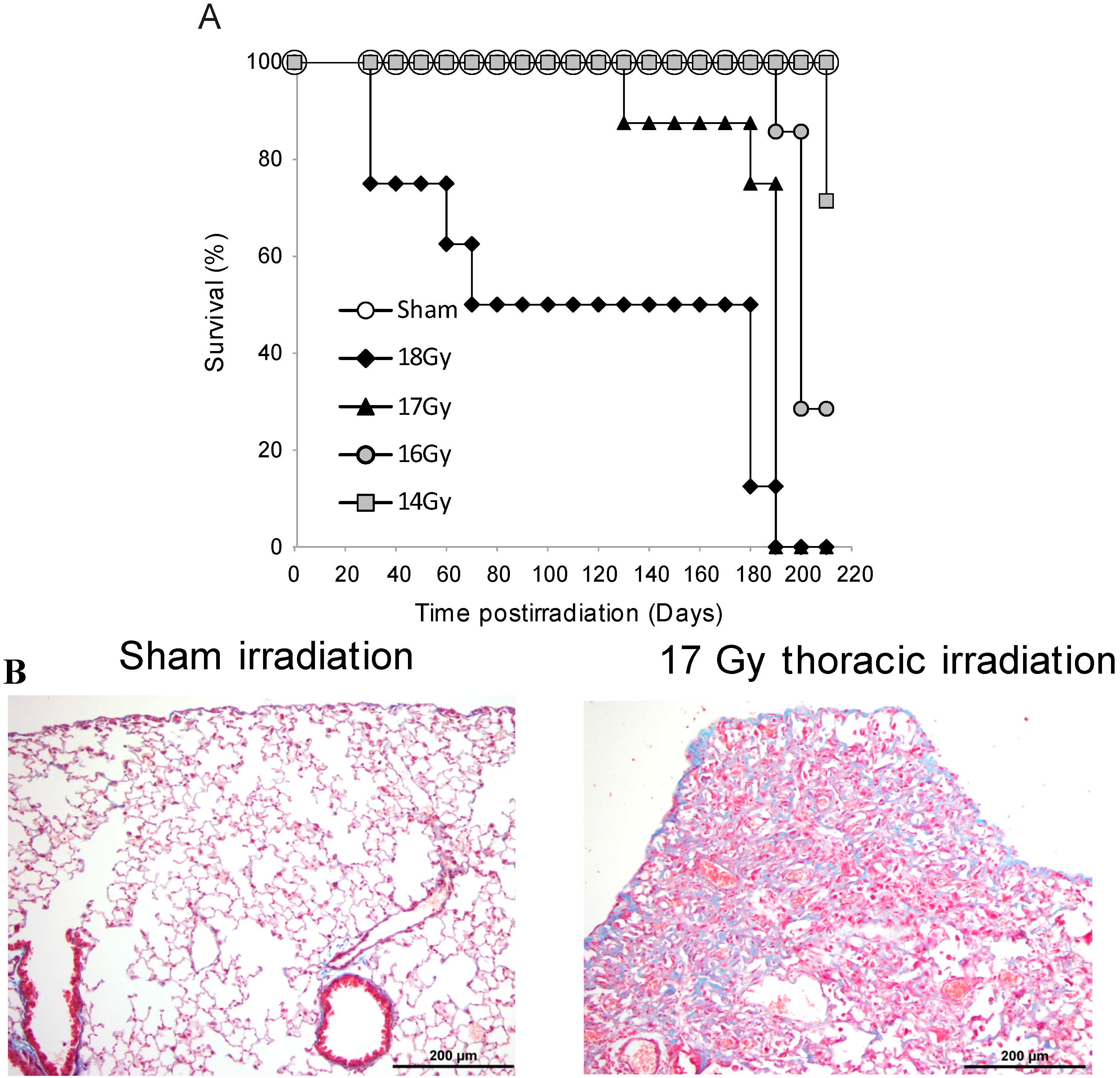 Figure 1
This is an open access article distributed under the
Creative Commons Attribution License
which permits unrestricted use, distribution, and reproduction in any medium, provided the original work is properly cited. (CC BY 4.0).
Share & Cite This Article
MDPI and ACS Style
Barshishat-Kupper, M.; McCart, E.A.; Freedy, J.G.; Tipton, A.J.; Nagy, V.; Kim, S.-Y.; Landauer, M.R.; Mueller, G.P.; Day, R.M. Protein Oxidation in the Lungs of C57BL/6J Mice Following X-Irradiation. Proteomes 2015, 3, 249-265.
Related Articles
Comments
[Return to top]