The Hinge Region of Bovine Zona Pellucida Glycoprotein ZP3 Is Involved in the Formation of the Sperm-Binding Active ZP3/ZP4 Complex
Graduate School of Science, Chiba University, Chiba 263-8522, Japan
*
Author to whom correspondence should be addressed.
Academic Editor: Hans Vliegenthart
Received: 5 September 2015 / Revised: 31 October 2015 / Accepted: 16 November 2015 / Published: 23 November 2015
Abstract
The zona pellucida (ZP) surrounds the mammalian oocyte and mediates species-selective sperm-oocyte interactions. Bovine ZP consists of glycoproteins ZP2, ZP3, and ZP4. Neither ZP3 nor ZP4 alone shows inhibitory activity for the binding of sperm to the ZP; however, this activity is seen with the ZP3/ZP4 heterocomplex. Here, we constructed a series of bovine ZP3 mutants to identify the ZP4-binding site on ZP3. Each ZP3 mutant was co-expressed with ZP4 using a baculovirus-Sf9 cell expression system and examined for interaction with ZP4 as well as inhibitory activity for sperm-ZP binding.
N
-terminal fragment Arg-32 to Arg-160 of ZP3 interacted with ZP4 and inhibited sperm-ZP binding, whereas fragment Arg-32 to Thr-155 showed much weaker interaction with ZP4. Mutation of
N
-glycosylated Asn-146 to Asp in the
N
-terminal fragment Arg-32 to Glu-178 of ZP3 did not interrupt the interaction of this fragment with ZP4, but it did reduce the inhibitory activity of the complex for sperm-ZP binding. In contrast, mutation of
N
-glycosylated Asn-124 to Asp did not significantly reduce the activity. Taken together, these results suggest that one of the ZP4 binding sites exists in the flexible hinge region of ZP3 and that the
N
-glycosylation in this region is involved in the sperm binding.
View Full-Text
►

▼

Figures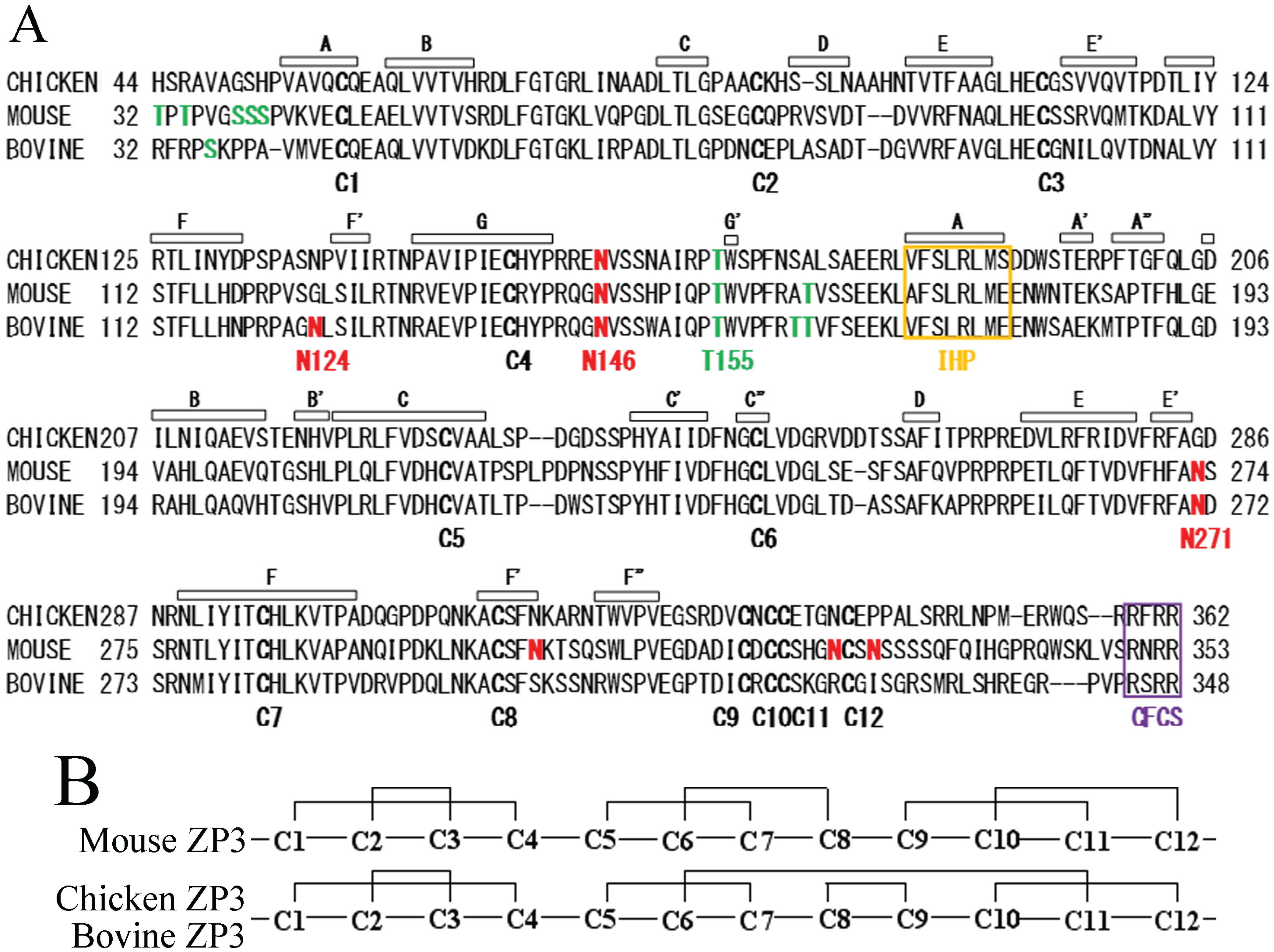 Figure 1a
This is an open access article distributed under the
Creative Commons Attribution License
which permits unrestricted use, distribution, and reproduction in any medium, provided the original work is properly cited. (CC BY 4.0).
Share & Cite This Article
MDPI and ACS Style
Suzuki, K.; Tatebe, N.; Kojima, S.; Hamano, A.; Orita, M.; Yonezawa, N. The Hinge Region of Bovine Zona Pellucida Glycoprotein ZP3 Is Involved in the Formation of the Sperm-Binding Active ZP3/ZP4 Complex. Biomolecules 2015, 5, 3339-3353.
Related Articles
Comments
[Return to top]