Open Access This article is
freely available
re-usable
Review
Quantum Mechanical Modeling: A Tool for the Understanding of Enzyme Reactions
1
Laboratory of Structural Chemistry and Biology and HAS-ELTE Protein Modeling Group, Eötvös Loránd University, Pázmány Péter St. 1A, Budapest H-1117, Hungary
2
Department of Inorganic and Analytical Chemistry, Budapest University of Technology and Economics, Gellért tér 4, Budapest H-1111, Hungary
*
Author to whom correspondence should be addressed; Tel.: +36-20-480-5104; Fax: +36-1-372-2620.
Received: 6 August 2013; in revised form: 17 September 2013 / Accepted: 19 September 2013 / Published: 23 September 2013
Abstract
:
Most enzyme reactions involve formation and cleavage of covalent bonds, while electrostatic effects, as well as dynamics of the active site and surrounding protein regions, may also be crucial. Accordingly, special computational methods are needed to provide an adequate description, which combine quantum mechanics for the reactive region with molecular mechanics and molecular dynamics describing the environment and dynamic effects, respectively. In this review we intend to give an overview to non-specialists on various enzyme models as well as established computational methods and describe applications to some specific cases. For the treatment of various enzyme mechanisms, special approaches are often needed to obtain results, which adequately refer to experimental data. As a result of the spectacular progress in the last two decades, most enzyme reactions can be quite precisely treated by various computational methods.
Keywords:
enzyme; reaction; mechanism; model; quantum mechanics; QM/MM
1. Introduction
Enzyme reactions are extremely complicated processes involving directly or indirectly a large number of atoms in the chemical rearrangement of the reacting species. Accordingly, their understanding in atomic details is also very difficult and needs combined application of a variety of experimental and molecular modeling techniques. Rate and binding constants, as well as inhibitory power provide direct information on energetic aspects; however, they are bulk descriptors of the reaction and give information on subtleties only in cases when they can be associated with a single step. A direct method, X-ray diffraction, helps in constructing three-dimensional models at the atomic resolution but does not allow drawing conclusions on energetic aspects of the process. Detailed and precise elucidation of an enzymatic reaction is therefore not possible using present-day experimental methods alone; application of molecular modeling seems to be a must in order to clarify subtle details.
Because of the very large number of atoms involved in the reaction enzymatic processes, in general, cannot be modeled as accurately as interactions between small molecules with a few atoms. Though in some specific cases, by the application of high-level quantum mechanical methods quantitative agreement with experiment could be achieved [
1
], this is presently not routine. A promising way to obtain a detailed and adequate description of the process is to combine experimental evidence with modeling techniques. The reliability of a model can be checked by comparing calculated and experimental data and if an appropriate agreement is achieved, one may be confident on its validity.
With the spectacular development of computer hardware and software a substantial progress has been made in the development of quantum chemical methods. High-performance models of solvation, as well as combination of
a priori
quantum mechanical and empirical molecular mechanical approaches have become an integral part of commercial molecular modeling program packages. Along with the dramatic increase of the computer performance to price ratio, computational chemistry became suitable even for predictions, and thus it complements experimental findings. It seems that direct mapping between calculated and experimentally observed properties, as well as molecular structures represents a major advantage of quantum chemical modeling since this type of information is very difficult to obtain experimentally. If the observed properties, related to enzyme reactions, can be quantitatively reproduced by calculations we may consider reaction profiles and other calculated parameters to be reliable, too. Agreement between theory and experiment may imply that the reaction mechanism of the studied enzyme can be considered as clarified.
In this review we give an overview first on models, which can be used for the understanding of an enzyme reaction. Then, up-to-date and popular methods of calculation will be surveyed without laying emphasis on their mathematical background and technical details, rather focusing on their performance. The main part of the paper is written on case studies on some enzyme reactions, either involving special effects or dealing with a widely studied class of processes. First we discuss serine proteases, an important enzyme family for which three-dimensional structures have been available very early [
2
]. While the key reaction, general base assisted catalysis, is well-known in organic chemistry, a variety of factors contributing to rate enhancement has to be considered, and it seems that by now most of them are understood in detail [
3
]. Next we treat biological phosphate ester hydrolysis, which is a key step e.g., in the transfer of the phosphoryl group from a phosphate ester or anhydride to a nucleophile [
4
]. Understanding of this process is closely linked to the elucidation of mechanisms for the corresponding non-enzymatic reactions in solution. A wide variety of experimental data is available; however, it is difficult to summarize indirect conclusions in the absence of explicit molecular models. Accordingly, quantum mechanical calculations provide an important option to obtain a reasonable guess for the reaction energy profile. An interesting process is long-range electron transfer in heme peroxidases
,
its understanding in detail involves special experimental techniques. Therefore, to study enzyme-catalyzed electron transfer reactions we need to perform sophisticated quantum mechanical calculations, classical molecular mechanics alone is not appropriate (cf.
Section 4.3
). Cytochrome P450 enzymes form a very large superfamily of heme enzymes, their regioselectivity, oxidizing power and reactivity are therefore of outstanding interest, we treat them in
Section 4.4
. At last we deal with a special case, xylose isomerase catalysis [
5
], where quantum effects, namely proton tunneling, play a certain role in determining the reaction rate. Tunneling could be relatively precisely reproduced by direct calculations on other enzyme reactions, too.
2. Models
An enzyme has thousands of atoms, therefore the whole molecule and its transformations cannot be treated by direct quantum mechanical methods. Instead of striving for complete models, including all atoms of the enzyme and its surroundings, the system is better partitioned into various regions, which can be described at various levels of sophistication. The active site (
A
) is embedded in the amino-acid residues of the protein core (
P
) with ionizable surface, eventually buried, side chains and the whole protein is dissolved in the bulk (
B
). For most enzymes studied, this latter contains, beside water molecules, counter ions, partly or fully shielding the electrostatic field of the positively or negatively charged side chains. However, in some specific cases, the bulk is not necessarily aqueous, it can be formed by e.g., the atoms of a membrane, where the enzyme is located. The above three regions, schematically depicted in
Figure 1
, can be calculated at different levels of sophistication.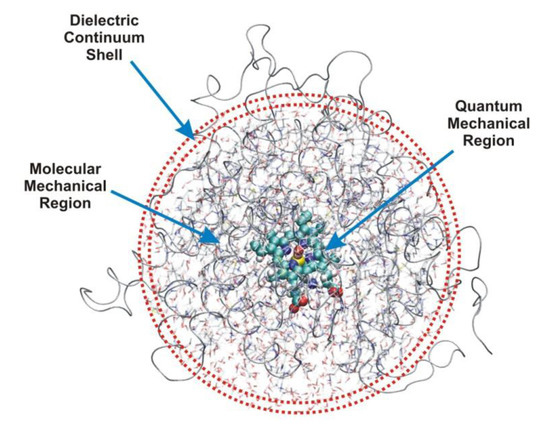 Figure 1. Hierarchical composition of a full enzyme system. Active site or quantum mechanical region (A); protein core or molecular mechanical region (P); bulk or dielectric continuum shell (B) (figure drawn on the basis of the crystal structure of human aromatase, 3EQM).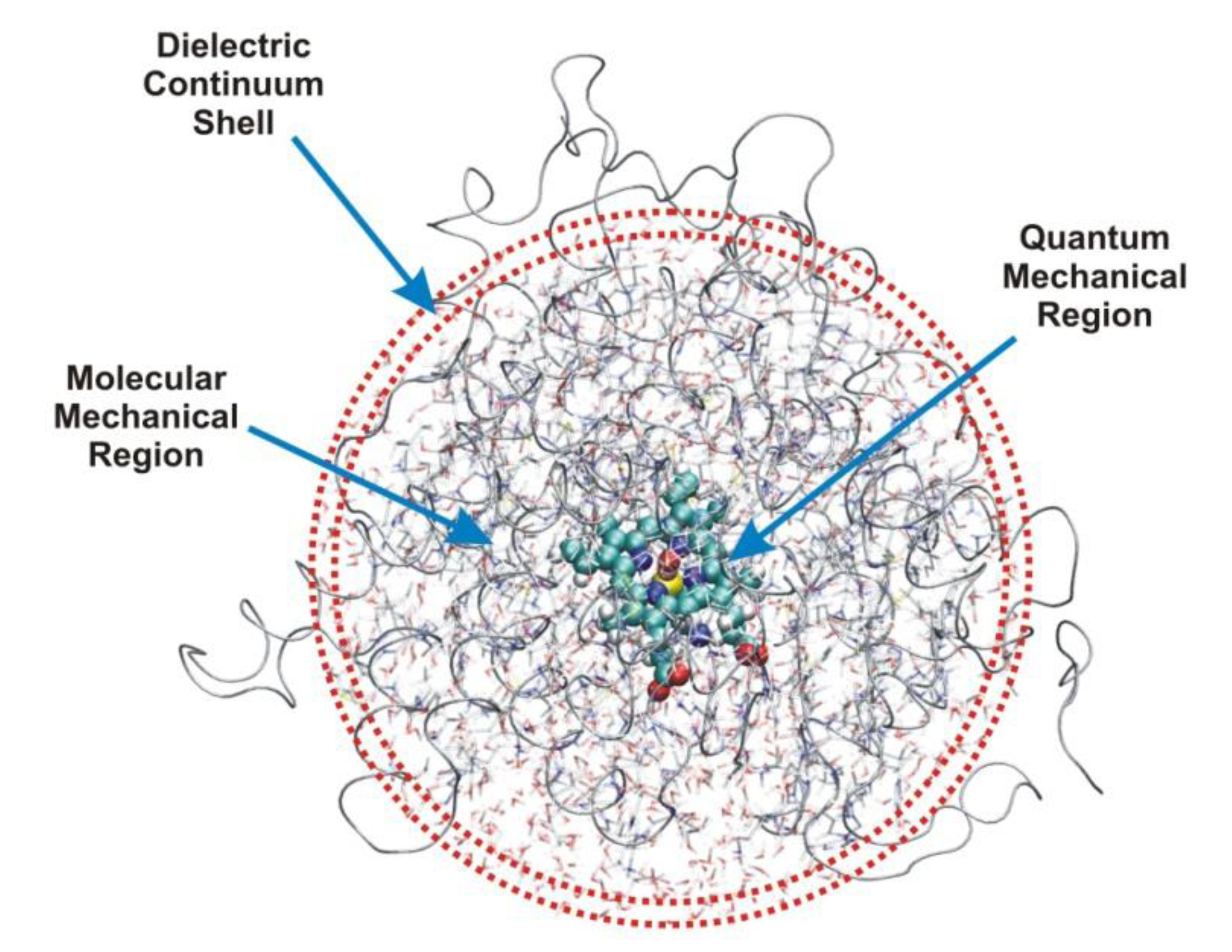 For most enzymes
A
includes the catalytic machinery,
i.e.
, key amino-acid side chains, one or more water molecules and substrate, these fragments are directly involved in catalysis. The minimum number of non-hydrogen atoms in this model may range from 10 to 200, which should be extended by a further number of atoms belonging to essential prosthetic groups, if present. Up-to-date quantum mechanical methods are available even for the high-level treatment of such systems, even if these contain one or more third or higher row atoms, e.g., sulfur, phosphorus or some transition metal. Special electronic effects, like excitation or transfer can be accounted for using sophisticated computational methods, which make use of high-performance software and hardware. The basic reason, why quantum mechanics is indispensable for the adequate description of these models, is that bond fission and formation taking place during the vast majority of enzymatic processes needs such an exact treatment. We may obtain structural parameters for
A
mainly from the Protein Data Bank [
6
], in some specific cases from other sources. If geometry optimization is necessary, atoms at the boundary of
A
must be fixed in order to avoid artificial distortions from the experimental, chemically relevant structure, which may essentially influence final results and lead to artifacts in the modeling procedure. The atoms of the active site must be kept within the geometric frame of the protein core, which is absent from
A
, therefore sometimes spurious effects may arise as a result of geometry optimization potentially leading to lethal distortion of the active-site structure. In a concrete model covalent bonds linking side chains or other groups of the active site to atoms in
P
must be split, while the resulting dangling bonds can be saturated by hydrogen atoms, eventually methyl groups. This is quite feasible for apolar single C
–
C bonds, but for polar links, like C–N or C–O replacement of an atom with another, for which the electronegativity is essentially different from that of hydrogen, it causes spurious charge accumulation at the boundary. Similar effects may occur if multiple bonds are cut. Most preferably, the active site should be constructed by cutting C
α
–C
β
bonds of the amino-acid residues. A further problem is that hydrogen atoms, used for the saturation of dangling bonds emerging after cutting, may be in steric conflict with some atoms of
P
and this may even lead to convergence problems in quantum mechanical calculations as well as spurious terms in the energy expression within a force field applied in the molecular mechanical calculation. In case of some electron transfer reactions it is very difficult to define the active site atoms appropriately, since localization of an unpaired electron may be uncertain. In these cases, results are very sensitive to the definition of the model, adding or dropping one or two atoms may considerably influence, e.g., the calculated spin density distribution. In such cases, the gradual extension of the size of the model may bring certain saturation in calculated sensitive properties, like charge or spin distribution. In a series of calculations on models with gradually increasing size, the smallest model for which these properties do not change, as compared to previous one, may be appropriate.
Enzymatic mechanisms cannot be understood quantitatively on the basis of active-site models alone. Even in cases, like phosphoryl transfer (cf.
Section 4.2
), where the basic reaction step seems to be determined by covalent bond fission and formation within the active site, electrostatic, steric and hydration effects influence the formation, structure and protonation state of the active site, which may have some or even basic importance. At least two important phenomena, electrostatics and protein fluctuation cannot be reduced solely to the active site; distant protein residues may and quite often do play a role. In case of electrostatics incorporation of atomic monopoles in the model provides often quite good results; however, sophisticated non-quantum mechanical methods are available for the consideration of such effects. Atomic monopoles can be treated as transferable from one protein to the other; this means, however, that mutual polarization between the active site and protein residues is neglected. This approach is quite feasible; but even semi-quantitative agreement with experiment is rarely achieved. Backbone and side-chain fluctuation can be treated on the basis of molecular dynamics (see
Section 3
); restriction of the number of protein atoms in the model is allowed only, if local effects (e.g., separated side-chain fluctuation) are investigated.
In most cases the overwhelming majority of the bulk,
B
, is water; however, dissolved inorganic ions and eventually other components are quite important when estimating its effect on the reaction process. The dielectric constant of water is large; therefore the effect of
B
on electrostatic factors, influencing the reaction, may be quite important. In a precise model it is not sufficient to consider only
A
and
P
, the influence of
B
must also be estimated some way. Water molecules may influence the outcome of the enzyme reaction by three different ways. One or more molecules may act as proton donor or proton acceptor during reaction, these have to be explicitly included in
A
. Structural water molecules bind quite strongly to the protein core or the surface, because of their reduced mobility they have to be explicitly included in
P
. Locations can be obtained from X-ray diffraction studies, for which results are deposited in the Protein Data Bank. Like for other atoms, belonging to the protein core, electrostatic effect of structural water molecules can be considered by including appropriate point charges in the Hamiltonian. In case of a molecular dynamics study
P
must include all structural water molecules explicitly. The most complicated type of water in biological systems is bulk, for which a manifold of models with varying adequacy is available. It is possible to model the bulk by a finite set of point charges, however, their electrostatic effect converges very slowly, thus a very large number of molecules has to be included. An implicit way is to use an empirically selected dielectric constant in the force field. Because of the strong effect,
i.e.
, the large dielectric constant of bulk water on protein electrostatics, energy differences for various intermediates and transition states of the reaction are reduced to a quite large extent as compared to the corresponding reaction in the gas phase. Accordingly, great care is needed when comparing quantum mechanically computed values to experimental ones. The bulk may contain small inorganic ions (e.g., Na
+
, K
+
, Ca
2+
, Cl
–
, HO
–
), which partly shield the charge of surface side chains, their concentration is characterized by the ionic strength. Counter ions are not fixed; rather they form a loose distribution of charges. Their effect can be best simulated by high-performance methods like the Poisson-Boltzmann equation, to be discussed in the next section. In some cases when the enzyme reaction is diffusion-controlled the process can be described by Brownian dynamics simulation techniques. These are developed to estimate the rate at which the reactant molecules would collide with the active site in the appropriate orientation [
7
].
The role of protein dynamics in enzyme catalysis is a controversial question in computational enzymology. Some claim that protein dynamics are essential in understanding enzymatic processes, while others state that dynamics is not an important contribution to catalysis. However computer simulations demonstrate the importance of structural fluctuations and the need to include them in the modeling of certain enzyme reactions [
8
,
9
]. In some cases, e.g., in processes with significant changes in solvation it is even impossible to correctly predict activation energies if the dynamics of the protein and its active site is not considered in the calculation. In other reactions fluctuations have only a slight effect on the reaction path (see trypsin in
Section 4.1
).
It is often supposed that entropy effects play an important role in enzyme catalysis by fixing the reaction partners in the proper orientation and thus reducing translational and rotational entropy in the transition state. This means that an "entropy trap" may contribute very much to rate acceleration. However, these effects may be smaller than anticipated since enzyme molecules are quite flexible. For example in case of serine proteases entropic contribution to rate acceleration is relatively small, rather preorganization of the active site to ensure maximum interaction between reacting partners is the basis of rate enhancement [
10
]. As we will show in
Section 4.1
electrostatic stabilization of the active-site complex plays here a prominent role, while in other cases the liberation of water molecules from the active site into bulk solvent may be also crucial.
5. Conclusions
Enzyme reactions involve a large number of atoms, of which some, belonging to the active site, are crucial in understanding the process, while others are of less, however, not negligible importance. Owing to this special situation, special models and computational methods are needed for an adequate description. The active site can be modeled by small organic structures and some basic features of the reaction mechanisms can be elucidated by these. Calculations on this region must be at the quantum mechanical (Hartree-Fock, density functional or Empirical Valence Bond) level since bonds are broken and formed during the reaction, this needs a special treatment. More distant regions may be also of some importance, especially if the electrostatic field induced by them at the active site is strong. This is the case in point mutants where an ionizable side chain, which is close to the active site becomes charged or neutral by mutation. Those reactions, which involve a change in the polarity of the active site during transformation to the transition state, are strongly influenced, in most cases accelerated by the protein electrostatic field. In some cases subtle changes in the structure of the protein core may trigger essential changes in the mechanism. X-ray diffraction studies provide adequate models for the calculations.
Acknowledgments
This work was supported by grants from the Hungarian Scientific Research Fund (OTKA NK101072). J.O. and B. K. thank the financial support of the New Széchenyi Plan (TÁMOP-4.2.2/B-10/1-2010-0009).
Conflicts of Interest
The authors declare no conflict of interest.
© 2013 by the authors; licensee MDPI, Basel, Switzerland. This article is an open access article distributed under the terms and conditions of the Creative Commons Attribution license ( http://creativecommons.org/licenses/by/3.0/).