Homologous Prime-Boost Vaccination with OVA Entrapped in Self-Adjuvanting Archaeosomes Induces High Numbers of OVA-Specific CD8+ T Cells that Protect Against Subcutaneous B16-OVA Melanoma
Human Health Therapeutics, National Research Council of Canada, 1200 Montreal Rd., Ottawa, ON K1A 0R6, Canada
*
Author to whom correspondence should be addressed.
Academic Editor: Diane M. Harper
Received: 31 August 2016 / Revised: 28 October 2016 / Accepted: 9 November 2016 / Published: 17 November 2016
Abstract
Homologous prime-boost vaccinations with live vectors typically fail to induce repeated strong CD8
+
T cell responses due to the induction of anti-vector immunity, highlighting the need for alternative delivery vehicles. The unique ether lipids of archaea may be constituted into liposomes, archaeosomes, which do not induce anti-carrier responses, making them an ideal candidate for use in repeat vaccination systems. Herein, we evaluated in mice the maximum threshold of antigen-specific CD8
+
T cell responses that may be induced by multiple homologous immunizations with ovalbumin (OVA) entrapped in archaeosomes derived from the ether glycerolipids of the archaeon
Methanobrevibacter smithii
(MS-OVA). Up to three immunizations with MS-OVA administered in optimized intervals (to allow for sufficient resting of the primed cells prior to boosting), induced a potent anti-OVA CD8
+
T cell response of up to 45% of all circulating CD8
+
T cells. Additional MS-OVA injections did not add any further benefit in increasing the memory of CD8
+
T cell frequency. In contrast, OVA expressed by
Listeria monocytogenes
(LM-OVA), an intracellular bacterial vector failed to evoke a boosting effect after the second injection, resulting in significantly reduced antigen-specific CD8
+
T cell frequencies. Furthermore, repeated vaccination with MS-OVA skewed the response increasingly towards an effector memory (CD62
low
) phenotype. Vaccinated animals were challenged with B16-OVA at late time points after vaccination (+7 months) and were afforded protection compared to control. Therefore, archaeosomes constituted a robust particulate delivery system to unravel the kinetics of CD8
+
T cell response induction and memory maintenance and constitute an efficient vaccination regimen optimized for tumor protection.
View Full-Text
►

▼

Figures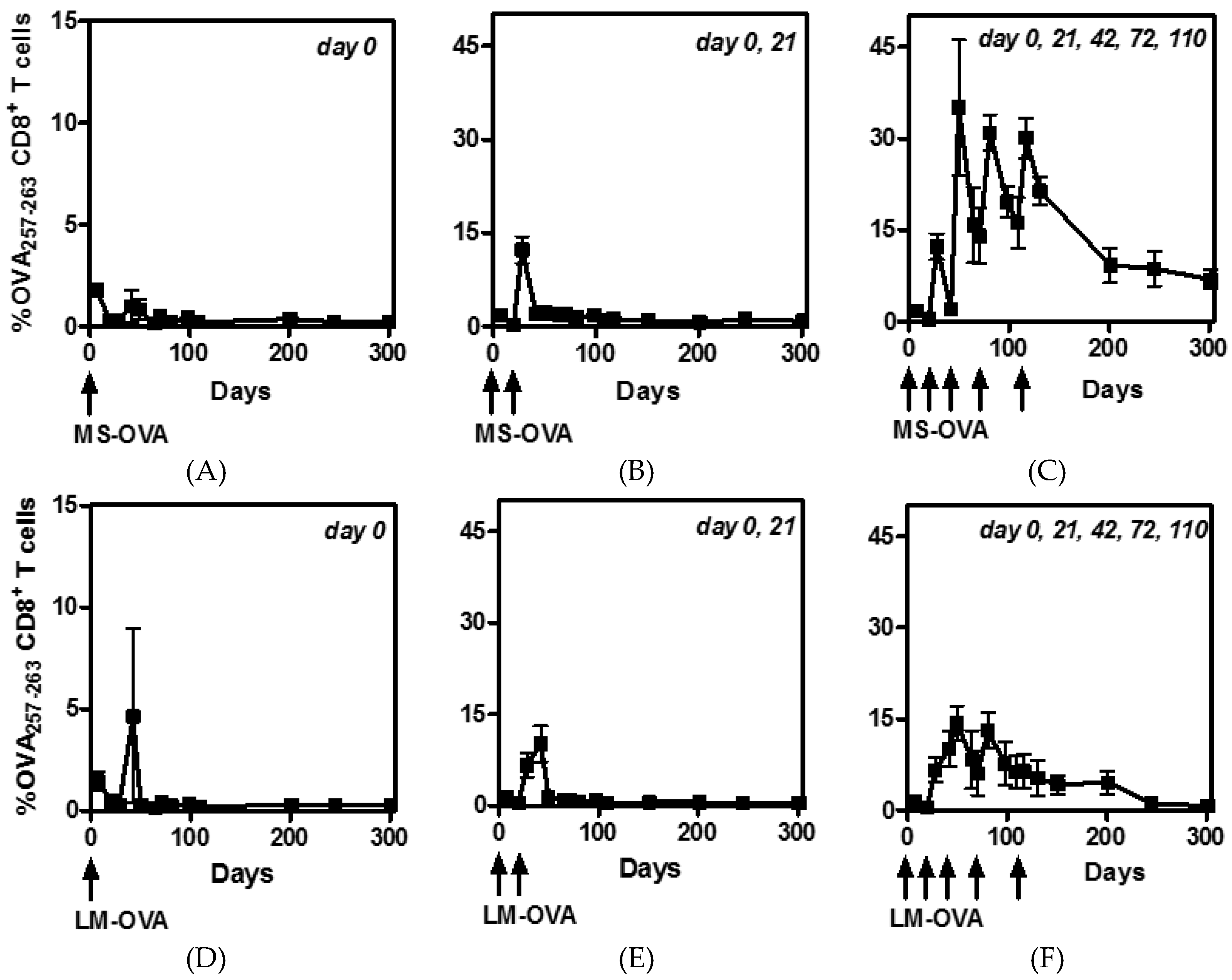 Figure 1
This is an open access article distributed under the
Creative Commons Attribution License
which permits unrestricted use, distribution, and reproduction in any medium, provided the original work is properly cited. (CC BY 4.0).
Share & Cite This Article
MDPI and ACS Style
Stark, F.C.; McCluskie, M.J.; Krishnan, L. Homologous Prime-Boost Vaccination with OVA Entrapped in Self-Adjuvanting Archaeosomes Induces High Numbers of OVA-Specific CD8+ T Cells that Protect Against Subcutaneous B16-OVA Melanoma. Vaccines 2016, 4, 44.
Note that from the first issue of 2016, MDPI journals use article numbers instead of page numbers. See further details here.
Related Articles
Comments
[Return to top]