Therapeutic Effect of Caffeine Treatment Immediately Following Neonatal Hypoxic-Ischemic Injury on Spatial Memory in Male Rats
1
Department of Psychology, University of Connecticut, Storrs, CT 06269, USA
2
Department of Pediatrics, University of Connecticut Health Center, Farmington, CT 06030, USA
*
Author to whom correspondence should be addressed.
Received: 22 December 2012 / Revised: 16 February 2013 / Accepted: 21 February 2013 / Published: 5 March 2013
Abstract
Hypoxia Ischemia (HI) refers to the disruption of blood and/or oxygen delivery to the brain. Term infants suffering perinatal complications that result in decreased blood flow and/or oxygen delivery to the brain are at risk for HI. Among a variety of developmental delays in this population, HI injured infants demonstrate subsequent memory deficits. The Rice-Vannucci rodent HI model can be used to explore behavioral deficits following early HI events, as well as possible therapeutic agents to help reduce deleterious outcomes. Caffeine is an adenosine receptor antagonist that has recently shown promising results as a therapeutic agent following HI injury. The current study sought to investigate the therapeutic benefit of caffeine following early HI injury in male rats. On post-natal day (P) 7, HI injury was induced (cauterization of the right common carotid artery, followed by two hours of 8% oxygen). Male sham animals received only a midline incision with no manipulation of the artery followed by room air exposure for two hours. Subsets of HI and sham animals then received either an intraperitoneal (i.p.) injection of caffeine (10 mg/kg), or vehicle (sterile saline) immediately following hypoxia. All animals later underwent testing on the Morris Water Maze (MWM) from P90 to P95. Results show that HI injured animals (with no caffeine treatment) displayed significant deficits on the MWM task relative to shams. These deficits were attenuated by caffeine treatment when given immediately following the induction of HI. We also found a reduction in right cortical volume (ipsilateral to injury) in HI saline animals as compared to shams, while right cortical volume in the HI caffeine treated animals was intermediate. These findings suggest that caffeine is a potential therapeutic agent that could be used in HI injured infants to reduce brain injury and preserve subsequent cognitive function.
View Full-Text
►

▼

Figures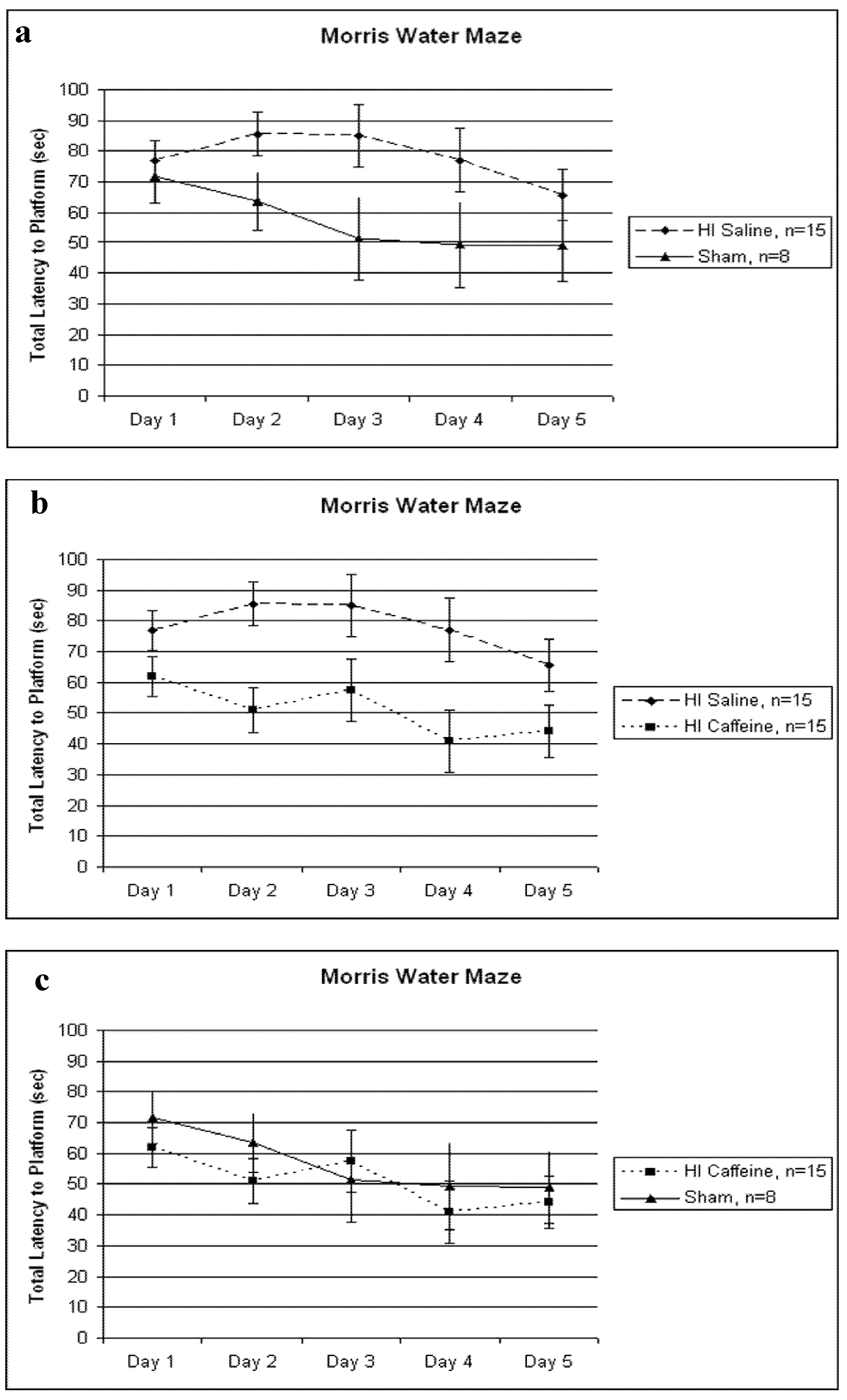 Figure 1
Share & Cite This Article
MDPI and ACS Style
Alexander, M.; Smith, A.L.; Rosenkrantz, T.S.; Fitch, R.H. Therapeutic Effect of Caffeine Treatment Immediately Following Neonatal Hypoxic-Ischemic Injury on Spatial Memory in Male Rats. Brain Sci. 2013, 3, 177-190.
Related Articles
Comments
[Return to top]