An Experimental Study of a Data Compression Technology-Based Intelligent Data Acquisition (IDAQ) System for Structural Health Monitoring of a Long-Span Bridge
1
Department of International Civil & Plant Engineering, Konyang University, Nonsan 32992, Korea
2
Department of Civil Engineering, Chungnam National University, Daejeon 34134, Korea
*
Author to whom correspondence should be addressed.
Received: 11 January 2018 / Revised: 13 February 2018 / Accepted: 27 February 2018 / Published: 2 March 2018
Abstract
There has recently been an increase in interest in structural health monitoring (SHM) using wireless sensor networks. For SHM, in particular, it is important to accurately and efficiently measure the dynamic acceleration response using wireless sensor networks in real-time. For the purpose, a CAFB (cochlea-inspired artificial filter bank) has been developed in a previous study, which is a dynamic data compression technology. Since the developed CAFB can select and compress only the interested range of frequency signals from an entire response of a structure, it efficiently provides a real-time dynamic response based on wireless networking. CAFB of the previous study is optimized to selectively acquire low-frequency signals of sub-10 Hz, which is required for SHM of long and large-scale structures. According to the CAFB's optimization using an El-Centro seismic waveform, six band-pass filters, 1.0 Hz interval, and 0.6 Hz bandwidth have been adapted. This article is to evaluate dynamic acceleration response performance of civil structures using the CAFB developed in the previous study. To achieve the purpose, the optimally-designed CAFB was embedded in an intelligent data acquisition (IDAQ) system. To evaluate the performance of the IDAQ system with the embedded CAFB, the real-time dynamic response was investigated for a model cable-stayed bridge, measured by a wire-measuring system and the CAFB-based IDAQ system simultaneously. The results show excellent agreement between the compressed dynamic response acquired by the CAFB-based IDAQ system and that acquired by the wire measuring system. In addition, the measurement from the CAFB-based IDAQ system revealed the modal information of the model bridge. The developed CAFB can determine and reconstruct the entire dynamic response from compression with modal information only; its efficient operation illustrates its potential to be utilized in real-time structural health monitoring.
View Full-Text
►

▼

Figures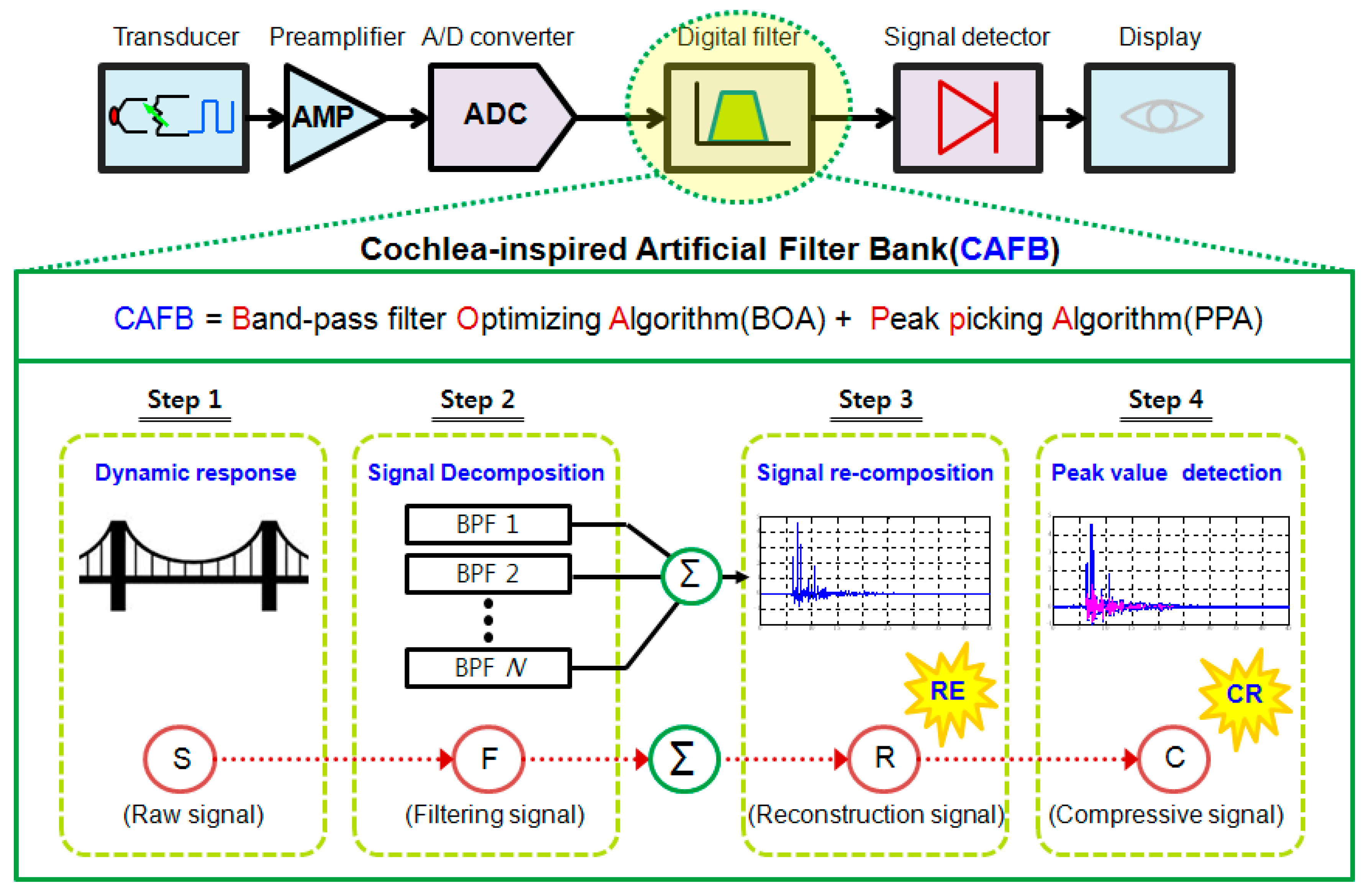 Figure 1
This is an open access article distributed under the
Creative Commons Attribution License
which permits unrestricted use, distribution, and reproduction in any medium, provided the original work is properly cited. (CC BY 4.0).
Share & Cite This Article
MDPI and ACS Style
Heo, G.; Kim, C.; Jeon, S.; Jeon, J. An Experimental Study of a Data Compression Technology-Based Intelligent Data Acquisition (IDAQ) System for Structural Health Monitoring of a Long-Span Bridge. Appl. Sci. 2018, 8, 361.
Note that from the first issue of 2016, MDPI journals use article numbers instead of page numbers. See further details here.
Related Articles
Comments
[Return to top]