Preventive Effects of Lactobacillus Plantarum YS4 on Constipation Induced by Activated Carbon in Mice
1
Key Laboratory of Dairy Science, Ministry of Education, College of Food Science, Northeast Agricultural University, Harbin 150030, China
2
Chongqing Collaborative Innovation Center for Functional Food, Chongqing University of Education, Chongqing 400067, China
3
Chongqing Engineering Research Center of Functional Food, Chongqing University of Education, Chongqing 400067, China
4
Chongqing Engineering Laboratory for Research and Development of Functional Food, Chongqing University of Education, Chongqing 400067, China
5
College of Biological and Chemical Engineering, Chongqing University of Education, Chongqing 400067, China
6
Department of Nutrition and Food Hygiene, School of Public Health, Guilin Medical University, Guilin 541004, China
†
These authors contributed equally to this work.
*
Authors to whom correspondence should be addressed.
Received: 29 January 2018 / Revised: 23 February 2018 / Accepted: 28 February 2018 / Published: 2 March 2018
(This article belongs to the Section
Chemistry
)
Abstract
This study was designed to analyze the effects of
Lactobacillus plantarum
YS4 (LP-YS4) on activated carbon-induced constipation in ICR (Institute of Cancer Research) mice. The mice were fed on YS4 and LB (
Lactobacillus bulgaricus
), followed by inducing constipation. The results of the experiment suggested that anti-gastric acid and bile salt activities of LP-YS4 were more effective than LB. It was conclusive that LP-YS4 could inhibit the weight loss induced by constipation and had an effect on fecal weight, particle number and further decrease in water content initiated by constipation. At the same time, LP-YS4 could increase gastrointestinal (GI) transit rate and limit the time of the first black stool defecation. It could also raise the motilin (MTL), endothelin (ET), acetylcholinesterase (AChE), substance P (SP), and vasoactive intestinal peptide (VIP) serum levels and reduce the somatostatin (SS) level in constipated mice as compared to the mice in control group. LP-YS4 could reduce myeloperoxidase (MPO), nitric oxide (NO), and malondialdehyde (MDA) levels in small intestinal tissue of mice and raise glutathione (GSH) levels as compared to the control group mice. By H&E (hematoxylin-eosin) assay, we determined that LP-YS4 could reduce the small intestinal tissue injury by activated carbon. Real-Time Quantitative Polymerase Chain Reaction (RT-qPCR) experiment data demonstrated that LP-YS4 has the capability to increase c-Kit, stem cell factor (SCF), glial cellline-derived neurotrophic factor (GDNF) mRNA (messenger RNA) expressions and decrease transient receptor potential vanilloid 1 (TRPV1), nitric oxide synthase (NOS) expressions in small intestine tissue of constipated mice. High concentration of LP-YS4 exhibited much better effects than that of LB. From these results, LP-YS4 could be considered as an effective substance that actively inhibits constipation.
View Full-Text
►

▼

Figures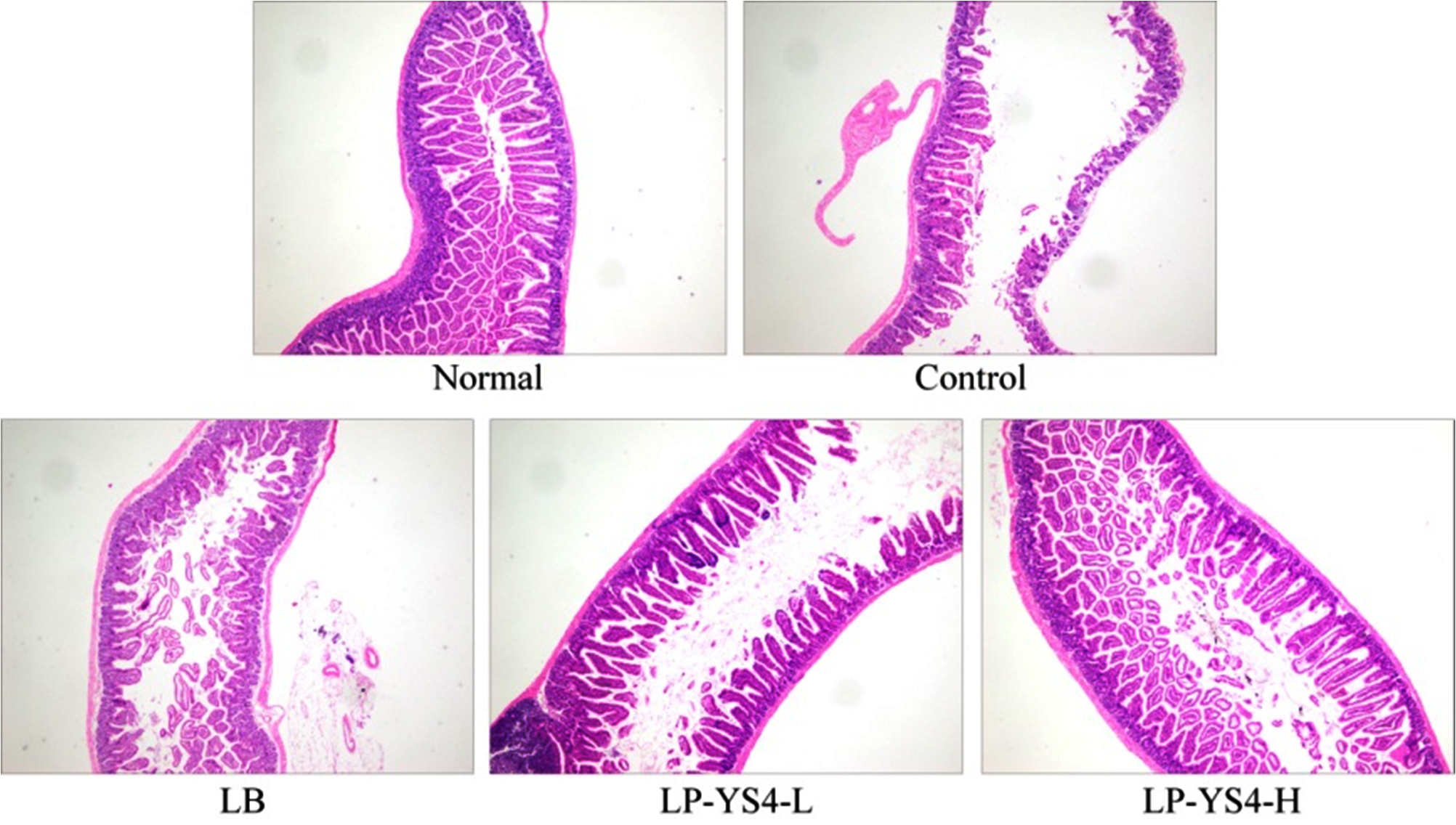 This is an open access article distributed under the
Creative Commons Attribution License
which permits unrestricted use, distribution, and reproduction in any medium, provided the original work is properly cited. (CC BY 4.0).
Share & Cite This Article
MDPI and ACS Style
Qian, Y.; Song, J.-L.; Yi, R.; Li, G.; Sun, P.; Zhao, X.; Huo, G. Preventive Effects of Lactobacillus Plantarum YS4 on Constipation Induced by Activated Carbon in Mice. Appl. Sci. 2018, 8, 363.
Note that from the first issue of 2016, MDPI journals use article numbers instead of page numbers. See further details here.
Related Articles
Comments
[Return to top]