Fasciola hepatica: Histology of the Reproductive Organs and Differential Effects of Triclabendazole on Drug-Sensitive and Drug-Resistant Fluke Isolates and on Flukes from Selected Field Cases
Section of Parasitology, Disease Surveillance and Investigation Branch, Veterinary Sciences Division, Agri-Food and Biosciences Institute, Stormont, Belfast BT4 3SD, UK
Academic Editor: Kris Chadee
Received: 12 May 2015 / Revised: 15 June 2015 / Accepted: 16 June 2015 / Published: 26 June 2015
Abstract
This review summarises the findings of a series of studies in which the histological changes, induced in the reproductive system of
Fasciola hepatica
following treatment of the ovine host with the anthelmintic triclabendazole (TCBZ), were examined. A detailed description of the normal macroscopic arrangement and histological features of the testes, ovary, vitelline tissue, Mehlis' gland and uterus is provided to aid recognition of the drug-induced lesions, and to provide a basic model to inform similar toxicological studies on
F. hepatica
in the future. The production of spermatozoa and egg components represents the main energy consuming activity of the adult fluke. Thus the reproductive organs, with their high turnover of cells and secretory products, are uniquely sensitive to metabolic inhibition and sub-cellular disorganisation induced by extraneous toxic compounds. The flukes chosen for study were derived from TCBZ-sensitive (TCBZ-S) and TCBZ-resistant (TCBZ-R) isolates, the status of which had previously been proven in controlled clinical trials. For comparison, flukes collected from flocks where TCBZ resistance had been diagnosed by coprological methods, and from a dairy farm with no history of TCBZ use, were also examined. The macroscopic arrangement of the reproductive system in flukes was studied using catechol/carmine stained whole mounts, and the histology of the main organs was examined using conventional haematoxylin-eosin stained sections. Validation of apoptosis in the fluke sections was carried out using an
in situ
hybridisation method designed to label endonuclease-induced DNA strand breaks. In TCBZ-S flukes exposed to TCBZ metabolites for 24–96 h
in vivo
, but not in TCBZ-R flukes, those tissues where active meiosis and/or mitosis occurred (testis, ovary, and vitelline follicles), were found to display progressive loss of cell content. This was due to apparent failure of cell division to keep pace with expulsion of the mature or effete products. Further, actively dividing cell types tended to become individualised, rounded and condensed, characteristic of apoptotic cell death. In the treated TCBZ-S flukes, strong positive labelling indicating apoptosis was associated with the morphologically abnormal cells undergoing mitosis or meiosis in the testis, ovary and vitelline follicles. In treated flukes from field outbreaks of suspected TCBZ-R fasciolosis, no significant histological changes were observed, nor was there any positive labelling for apotosis. On the other hand, sections of TCBZ treated flukes derived from a field case of fasciolosis where TCBZ resistance was not suspected displayed severe histological lesions, and heavy positive labelling for apoptosis. The triggering of apoptosis is considered to be related to failure of spindle formation at cell division, supporting the contention that TCBZ inhibits microtubule formation. In treated TCBZ-S flukes, protein synthesis and transport was apparently inhibited in the Mehlis' secretory cells, perhaps due to energy uncoupling or to microtubule defects. In the uterus, successful formation of shelled eggs represents the culmination of a complex sequence of cytokinetic, cytological and synthetic activity involving the vitelline follicles, the ovary and the Mehlis' gland. Histological evidence indicating failure of ovigenesis in TCBZ-S flukes was evident from as early as 24 h post-treatment onwards. Light labelling for apoptosis was associated with the testis of untreated Cullompton (TCBZ-S) and Sligo type 2 (TCBZ-R) flukes, which exhibit abnormal spermatogenesis and spermiogenesis, respectively. This was attributed to apoptosis and to heterophagy of effete germ line cells by the sustentacular tissue. The studies summarised in this review illustrate the potential utility of histological techniques for conveniently screening representative samples of flukes in field trials designed to validate instances of drug resistance. Histology can also be used to test the efficacy of new products against known drug-resistant and drug-susceptible fluke isolates. The account also provides reference criteria for drug-induced histopathological changes in fluke reproductive structures, examination of which may supplement and augment conventional coprological testing, and aid interpretation of TEM findings.
View Full-Text
►

▼

Figures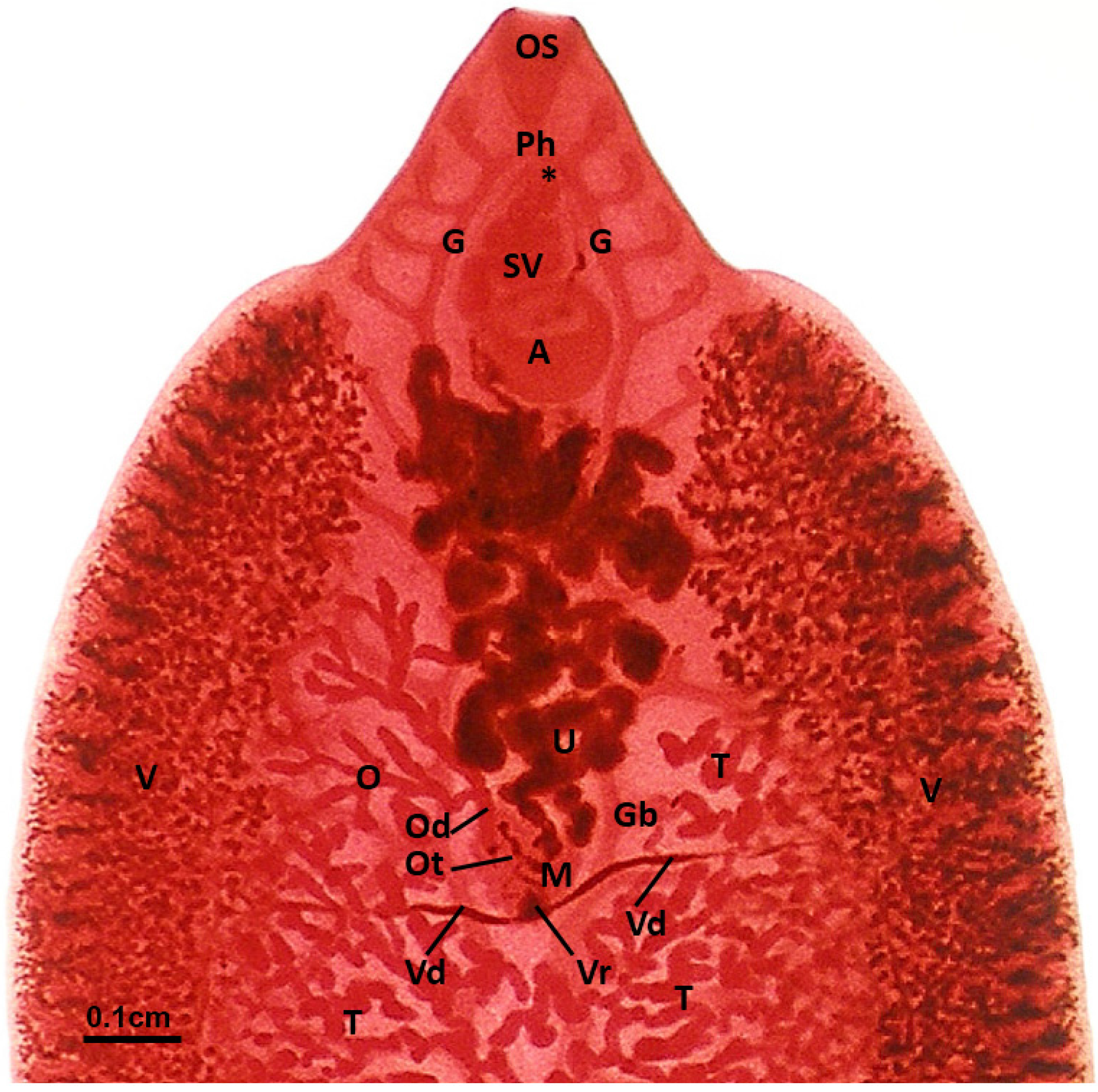 Figure 1
This is an open access article distributed under the
Creative Commons Attribution License
which permits unrestricted use, distribution, and reproduction in any medium, provided the original work is properly cited. (CC BY 4.0).
Share & Cite This Article
MDPI and ACS Style
Hanna, R. Fasciola hepatica: Histology of the Reproductive Organs and Differential Effects of Triclabendazole on Drug-Sensitive and Drug-Resistant Fluke Isolates and on Flukes from Selected Field Cases. Pathogens 2015, 4, 431-456.
Related Articles
Comments
[Return to top]