Water Quality of Four Major Lakes in Mississippi, USA: Impacts on Human and Aquatic Ecosystem Health
1
Department of Geosciences, Mississippi State University, Mississippi State, MS 39762, USA
2
Department of Natural Sciences & Environmental Health, Mississippi Valley State University, Itta Bena, MS 38941, USA
3
Marine Science Program and Department of Biological Sciences, University of South Carolina, Columbia, SC 29208, USA
4
Department of Chemistry and Biochemistry, Jackson State University, Jackson, MS 39217, USA
5
USDA Agricultural Research Service, Water Quality and Ecology Research Unit, Oxford, MS 38655, USA
*
Author to whom correspondence should be addressed.
Academic Editor: Y. Jun Xu
Received: 4 July 2015 / Revised: 20 August 2015 / Accepted: 7 September 2015 / Published: 15 September 2015
Abstract
Harmful algal blooms (HABs), harmful microorganisms (pathogens) and toxic metals represent three major agents of water quality deterioration. Water quality of three northern lakes (Sardis, Enid, and Grenada) and a central lake (Ross Barnett Reservoir) of Mississippi, USA were examined in this study. While all these lakes are heavily used for recreational purposes, the Ross Barnett Reservoir serves additionally as the primary water supply for the City of Jackson, the capital city of Mississippi. The main goal of this study was to comprehensively assess the water quality of these lakes employing field and satellite data, and evaluate the potential human and aquatic health impacts. A time-series of true color images derived from satellite data indicated that algal blooms have been a recurring phenomenon in these lakes. Cyanobacteria, the algal group that predominantly occur in freshwater and form toxic blooms, were always present in these lakes and were most abundant on many occasions. The most toxic cyanotoxin, microcystin-LR, was found in all lakes, and its concentrations exceeded federal drinking water guidelines for children under six years of age many times. Potential bioaccumulation and biomagnification of microcystin-LR may pose serious risk to the aquatic ecosystem and human health including adults. Nutrient measurements indicated that all four lakes were eutrophic. Among bacterial populations, total coliforms and enterococci exceeded guideline values on several occasions. Arsenic, cadmium, chromium, and lead were found in the water of all the lakes, with arsenic exceeding the guideline values at two sites in Ross Barnett Reservoir. While it is apparent from this study that these lakes face many water quality issues, data across all seasons will be required to document potential trends and to devise management strategies. Use of remote sensing technology is recommended to monitor some of the water quality parameters such as suspended particulate matter and algal blooms, especially cyanobacterial blooms.
View Full-Text
►

▼

Figures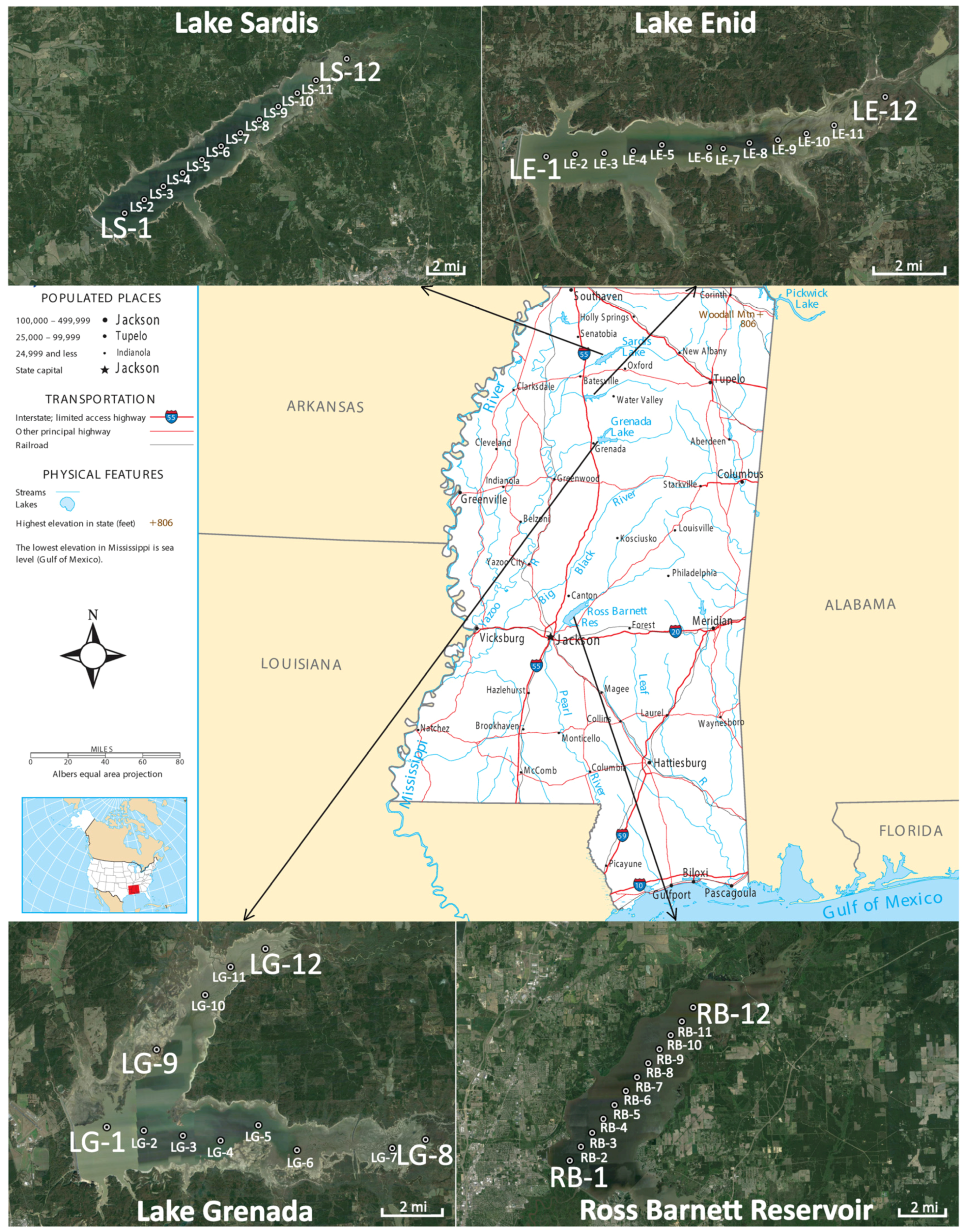 Figure 1
This is an open access article distributed under the
Creative Commons Attribution License
which permits unrestricted use, distribution, and reproduction in any medium, provided the original work is properly cited. (CC BY 4.0).
Share & Cite This Article
MDPI and ACS Style
Dash, P.; Silwal, S.; Ikenga, J.O.; Pinckney, J.L.; Arslan, Z.; Lizotte, R.E. Water Quality of Four Major Lakes in Mississippi, USA: Impacts on Human and Aquatic Ecosystem Health. Water 2015, 7, 4999-5030.
Related Articles
Comments
[Return to top]