WIPI-Mediated Autophagy and Longevity
Autophagy Laboratory, Department of Molecular Biology, Interfaculty Institute of Cell Biology, Faculty of Science, Eberhard Karls University Tuebingen, Auf der Morgenstelle 15, 72076 Tuebingen, Germany
*
Author to whom correspondence should be addressed.
Academic Editor: Anne Hamacher-Brady
Received: 20 March 2015 / Revised: 17 May 2015 / Accepted: 17 May 2015 / Published: 22 May 2015
(This article belongs to the Special Issue
Autophagy
)
Abstract
Autophagy is a lysosomal degradation process for cytoplasmic components, including organelles, membranes, and proteins, and critically secures eukaryotic cellular homeostasis and survival. Moreover, autophagy-related (ATG) genes are considered essential for longevity control in model organisms. Central to the regulatory relationship between autophagy and longevity is the control of insulin/insulin-like growth factor receptor-driven activation of mTOR (mechanistic target of rapamycin), which inhibits WIPI (WD repeat protein interacting with phosphoinositides)-mediated autophagosome formation. Release of the inhibitory mTOR action on autophagy permits the production of PI3P (phosphatidylinositol-3 phosphate), predominantly at the endoplasmic reticulum, to function as an initiation signal for the formation of autophagosomes. WIPI proteins detect this pool of newly produced PI3P and function as essential PI3P effector proteins that recruit downstream autophagy-related (ATG) proteins. The important role of WIPI proteins in autophagy is highlighted by functional knockout of the WIPI homologues ATG-18 and EPG-6 in
Caenorhabditis elegans
(
C. elegans
). Adult lifespan is significantly reduced in ATG-18 mutant animals, demonstrating that longevity as such is crucially determined by essential autophagy factors. In this review we summarize the role of WIPI proteins and their
C. elegans
homologues with regard to the molecular basis of aging. As the development of strategies on how to increase health span in humans is increasingly appreciated, we speculate that targeting WIPI protein function might represent a therapeutic opportunity to fight and delay the onset of age-related human diseases.
View Full-Text
►

▼

Figures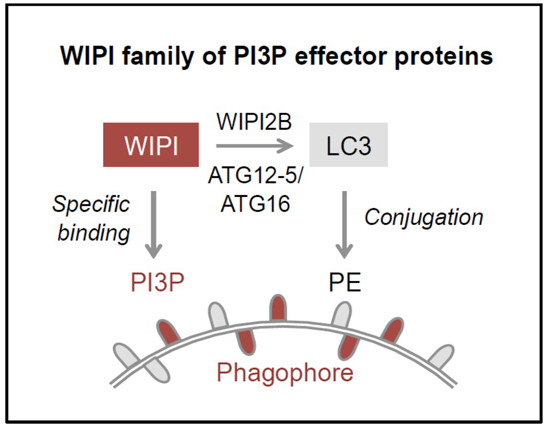 This is an open access article distributed under the
Creative Commons Attribution License
which permits unrestricted use, distribution, and reproduction in any medium, provided the original work is properly cited. (CC BY 4.0).
Share & Cite This Article
MDPI and ACS Style
Grimmel, M.; Backhaus, C.; Proikas-Cezanne, T. WIPI-Mediated Autophagy and Longevity. Cells 2015, 4, 202-217.
Related Articles
Comments
[Return to top]