Delineating an Epigenetic Continuum for Initiation, Transformation and Progression to Breast Cancer
1
Department of Otolaryngology/Head and Neck Surgery, Henry Ford Hospital, 1 Ford Place, 1D, Detroit, MI 48202, USA
2
Department of Pathology, Henry Ford Hospital, Detroit, 1 Ford Place, 1D, Detroit, MI 48202, USA
*
Author to whom correspondence should be addressed.
Received: 13 January 2011 / Revised: 10 March 2011 / Accepted: 22 March 2011 / Published: 29 March 2011
Abstract
Aberrant methylation of promoter CpG islands is a hallmark of human cancers and is an early event in carcinogenesis. We examined whether promoter hypermethylation contributes to the pathogenesis of benign breast lesions along a progression continuum to invasive breast cancer. The exploratory study cohort comprised 17 breast cancer patients with multiple benign and/or
in situ
lesions concurrently present with invasive carcinoma within a tumor biopsy. DNA from tumor tissue, normal breast epithelium when present, benign lesions (fibroadenoma, hyperplasia, papilloma, sclerosing adenosis, apocrine metaplasia, atypical lobular hyperplasia or atypical ductal hyperplasia), and
in situ
lesions of lobular carcinoma and ductal carcinoma were interrogated for promoter methylation status in 22 tumor suppressor genes using the multiplex ligation-dependent probe amplification assay (MS-MLPA). Methylation specific PCR was performed to confirm hypermethylation detected by MS-MLPA. Promoter methylation was detected in 11/22 tumor suppressor genes in 16/17 cases. Hypermethylation of
RASSF1
was most frequent, present in 14/17 cases, followed by
APC
in 12/17, and
GSTP1
in 9/17 cases with establishment of an epigenetic monocloncal progression continuum to invasive breast cancer. Hypermethylated promoter regions in normal breast epithelium, benign, and premalignant lesions within the same tumor biopsy implicate
RASSF1
,
APC
,
GSTP1
,
TIMP3
,
CDKN2B
,
CDKN2A
,
ESR1
,
CDH13
,
RARB
,
CASP8
, and
TP73
as early events. DNA hypermethylation underlies the pathogenesis of step-wise transformation along a monoclonal continuum from normal to preneoplasia to invasive breast cancer.
View Full-Text
►

▼

Figures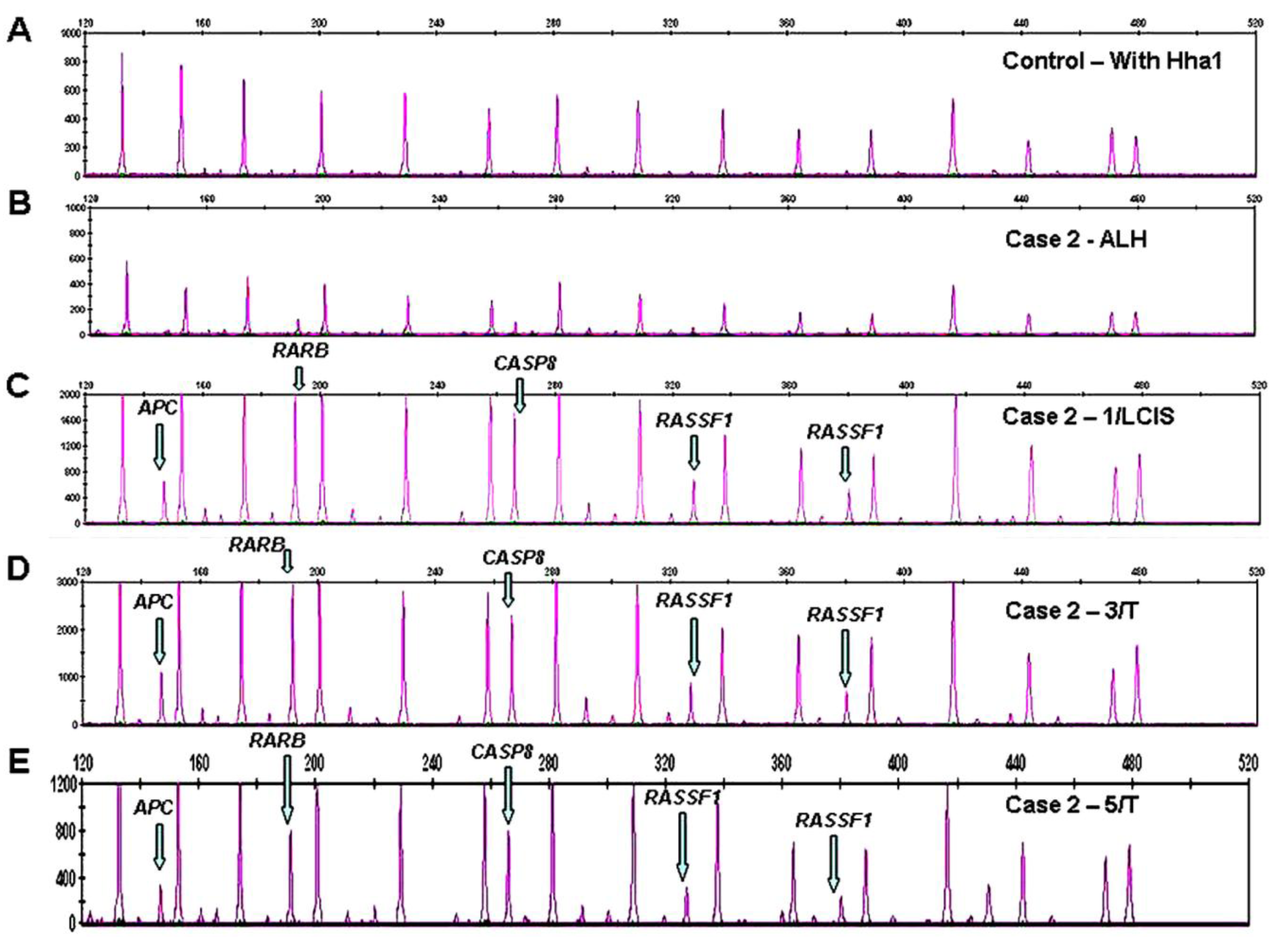 Share & Cite This Article
MDPI and ACS Style
Chen, K.M.; Stephen, J.K.; Raju, U.; Worsham, M.J. Delineating an Epigenetic Continuum for Initiation, Transformation and Progression to Breast Cancer. Cancers 2011, 3, 1580-1592.
Related Articles
Comments
[Return to top]