Pregnancy, Proteinuria, Plant-Based Supplemented Diets and Focal Segmental Glomerulosclerosis: A Report on Three Cases and Critical Appraisal of the Literature
1
Materno-Foetal Unit, Department of Surgery, University of Torino, 10100 Turin, Italy
2
SCDU Nephrology, Città della Salute e della Scienza, University of Torino, 10100 Turin, Italy
3
SCDU Nephrology, Giovanni Bosco Hospital, University of Torino, 10100 Turin, Italy
4
Department of Medical Sciences, University of Torino, 10100 Turin, Italy
5
Department of Biological and Clinical Sciences, University of Torino, 10100 Turin, Italy
6
Nephrology, Centre Hospitalier Le Mans, 72000 Le Mans, France
*
Author to whom correspondence should be addressed.
Received: 19 February 2017 / Revised: 6 July 2017 / Accepted: 10 July 2017 / Published: 19 July 2017
Abstract
Chronic kidney disease (CKD) is increasingly recognized in pregnant patients. Three characteristics are associated with a risk of preterm delivery or small for gestational age babies; kidney function reduction, hypertension, and proteinuria. In pregnancy, the anti-proteinuric agents (ACE–angiotensin converting enzyme-inhibitors or ARBS -angiotensin receptor blockers) have to be discontinued for their potential teratogenicity, and there is no validated approach to control proteinuria. Furthermore, proteinuria usually increases as an effect of therapeutic changes and pregnancy-induced hyperfiltration. Based on a favourable effect of low-protein diets on proteinuria and advanced CKD, our group developed a moderately protein-restricted vegan-vegetarian diet tsupplemented with ketoacids and aminoacids for pregnant patients. This report describes the results obtained in three pregnant patients with normal renal function, nephrotic or sub-nephrotic proteinuria, and biopsy proven diagnosis of focal segmental glomerulosclerosis, a renal lesion in which hyperfiltration is considered of pivotal importance (case 1: GFR (glomerular filtration rate): 103 mL/min; proteinuria 2.1 g/day; albumin 3.2 g/dL; case 2: GFR 86 mL/min, proteinuria 3.03 g/day, albumin 3.4 g/dL; case 3: GFR 142 mL/min, proteinuria 6.3 g/day, albumin 3.23 g/dL). The moderately restricted diet allowed a stabilisation of proteinuria in two cases and a decrease in one. No significant changes in serum creatinine and serum albumin were observed. The three babies were born at term (38 weeks + 3 days, female, weight 3180 g-62th centile; 38 weeks + 2 days, female, weight 3300 g-75th centile; male, 38 weeks + 1 day; 2770 g-8th centile), thus reassuring us of the safety of the diet. In summary, based on these three cases studies and a review of the literature, we suggest that a moderately protein-restricted, supplemented, plant-based diet might contribute to controlling proteinuria in pregnant CKD women with focal segmental glomerulosclerosis. However further studies are warranted to confirm the potential value of such a treatment strategy.
View Full-Text
►

▼

Figures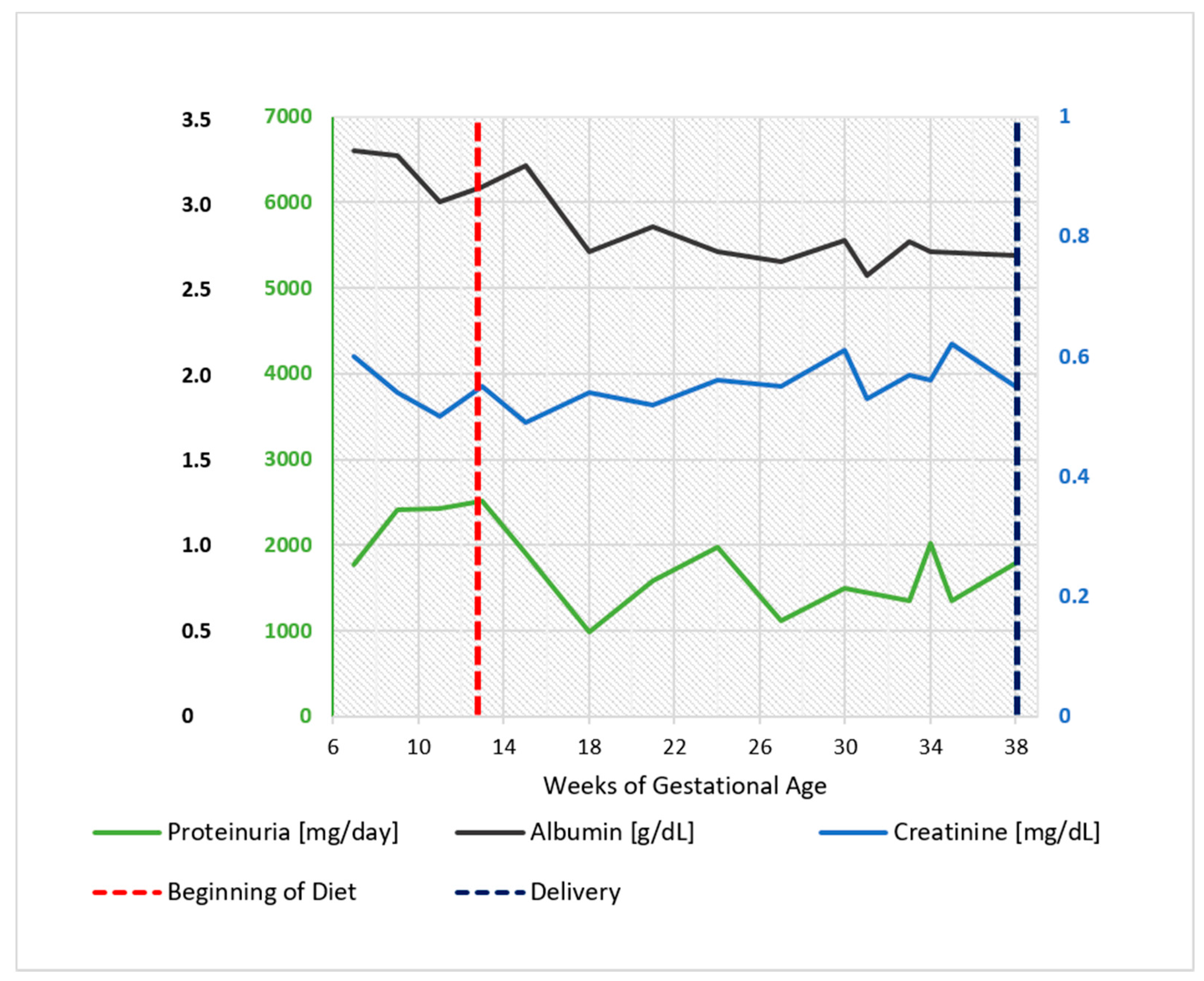 Figure 1
This is an open access article distributed under the
Creative Commons Attribution License
which permits unrestricted use, distribution, and reproduction in any medium, provided the original work is properly cited. (CC BY 4.0).
Share & Cite This Article
MDPI and ACS Style
Attini, R.; Leone, F.; Montersino, B.; Fassio, F.; Minelli, F.; Colla, L.; Rossetti, M.; Rollino, C.; Alemanno, M.G.; Barreca, A.; Todros, T.; Piccoli, G.B. Pregnancy, Proteinuria, Plant-Based Supplemented Diets and Focal Segmental Glomerulosclerosis: A Report on Three Cases and Critical Appraisal of the Literature. Nutrients 2017, 9, 770.
Note that from the first issue of 2016, MDPI journals use article numbers instead of page numbers. See further details here.
Related Articles
Comments
[Return to top]