Ferulic Acid on Glucose Dysregulation, Dyslipidemia, and Inflammation in Diet-Induced Obese Rats: An Integrated Study
1
Departamento de Investigación y Posgrado en Alimentos, Universidad de Sonora, Blvd. Luis Encinas y Rosales S/N, Colonia Centro, Hermosillo, Sonora, C.P. 83000 Sonora, Mexico
2
Centro de Investigación en Alimentación y Desarrollo, A.C., Carretera a La Victoria km 0.6, Hermosillo, Sonora, C.P. 83304 Sonora, Mexico
3
Departamento de Investigación y Posgrado en Alimentos, Facultad de Química, Universidad Autónoma de Querétaro, Cerro de Las Campanas, S/N, Colonia Las Campanas, Santiago de Querétaro, Querétaro, C.P. 76010 Querétaro, Mexico
*
Author to whom correspondence should be addressed.
Received: 26 May 2017 / Revised: 20 June 2017 / Accepted: 21 June 2017 / Published: 29 June 2017
Abstract
Obesity is considered to be a low-grade chronic inflammatory process, which is associated with cardiovascular and metabolic diseases. An integral evaluation of the effects of ferulic acid on biomarkers of glucose dysregulation, dyslipidemia, inflammation, and antioxidant potential induced by a high-fat diet (HFD) in rats was carried out. Three groups of male Wistar rats (six per group) consumed a basal diet (BD), which was supplemented with either lard at 310 g/kg (HFD) or lard and ferulic acid at 2 g/kg (HFD + FA), ad libitum for eight weeks. Body weight gain, hyperplasia, and hypertrophy in abdominal fat tissues were higher in the HFD group than in the HFD+FA group. The rats fed a HFD + FA significantly inhibited the increase in plasma lipids and glucose, compared with the HFD group. Biomarkers associated with inflammation were found at higher concentrations in the serum of rats fed a HFD than the HFD + FA group. Plasma antioxidant levels were lower in HFD rats compared to rats fed the HFD + FA. These results suggest that ferulic acid improves the obesogenic status induced by HFD, and we elucidated the integral effects of ferulic acid on a biological system.
View Full-Text
►

▼

Figures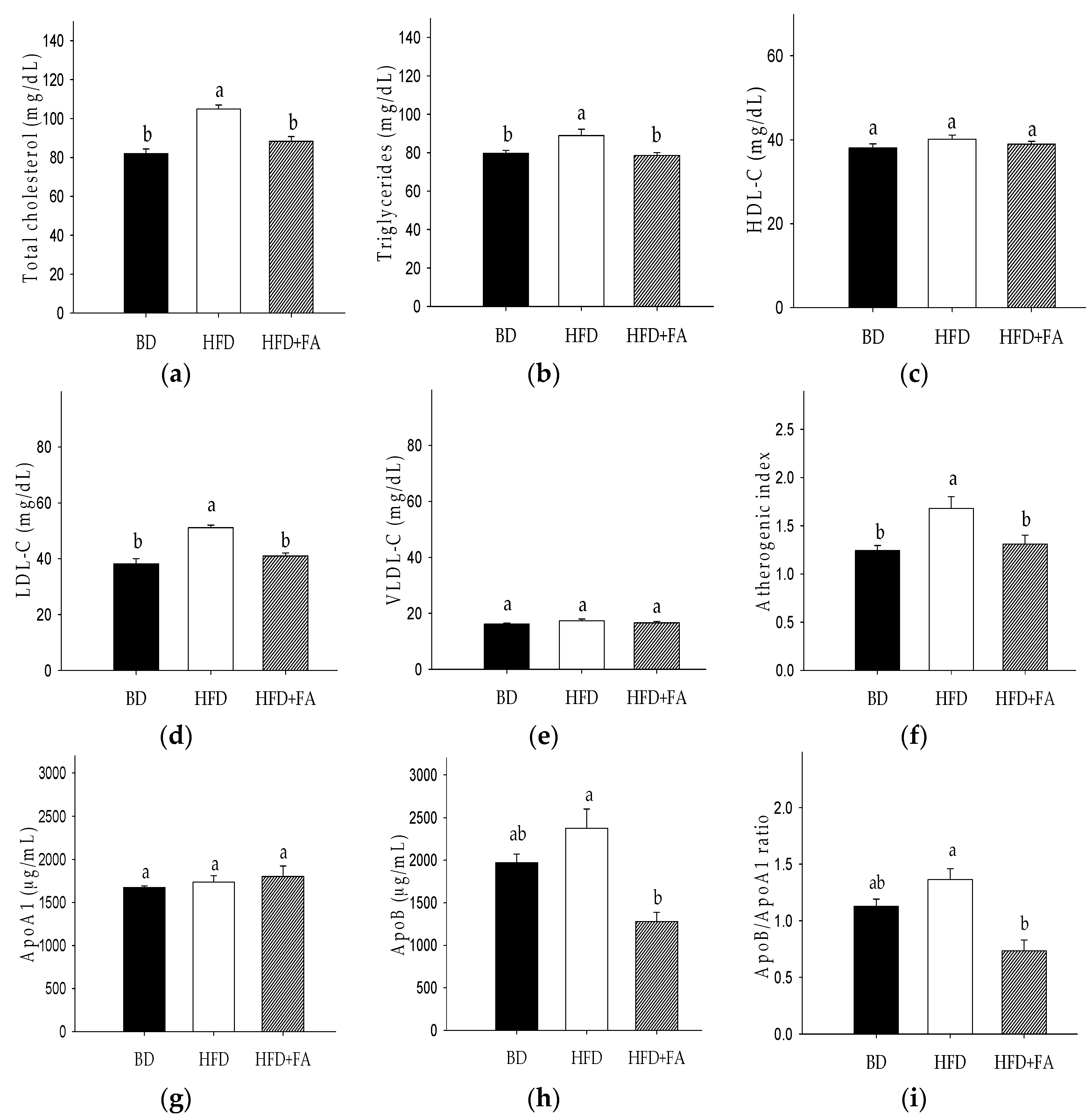 Figure 1
This is an open access article distributed under the
Creative Commons Attribution License
which permits unrestricted use, distribution, and reproduction in any medium, provided the original work is properly cited. (CC BY 4.0).
Share & Cite This Article
MDPI and ACS Style
Salazar-López, N.J.; Astiazarán-García, H.; González-Aguilar, G.A.; Loarca-Piña, G.; Ezquerra-Brauer, J.-M.; Domínguez Avila, J.A.; Robles-Sánchez, M. Ferulic Acid on Glucose Dysregulation, Dyslipidemia, and Inflammation in Diet-Induced Obese Rats: An Integrated Study. Nutrients 2017, 9, 675.
Note that from the first issue of 2016, MDPI journals use article numbers instead of page numbers. See further details here.
Related Articles
Comments
[Return to top]