Novel Experimental and Clinical Therapeutic Uses of Low-Molecular-Weight Heparin/Protamine Microparticles
1
Research Institute, National Defense Medical College, 3-2 Namiki, Tokorozawa, Saitama 359-8513, Japan
2
Research Fellow of the Japan Society for the Promotion of Science, Tokyo 102-8472, Japan
3
Department of Plastic Surgery, National Defense Medical College, 3-2 Namiki, Tokorozawa, Saitama, 359-8513 Japan
4
Aeromedical Laboratory, Japan Air Self-Defense Force, 2-3 Inariyama, Sayama, Saitama 350-1394, Japan
5
Department of Surgery, National Defense Medical College, 3-2 Namiki, Tokorozawa, Saitama 359-8513, Japan
*
Author to whom correspondence should be addressed.
Received: 1 December 2011 / Revised: 31 December 2011 / Accepted: 31 December 2011 / Published: 11 January 2012
Abstract
Low-molecular-weight heparin/protamine microparticles (LMW-H/P MPs) were produced as a carrier for heparin-binding growth factors (GFs) and for various adhesive cells. A mixture of low-molecular-weight heparin (MW: approximately 5000 Da, 6.4 mg/mL) and protamine (MW: approximately 3000 Da, 10 mg/mL) at a ratio of 7:3 (vol:vol) yields a dispersion of microparticles (0.5–3 µm in diameter). LMW-H/P MPs immobilize, control the release and protect the activity of GFs. LMW-H/P MPs can also bind to cell surfaces, causing these cells to interact with the LMW-H/P MPs, inducing cells/MPs-aggregate formation and substantially promoting cellular viability. Furthermore, LMW-H/P MPs can efficiently bind to tissue culture plates and retain the binding of important GFs, such as fibroblast growth factor (FGF)-2. The LMW-H/P MPs-coated matrix with various GFs or cytokines may provide novel biomaterials that can control cellular activity such as growth and differentiation. Thus, LMW-H/P MPs are an excellent carrier for GFs and various cells and are an efficient coating matrix for cell cultures.
View Full-Text
►

▼

Figures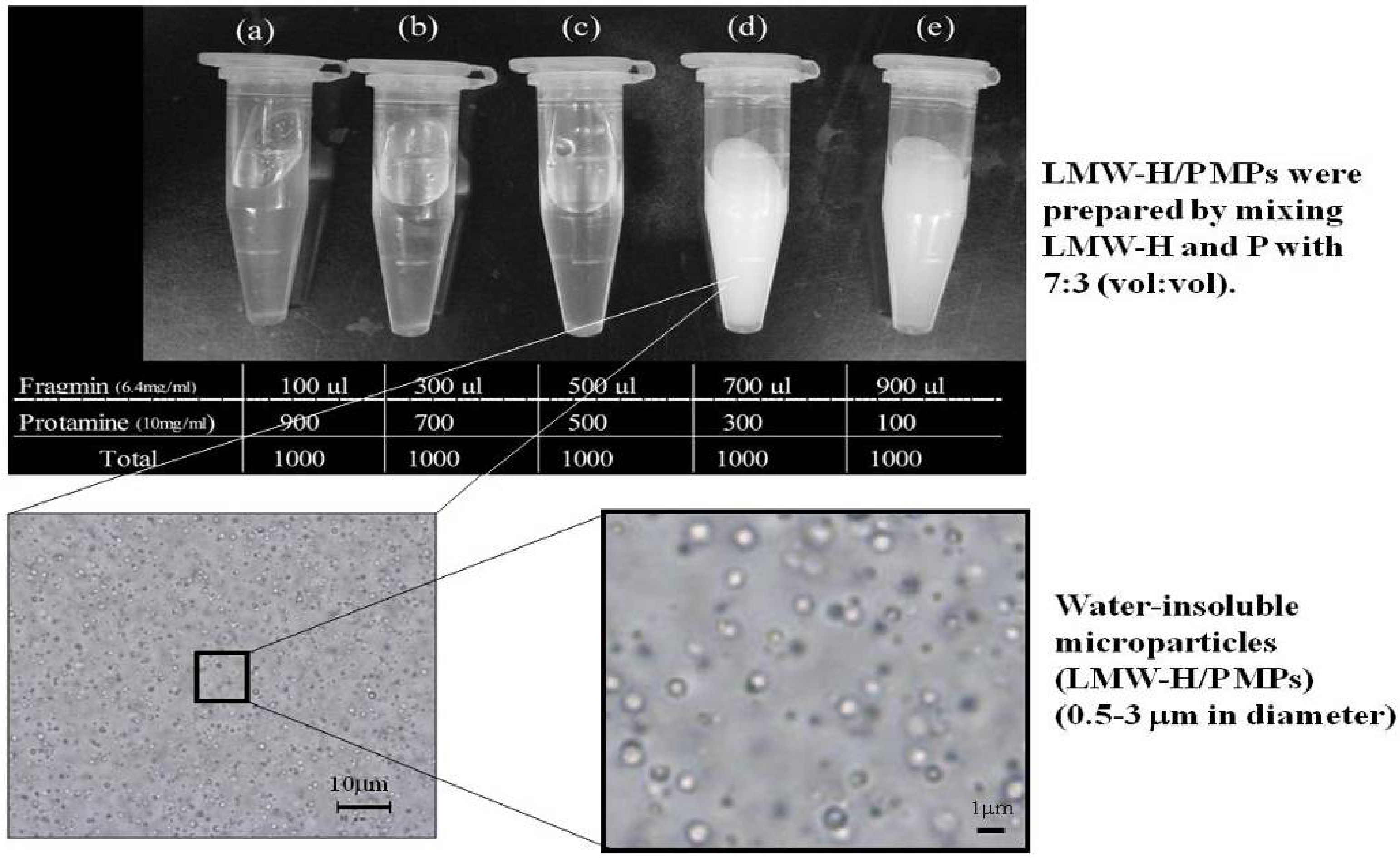 Figure 1
Share & Cite This Article
MDPI and ACS Style
Kishimoto, S.; Ishihara, M.; Takikawa, M.; Mori, Y.; Hattori, H.; Fujita, M.; Nakamura, S. Novel Experimental and Clinical Therapeutic Uses of Low-Molecular-Weight Heparin/Protamine Microparticles. Pharmaceutics 2012, 4, 42-57.
Related Articles
Comments
[Return to top]