Antimicrobial Susceptibility of Staphylococcus aureus Isolated from Recreational Waters and Beach Sand in Eastern Cape Province of South Africa
Microbial Pathogenicity and Molecular Epidemiology Research Group (MPMERG), Department of Biochemistry and Microbiology, University of Fort Hare, Private Bag X1314, Alice 5700, South Africa
*
Author to whom correspondence should be addressed.
Received: 20 June 2017 / Revised: 25 August 2017 / Accepted: 30 August 2017 / Published: 1 September 2017
Abstract
Background
: Resistance of
Staphylococcus aureus
to commonly used antibiotics is linked to their ability to acquire and disseminate antimicrobial-resistant determinants in nature, and the marine environment may serve as a reservoir for antibiotic-resistant bacteria. This study determined the antibiotic sensitivity profile of
S. aureus
isolated from selected beach water and intertidal beach sand in the Eastern Cape Province of South Africa.
Methods
: Two hundred and forty-nine beach sand and water samples were obtained from 10 beaches from April 2015 to April 2016.
Staphylococcus aureus
was isolated from the samples using standard microbiological methods and subjected to susceptibility testing to 15 antibiotics. Methicillin-resistant
Staphylococcus aureus
(MRSA) was detected by susceptibility to oxacillin and growth on Brilliance MRSA II agar. Antibiotic resistance genes including
mec
A,
fem
A
rpo
B,
bla
Z,
erm
B,
erm
A,
erm
C,
van
A,
van
B,
tet
K and
tet
M were screened.
Results
: Thirty isolates (12.3%) were positive for
S. aureus
by PCR with over 50% showing phenotypic resistance to methicillin. Resistance of
S. aureus
to antibiotics varied considerably with the highest resistance recorded to ampicillin and penicillin (96.7%), rifampicin and clindamycin (80%), oxacillin (73.3%) and erythromycin (70%).
S. aureus
revealed varying susceptibility to imipenem (96.7%), levofloxacin (86.7%), chloramphenicol (83.3%), cefoxitin (76.7%), ciprofloxacin (66.7%), gentamycin (63.3%), tetracycline and sulfamethoxazole-trimethoprim (56.7%), and vancomycin and doxycycline (50%). All 30 (100%)
S. aureus
isolates showed multiple antibiotic-resistant patterns (resistant to three or more antibiotics). The
mec
A,
fem
A,
rpo
B,
bla
Z,
erm
B and
tet
M genes were detected in 5 (22.7%), 16 (53.3%), 11 (45.8%), 16 (55.2%), 15 (71.4%), and 8 (72.7%) isolates respectively;
Conclusions
: Results from this study indicate that beach water and sand from the Eastern Cape Province of South Africa may be potential reservoirs of antibiotic-resistant
S. aureus
which could be transmitted to exposed humans and animals.
View Full-Text
►

▼

Figures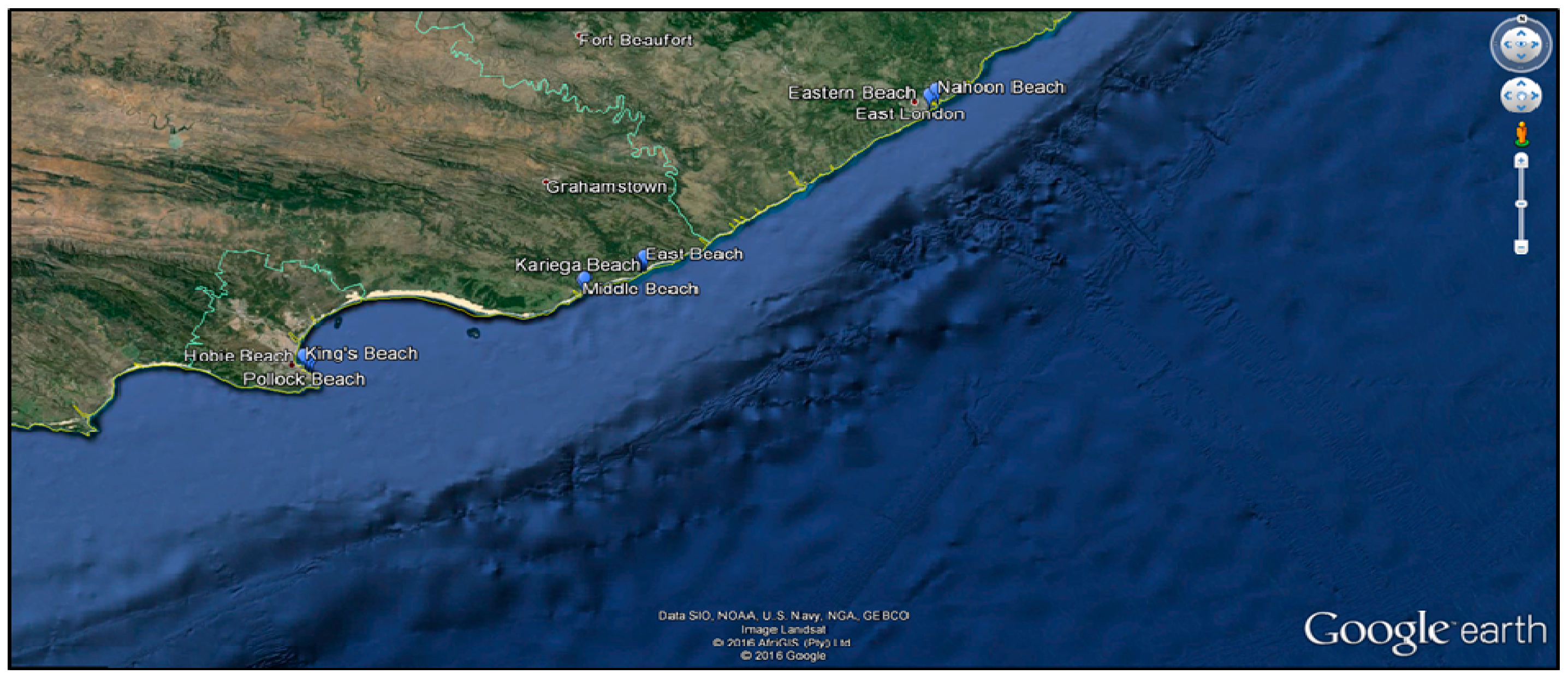 Figure 1
This is an open access article distributed under the
Creative Commons Attribution License
which permits unrestricted use, distribution, and reproduction in any medium, provided the original work is properly cited. (CC BY 4.0).
Share & Cite This Article
MDPI and ACS Style
Akanbi, O.E.; Njom, H.A.; Fri, J.; Otigbu, A.C.; Clarke, A.M. Antimicrobial Susceptibility of Staphylococcus aureus Isolated from Recreational Waters and Beach Sand in Eastern Cape Province of South Africa. Int. J. Environ. Res. Public Health 2017, 14, 1001.
Note that from the first issue of 2016, MDPI journals use article numbers instead of page numbers. See further details here.
Related Articles
Comments
[Return to top]