A Technical Approach to the Evaluation of Radiofrequency Radiation Emissions from Mobile Telephony Base Stations
1
Faculty of Medicine, Vilnius University, M. K. Čiurlionio Str. 21, LT-03101 Vilnius, Lithuania
2
Faculty of Health Sciences, Klaipeda University, Manto Str. 84, LT-92294 Klaipeda, Lithuania
3
Faculty of Civil Engineering, "Gheorghe Asachi" Technical University of Iaşi, 65, Mangeron Blvd, 700050 Iaşi, Romania
4
Faculty of Technical Sciences, University of Warmia and Mazury in Olsztyn, 10-719 Olsztyn, Poland
5
Faculty of Chemical Engineering and Environmental Protection, "Gheorghe Asachi" Technical University of Iaşi, 73, Mangeron Blvd., 700050 Iaşi, Romania
*
Authors to whom correspondence should be addressed.
Academic Editor: Mats-Olof Mattsson
Received: 6 July 2016 / Revised: 10 February 2017 / Accepted: 27 February 2017 / Published: 1 March 2017
Abstract
During the last two decades, the number of macrocell mobile telephony base station antennas emitting radiofrequency (RF) electromagnetic radiation (EMR) in residential areas has increased significantly, and therefore much more attention is being paid to RF EMR and its effects on human health. Scientific field measurements of public exposure to RF EMR (specifically to radio frequency radiation) from macrocell mobile telephony base station antennas and RF electromagnetic field (EMF) intensity parameters in the environment are discussed in this article. The research methodology is applied according to the requirements of safety norms and Lithuanian Standards in English (LST EN). The article presents and analyses RF EMFs generated by mobile telephony base station antennas in areas accessible to the general public. Measurements of the RF electric field strength and RF EMF power density were conducted in the near- and far-fields of the mobile telephony base station antenna. Broadband and frequency-selective measurements were performed outside (on the roof and on the ground) and in a residential area. The tests performed on the roof in front of the mobile telephony base station antennas in the near-field revealed the presence of a dynamic energy interaction within the antenna electric field, which changes rapidly with distance. The RF EMF power density values on the ground at distances of 50, 100, 200, 300, 400, and 500 m from the base station are very low and are scattered within intervals of 0.002 to 0.05 μW/cm
2
. The results were compared with international exposure guidelines (ICNIRP).
View Full-Text
►

▼

Figures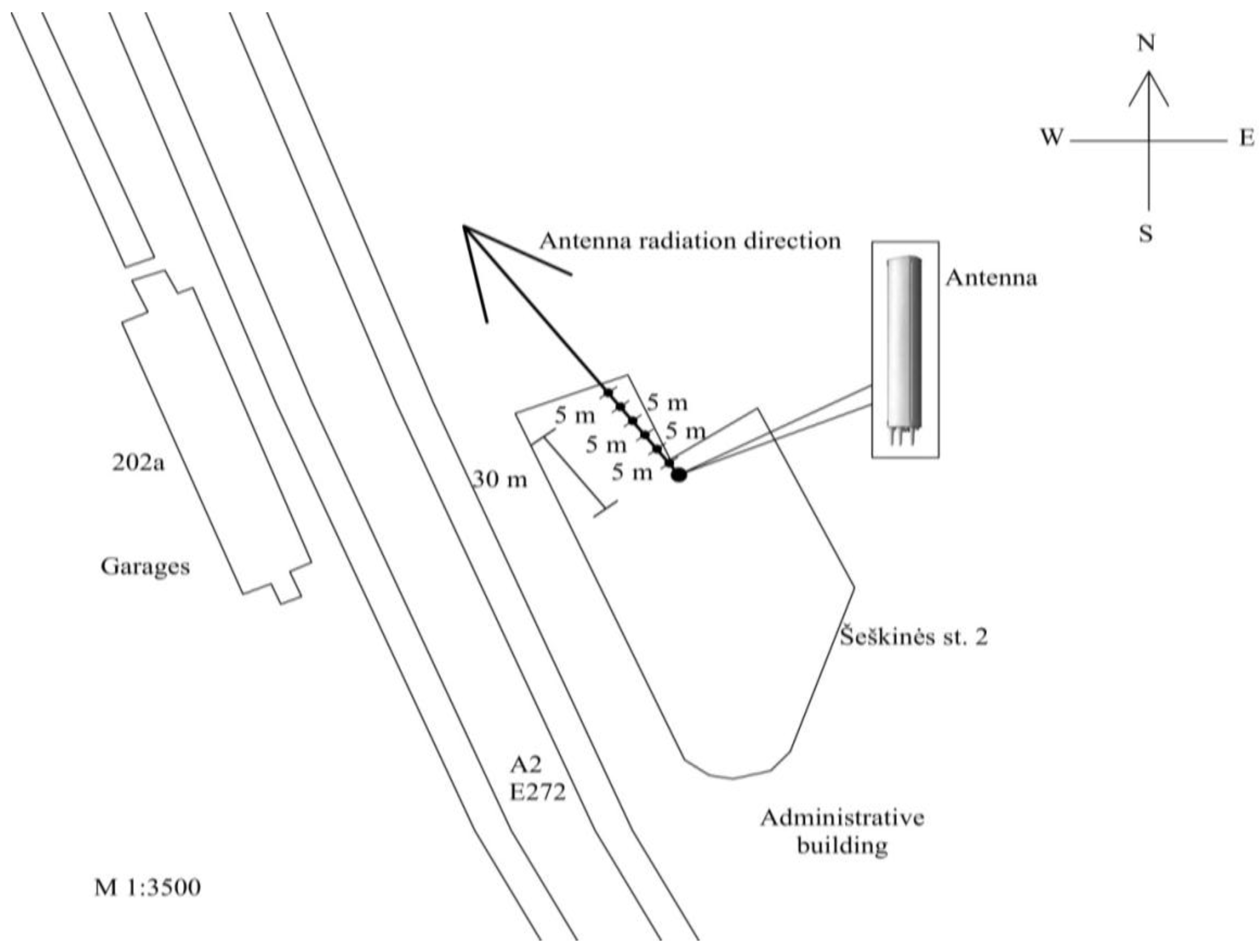 Figure 1
This is an open access article distributed under the
Creative Commons Attribution License
which permits unrestricted use, distribution, and reproduction in any medium, provided the original work is properly cited. (CC BY 4.0).
Share & Cite This Article
MDPI and ACS Style
Buckus, R.; Strukčinskienė, B.; Raistenskis, J.; Stukas, R.; Šidlauskienė, A.; Čerkauskienė, R.; Isopescu, D.N.; Stabryla, J.; Cretescu, I. A Technical Approach to the Evaluation of Radiofrequency Radiation Emissions from Mobile Telephony Base Stations. Int. J. Environ. Res. Public Health 2017, 14, 244.
Note that from the first issue of 2016, MDPI journals use article numbers instead of page numbers. See further details here.
Related Articles
Comments
[Return to top]