Ritonavir-Mediated Induction of Apoptosis in Pancreatic Cancer Occurs via the RB/E2F-1 and AKT Pathways
1
Laboratory of Surgical Oncology & Developmental Therapeutics, Department of Surgery, Wayne State University, Detroit, MI 48201, USA
2
John D. Dingell VA Medical Center, Lab 4242, 4646 John R Street, Detroit, MI 48201, USA
3
NEA Baptist Clinic, Jonesboro, AR 72401, USA
4
Ontario Institute for Cancer Research, Toronto, ON M5G 0A3, Canada
5
Baptist Memorial Medical Group, Memphis, TN 38120, USA
6
Virocan Therapeutics R&D division, Yashaswi Hospital, Guntur 522007, India
7
Acharya Nagarjuna University, Nagarjuna Nagar, Guntur 522510, India,
*
Author to whom correspondence should be addressed.
Received: 15 November 2013 / Revised: 20 December 2013 / Accepted: 2 January 2014 / Published: 9 January 2014
Abstract
Recent observations suggest a lower incidence of malignancies in patients infected with HIV during treatment with Highly Active Anti-Retroviral Therapy (HAART) utilizing protease inhibitors. We investigated the effects of ritonavir, a FDA approved HIV protease inhibitor, on proliferation of pancreatic ductal adeno-carcinoma (PDAC) cell lines. Human PDAC cell lines BxPC-3, MIA PaCa-2, and PANC-1 were propagated under standard conditions and treated with serial dilutions of ritonavir. Ritonavir inhibited cell growth in a dose-dependent manner as well as activated the intrinsic apoptotic pathway in human pancreatic ductal adenocarcinoma (PDAC) cell lines. We observed down-modulation of cell-cycle promoting and up-regulation of cell-cycle inhibitory genes; enhanced interaction of retinoblastoma protein (RB) with E2F-1 transcription factor; inhibition of phosphorylation of RB, resulting in sequestration of E2F-1 and subsequent down-regulation of S phase genes; decreased interaction of E2F-1 with its consensus binding sites; inhibition of cell motility and invasiveness; and inhibition of the AKT pathway. Our results demonstrate a potential use of ritonavir as part of combination chemotherapy for PDAC. Since ritonavir is FDA approved for HIV, drug repositioning for PDAC would limit the costs and reduce risks.
View Full-Text
►

▼

Figures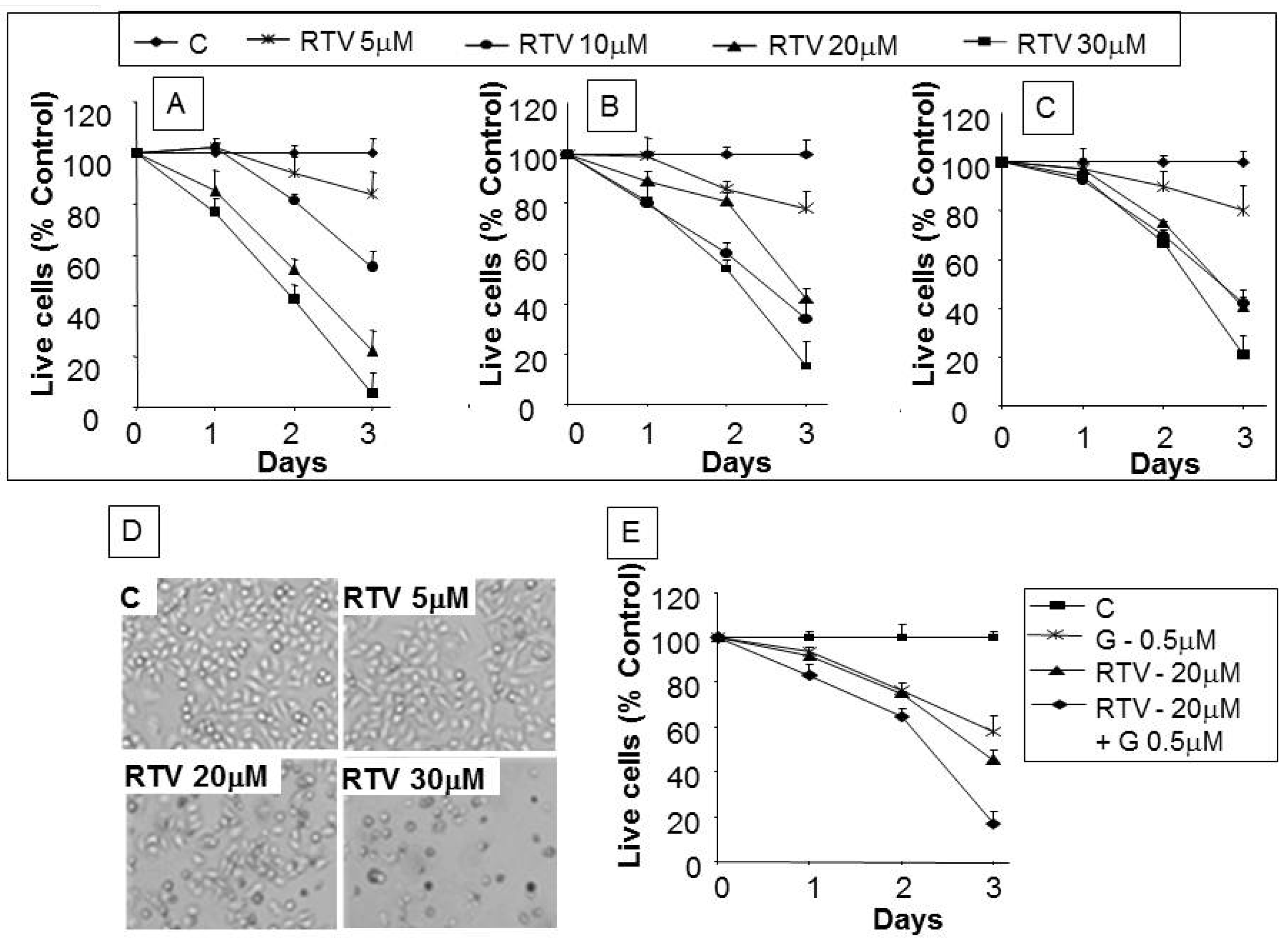 Figure 1
Share & Cite This Article
MDPI and ACS Style
Batchu, R.B.; Gruzdyn, O.V.; Bryant, C.S.; Qazi, A.M.; Kumar, S.; Chamala, S.; Kung, S.T.; Sanka, R.S.; Puttagunta, U.S.; Weaver, D.W.; Gruber, S.A. Ritonavir-Mediated Induction of Apoptosis in Pancreatic Cancer Occurs via the RB/E2F-1 and AKT Pathways. Pharmaceuticals 2014, 7, 46-57.
Related Articles
Comments
[Return to top]