Clinical Correlates and Prognostic Value of Plasma Galectin-3 Levels in Degenerative Aortic Stenosis: A Single-Center Prospective Study of Patients Referred for Invasive Treatment
1
Second Department of Cardiology, Faculty of Medicine, Jagiellonian University Medical College, 17 Kopernika Street, 31-501 Cracow, Poland
2
Second Department of Cardiology and Cardiovascular Interventions, University Hospital, 17 Kopernika Street, 31-501 Cracow, Poland
3
Department of Nephrology, University Hospital, 15C Kopernika Street, 31-501 Cracow, Poland
4
Department of Coronary Artery Disease and Heart Failure, John Paul II Hospital, 80 Prądnicka Street, 31-202 Cracow, Poland
*
Author to whom correspondence should be addressed.
Academic Editors: H.W.M. Niessen and Harry A. J. Struijker-Boudier
Received: 31 January 2017 / Revised: 24 March 2017 / Accepted: 25 April 2017 / Published: 29 April 2017
Abstract
Galectin-3 (Gal-3), a β-galactoside-binding lectin, has been implicated in myocardial fibrosis, development of left ventricular (LV) dysfunction and transition from compensated LV hypertrophy to overt heart failure (HF), being a novel prognostic marker in HF. Risk stratification is crucial for the choice of the optimal therapy in degenerative aortic stenosis (AS), affecting elderly subjects with coexistent diseases. Our aim was to assess correlates and prognostic value of circulating Gal-3 in real-world patients with degenerative AS referred for invasive treatment. Gal-3 levels were measured at admission in 80 consecutive patients with symptomatic degenerative AS (mean age: 79 ± 8 years; aortic valve area (AVA) index: 0.4 ± 0.1 cm
2
/m
2
). The therapeutic strategy was chosen following a dedicated multidisciplinary team-oriented approach, including surgical valve replacement (
n
= 11), transcatheter valve implantation (
n
= 19), balloon aortic valvuloplasty (BAV) (
n
= 25) and optimal medical therapy (
n
= 25). Besides routine echocardiographic indices, valvulo-arterial impedance (Zva), an index of global LV afterload, was computed. There were 22 deaths over a median follow-up of 523 days. Baseline Gal-3 correlated negatively with estimated glomerular filtration rate (eGFR) (
r
= −0.61,
p
< 0.001) and was unrelated to age, symptomatic status, AVA index, LV ejection fraction, LV mass index or Zva. For the study group as a whole, Gal-3 tended to predict mortality (Gal-3 >17.8 vs. Gal-3 <17.8 ng/mL; hazard ratio (HR): 2.03 (95% confidence interval, 0.88–4.69),
p
= 0.09), which was abolished upon adjustment for eGFR (HR: 1.70 (0.61–4.73),
p
= 0.3). However, in post-BAV patients multivariate-adjusted pre-procedural Gal-3 was associated with worse survival (HR: 7.41 (1.52–36.1),
p
= 0.01) regardless of eGFR. In conclusion, the inverse eGFR–Gal-3 relationship underlies a weak association between Gal-3 and adverse outcome in patients with degenerative AS referred for invasive therapy irrespective of type of treatment employed. In contrast, pre-procedural Gal-3 appears an independent mortality predictor in high-risk AS patients undergoing BAV.
View Full-Text
►

▼

Figures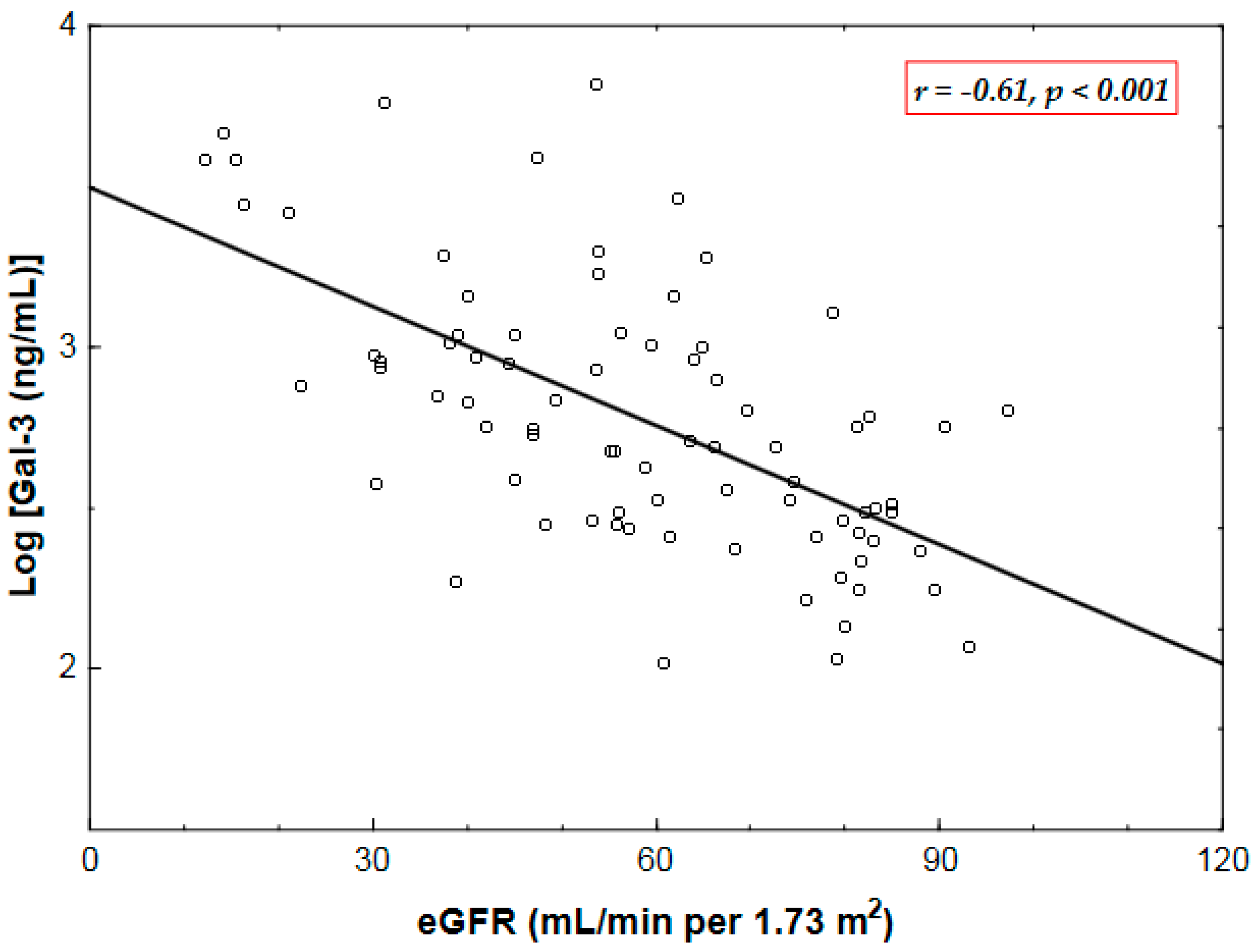 Figure 1
This is an open access article distributed under the
Creative Commons Attribution License
which permits unrestricted use, distribution, and reproduction in any medium, provided the original work is properly cited. (CC BY 4.0).
Share & Cite This Article
MDPI and ACS Style
Bobrowska, B.; Wieczorek-Surdacka, E.; Kruszelnicka, O.; Chyrchel, B.; Surdacki, A.; Dudek, D. Clinical Correlates and Prognostic Value of Plasma Galectin-3 Levels in Degenerative Aortic Stenosis: A Single-Center Prospective Study of Patients Referred for Invasive Treatment. Int. J. Mol. Sci. 2017, 18, 947.
Note that from the first issue of 2016, MDPI journals use article numbers instead of page numbers. See further details here.
Related Articles
Comments
[Return to top]