Bordetella holmesii: Lipid A Structures and Corresponding Genomic Sequences Comparison in Three Clinical Isolates and the Reference Strain ATCC 51541
1
Institut Pasteur, Unité de Prévention et Thérapies Moléculaires des Maladies Humaines, 25 rue du Dr Roux, 75724 Paris, France
2
Institute for integrative Biology of the Cell (I2BC), Commissariat à l'Energie Atomique (CEA), Centre National de la Recherche Scientifique (CNRS), Université Paris-Sud, Université Paris-Saclay, 91405 Orsay, France
3
LPS-BioSciences, I2BC, Bâtiment 409, Université de Paris-Sud, 91405 Orsay, France
†
Present address: Dipartimento di Biologia e Biotecnologie "C. Darwin", Sapienza-Università di Roma, Piazzale Aldo Moro 5, 00185 Roma, Italy.
*
Author to whom correspondence should be addressed.
Academic Editor: Juan M. Tomás
Received: 10 March 2017 / Revised: 5 May 2017 / Accepted: 11 May 2017 / Published: 18 May 2017
Abstract
Bordetella holmesii
can cause invasive infections but can also be isolated from the respiratory tract of patients with whooping-cough like symptoms. For the first time, we describe the lipid A structure of
B. holmesii
reference strain ATCC 51541 (alias NCTC12912 or CIP104394) and those of three French
B. holmesii
clinical isolates originating from blood (Bho1) or from respiratory samples (FR4020 and FR4101). They were investigated using chemical analyses, gas chromatography–mass spectrometry (GC–MS), and matrix-assisted laser desorption ionization–mass spectrometry (MALDI–MS). The analyses revealed a common bisphosphorylated
β
-(1→6)-linked
d
-glucosamine disaccharide with hydroxytetradecanoic acid in amide linkages. Similar to
B. avium
,
B. hinzii
and
B. trematum
lipids A, the hydroxytetradecanoic acid at the C-2′ position are carrying in secondary linkage a 2-hydroxytetradecanoic acid residue resulting of post-traductional biosynthesis modifications. The three clinical isolates displayed characteristic structural traits compared to the ATCC 51541 reference strain: the lipid A phosphate groups are more or less modified with glucosamine in the isolates and reference strain, but the presence of 10:0(3-OH) is only observed in the isolates. This trait was only described in
B. pertussis
and
B. parapertussis
strains, as well as in
B. petrii
isolates by the past. The genetic bases for most of the key structural elements of lipid A were analyzed and supported the structural data.
View Full-Text
►

▼

Figures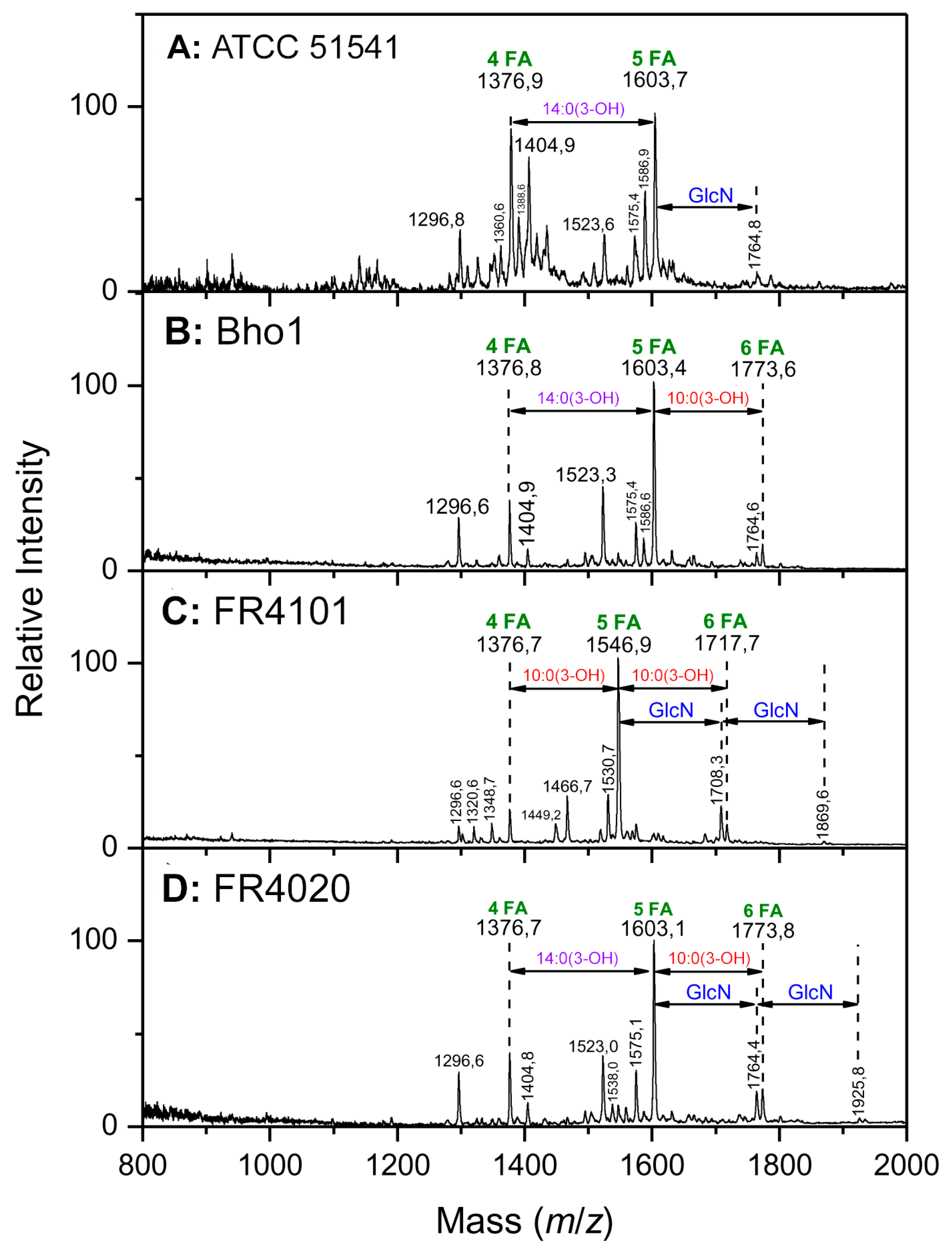 Figure 1
This is an open access article distributed under the
Creative Commons Attribution License
which permits unrestricted use, distribution, and reproduction in any medium, provided the original work is properly cited. (CC BY 4.0).
Share & Cite This Article
MDPI and ACS Style
Bouchez, V.; AlBitar-Nehmé, S.; Novikov, A.; Guiso, N.; Caroff, M. Bordetella holmesii: Lipid A Structures and Corresponding Genomic Sequences Comparison in Three Clinical Isolates and the Reference Strain ATCC 51541. Int. J. Mol. Sci. 2017, 18, 1080.
Note that from the first issue of 2016, MDPI journals use article numbers instead of page numbers. See further details here.
Related Articles
Comments
[Return to top]