Assessing the Antimicrobial Activity of Polyisoprene Based Surfaces
1
LUNAM Université, Institut des Molécules et des Matériaux du Mans, UMR CNRS 6283, Université du Maine, Avenue Olivier Messiaen, 72085 Le Mans, France
2
Centre de Transfert de Technologie du Mans, 20 rue Thalès de Milet, 72000 Le Mans, France
3
LIENSs, UMR CNRS 7266, Université de La Rochelle, Bât. Marie Curie, Av. Michel Crépeau, 17042 La Rochelle, France
4
Biology Department, University of Akron, Akron, OH 44325, USA
5
Department of Civil Engineering, University of Akron, Akron, OH 44325, USA
6
MMS-Mer, Molécules-Santé, FR CNRS 3473 IUML, Université du Maine, 72085 Le Mans, France
*
Authors to whom correspondence should be addressed.
Academic Editor: Antonella Piozzi
Received: 12 December 2014 / Revised: 14 January 2015 / Accepted: 9 February 2015 / Published: 19 February 2015
Abstract
There has been an intense research effort in the last decades in the field of biofouling prevention as it concerns many aspects of everyday life and causes problems to devices, the environment, and human health. Many different antifouling and antimicrobial materials have been developed to struggle against bacteria and other micro- and macro-organism attachment to different surfaces. However the "miracle solution" has still to be found. The research presented here concerns the synthesis of bio-based polymeric materials and the biological tests that showed their antifouling and, at the same time, antibacterial activity. The raw material used for the coating synthesis was natural rubber. The polyisoprene chains were fragmented to obtain oligomers, which had reactive chemical groups at their chain ends, therefore they could be modified to insert polymerizable and biocidal groups. Films were obtained by radical photopolymerization of the natural rubber derived oligomers and their structure was altered, in order to understand the mechanism of attachment inhibition and to increase the efficiency of the anti-biofouling action. The adhesion of three species of pathogenic bacteria and six strains of marine bacteria was studied. The coatings were able to inhibit bacterial attachment by contact, as it was verified that no detectable leaching of toxic molecules occurred.
View Full-Text
►

▼

Figures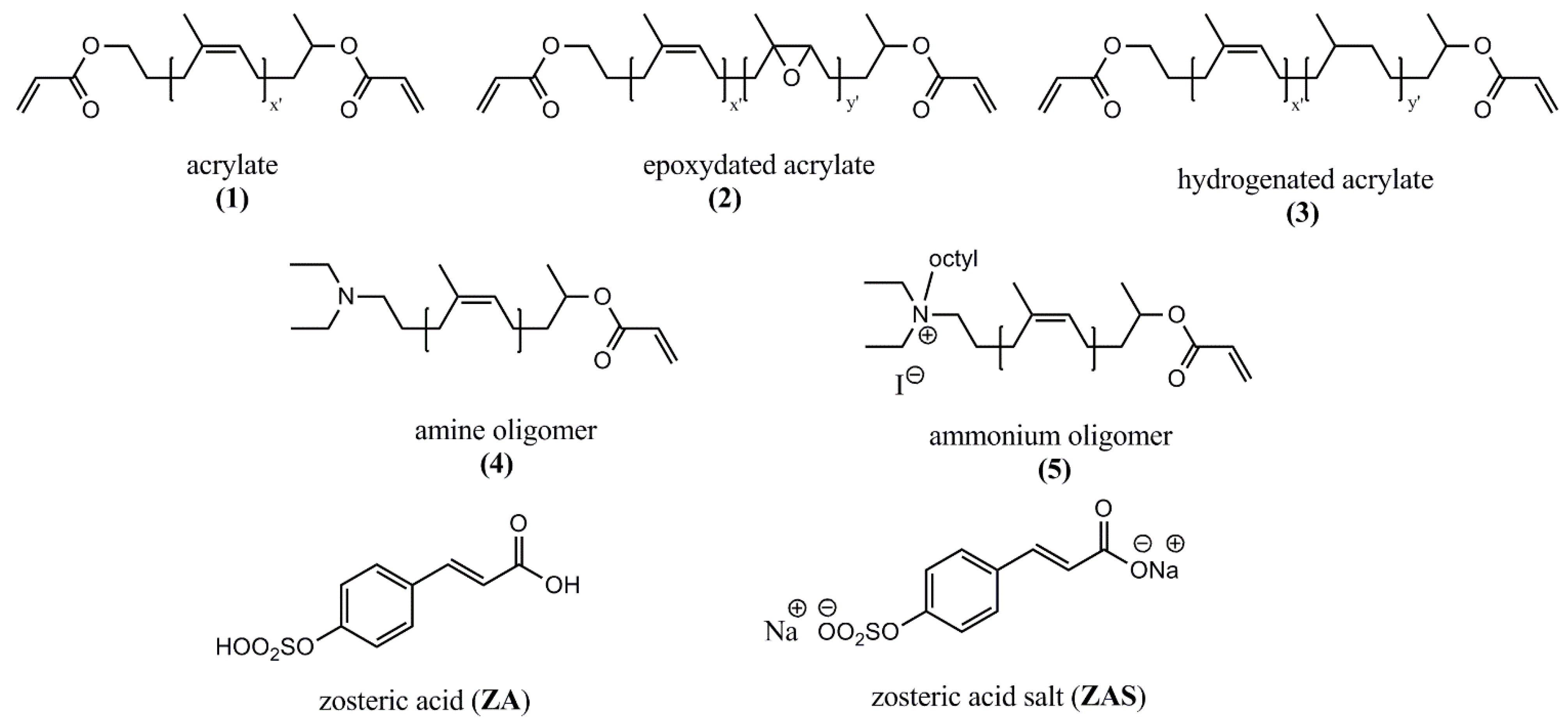 Figure 1
This is an open access article distributed under the
Creative Commons Attribution License
which permits unrestricted use, distribution, and reproduction in any medium, provided the original work is properly cited. (CC BY 4.0).
Share & Cite This Article
MDPI and ACS Style
Badawy, H.; Brunellière, J.; Veryaskina, M.; Brotons, G.; Sablé, S.; Lanneluc, I.; Lambert, K.; Marmey, P.; Milsted, A.; Cutright, T.; Nourry, A.; Mouget, J.-L.; Pasetto, P. Assessing the Antimicrobial Activity of Polyisoprene Based Surfaces. Int. J. Mol. Sci. 2015, 16, 4392-4415.
Related Articles
Comments
[Return to top]