Endogenous Nitric-Oxide Synthase Inhibitor ADMA after Acute Brain Injury
Department of Neurosurgery, University of Heidelberg, Heidelberg D-69120, Germany
*
Author to whom correspondence should be addressed.
Received: 30 December 2013 / Revised: 14 February 2014 / Accepted: 3 March 2014 / Published: 6 March 2014
Abstract
Previous results on nitric oxide (NO) metabolism after traumatic brain injury (TBI) show variations in NO availability and controversial effects of exogenous nitric oxide synthase (NOS)-inhibitors. Furthermore, elevated levels of the endogenous NOS inhibitor asymmetric dimethylarginine (ADMA) were reported in cerebro-spinal fluid (CSF) after traumatic subarachnoid hemorrhage (SAH). Therefore, we examined whether ADMA and the enzymes involved in NO- and ADMA-metabolism are expressed in brain tissue after TBI and if time-dependent changes occur. TBI was induced by controlled cortical impact injury (CCII) and neurological performance was monitored. Expression of NOS, ADMA, dimethylarginine dimethylaminohydrolases (DDAH) and protein-arginine methyltransferase 1 (PRMT1) was determined by immunostaining in different brain regions and at various time-points after CCII. ADMA and PRMT1 expression decreased in all animals after TBI compared to the control group, while DDAH1 and DDAH2 expression increased in comparison to controls. Furthermore, perilesionally ADMA is positively correlated with neuroscore performance, while DDAH1 and DDAH2 are negatively correlated. ADMA and its metabolizing enzymes show significant temporal changes after TBI and may be new targets in TBI treatment.
View Full-Text
►

▼

Figures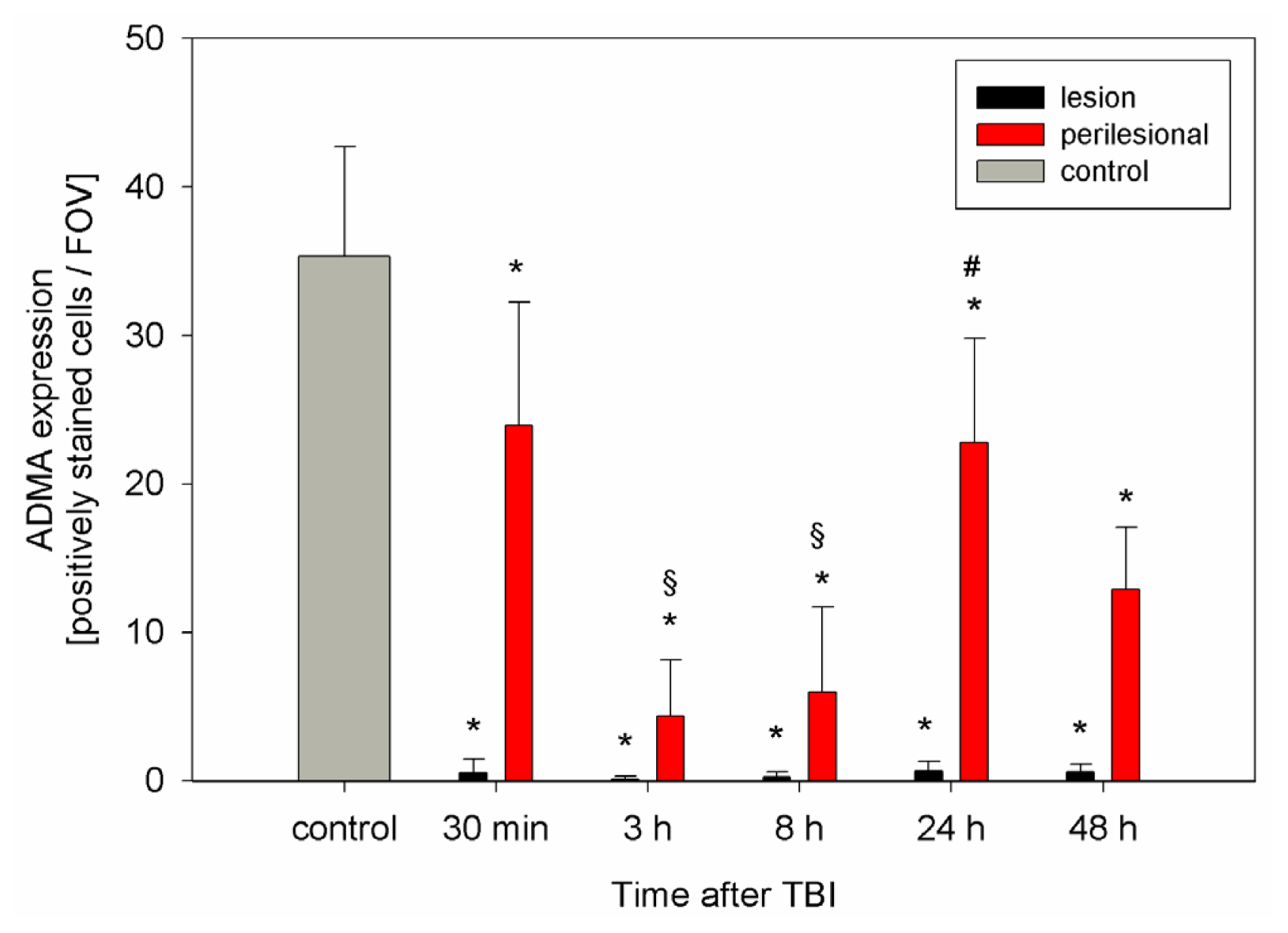 Share & Cite This Article
MDPI and ACS Style
Jung, C.S.; Wispel, C.; Zweckberger, K.; Beynon, C.; Hertle, D.; Sakowitz, O.W.; Unterberg, A.W. Endogenous Nitric-Oxide Synthase Inhibitor ADMA after Acute Brain Injury. Int. J. Mol. Sci. 2014, 15, 4088-4103.
Related Articles
Comments
[Return to top]