Meta-Omic Platforms to Assist in the Understanding of NAFLD Gut Microbiota Alterations: Tools and Applications
1
Unit of Parasitology, Bambino Gesù Children's Hospital, IRCCS, Piazza Sant'Onofrio, 4, Rome 00165, Italy
2
Unit of Metagenomics, Bambino Gesù Children's Hospital, IRCCS, Piazza Sant'Onofrio, 4, Rome 00165, Italy
3
Liver Research Unit, Bambino Gesù Children's Hospital, IRCCS, Piazza Sant'Onofrio, 4, Rome 00165, Italy
4
Interdepartmental Centre for Industrial Research-CIRI-AGRIFOOD, Alma Mater Studiorum, University of Bologna, Piazza Goidanich, 60, Cesena-FC 47521, Italy
5
Department of Diagnostic Science, Sant'Andrea Hospital, Via di Grottarossa 1035, Rome 00185, Italy
6
Scientific Directorate, Bambino Gesù Children's Hospital, IRCCS, Piazza Sant'Onofrio, 4, Rome 00165, Italy
7
Hepato-Metabolic Disease Unit, Bambino Gesù Children's Hospital, IRCCS, Piazza Sant'Onofrio, 4, Rome 00165, Italy
*
Author to whom correspondence should be addressed.
Received: 10 November 2013 / Revised: 29 December 2013 / Accepted: 2 January 2014 / Published: 7 January 2014
Abstract
Non-alcoholic fatty liver disease (NAFLD) is the most common cause of chronic liver disease worldwide as a result of the increasing prevalence of obesity, starting from early life stages. It is characterized by a spectrum of liver diseases ranging from simple fatty liver (NAFL) to steatohepatitis (NASH), with a possible progression to fibrosis, thus increasing liver-related morbidity and mortality. NAFLD development is driven by the co-action of several risk factors, including obesity and metabolic syndrome, which may be both genetically induced and diet-related. Recently, particular attention has been paid to the gut-liver axis, which may play a physio-pathological role in the onset and progression of the disease. The gut microbiota is intended to act as a bioreactor that can guarantee autonomous metabolic and immunological functions and that can drive functional strategies within the environment of the body in response to external stimuli. The complexity of the gut microbiota suggests that it behaves as an organ. Therefore, the concept of the gut-liver axis must be complemented with the gut-microbiota-liver network due to the high intricacy of the microbiota components and metabolic activities; these activities form the active diet-driven power plant of the host. Such complexity can only be revealed using systems biology, which can integrate clinical phenomics and gut microbiota data.
View Full-Text
►

▼

Figures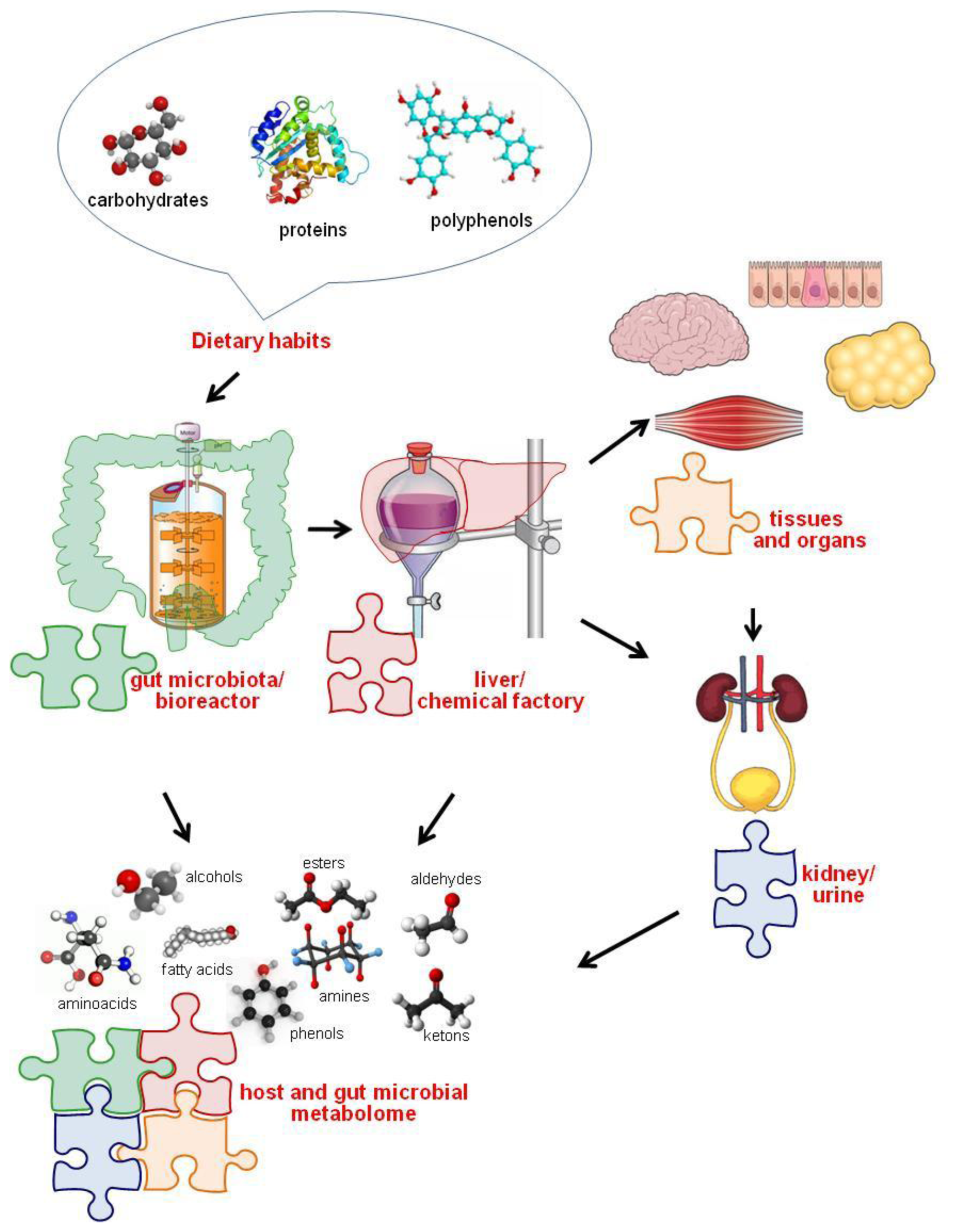 Share & Cite This Article
MDPI and ACS Style
Del Chierico, F.; Gnani, D.; Vernocchi, P.; Petrucca, A.; Alisi, A.; Dallapiccola, B.; Nobili, V.; Lorenza, P. Meta-Omic Platforms to Assist in the Understanding of NAFLD Gut Microbiota Alterations: Tools and Applications. Int. J. Mol. Sci. 2014, 15, 684-711.
Related Articles
Comments
[Return to top]