EZH2 Down-Regulation Exacerbates Lipid Accumulation and Inflammation in in Vitro and in Vivo NAFLD
1
Department of Oncohematology, Bambino Gesù Children's Hospital, IRCCS, Rome 00165, Italy
2
Liver Research Unit, Bambino Gesù Children's Hospital, IRCCS, Rome 00165, Italy
3
Hepato-Metabolic Disease Unit, Bambino Gesù Children's Hospital, IRCCS, Rome 00165, Italy
4
Department of Pediatric Hematology-Oncology, University of Pavia, Pavia 27100, Italy
5
Chemical Biology Laboratory, Frederick National Laboratory for Cancer Research, CCR, National Cancer Institute, NIH, Frederick, MD 21702, USA
†
These authors contributed equally to this work.
*
Authors to whom correspondence should be addressed.
Received: 30 August 2013 / Revised: 2 December 2013 / Accepted: 3 December 2013 / Published: 12 December 2013
Abstract
Non-alcoholic fatty liver disease (NAFLD) is one of the most prevalent, chronic liver diseases, worldwide. It is a multifactorial disease caused by complex interactions between genetic, epigenetic and environmental factors. Recently, several microRNAs, some of which epigenetically regulated, have been found to be up- and/or down-regulated during NAFLD development. However, in NAFLD, the essential role of the Polycomb Group protein Enhancer of Zeste Homolog 2 (EZH2), which controls the epigenetic silencing of specific genes and/or microRNAs by trimethylating Lys27 on histone H3, still remains unknown. In this study, we demonstrate that the nuclear expression/activity of the EZH2 protein is down-regulated both in livers from NAFLD rats and in the free fatty acid-treated HepG2. The drop in EZH2 is inversely correlated with: (i) lipid accumulation; (ii) the expression of pro-inflammatory markers including TNF-α and TGF-β; and (iii) the expression of miR-200b and miR-155. Consistently, the pharmacological inhibition of EZH2 by 3-Deazaneplanocin A (DZNep) significantly reduces EZH2 expression/activity, while it increases lipid accumulation, inflammatory molecules and microRNAs. In conclusion, the results of this study suggest that the defective activity of EZH2 can enhance the NAFLD development by favouring steatosis and the de-repression of the inflammatory genes and that of specific microRNAs.
View Full-Text
►

▼

Figures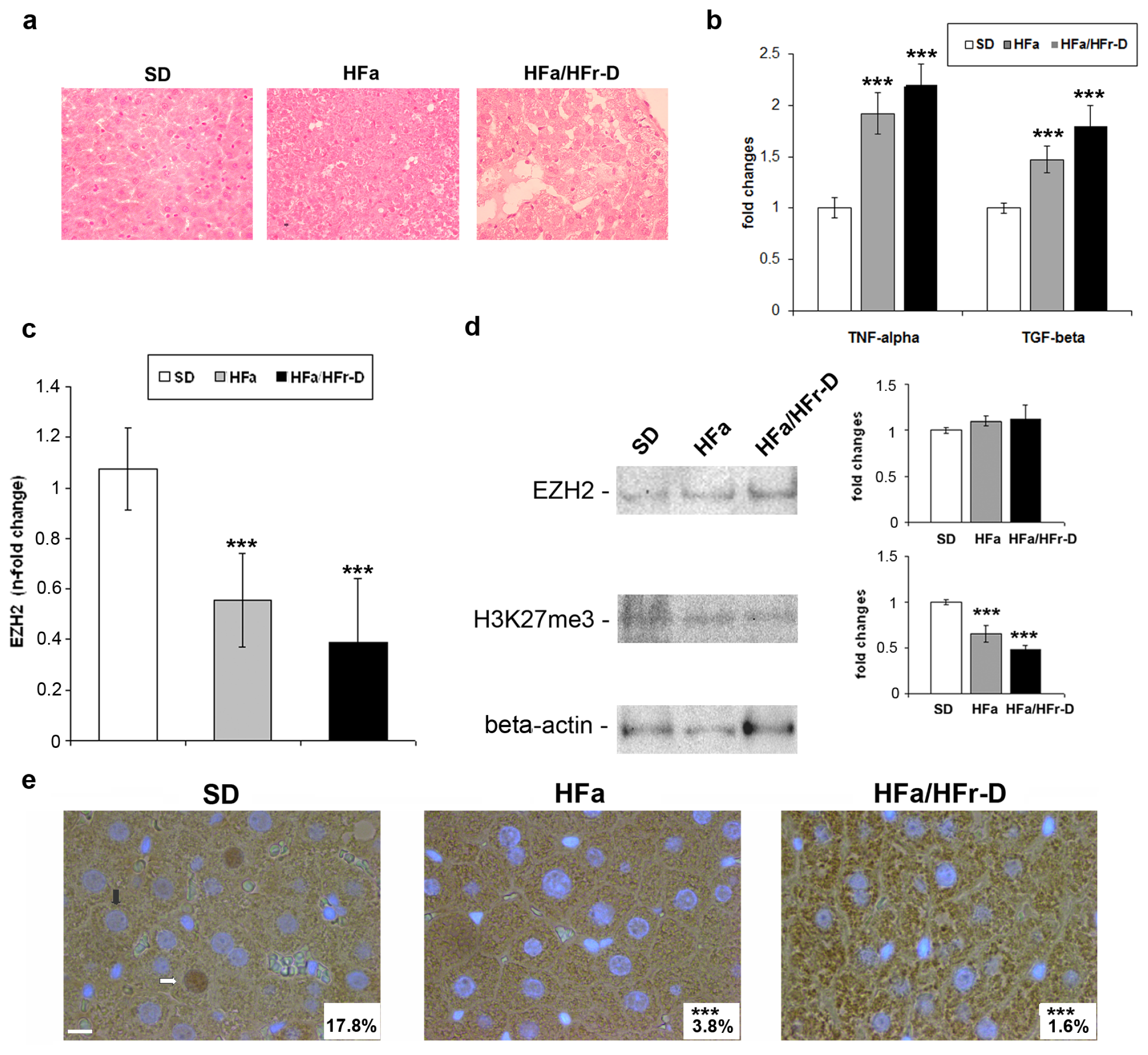 Share & Cite This Article
MDPI and ACS Style
Vella, S.; Gnani, D.; Crudele, A.; Ceccarelli, S.; De Stefanis, C.; Gaspari, S.; Nobili, V.; Locatelli, F.; Marquez, V.E.; Rota, R.; Alisi, A. EZH2 Down-Regulation Exacerbates Lipid Accumulation and Inflammation in in Vitro and in Vivo NAFLD. Int. J. Mol. Sci. 2013, 14, 24154-24168.
Related Articles
Comments
[Return to top]