In Vitro Phosphorylation Does not Influence the Aggregation Kinetics of WT α-Synuclein in Contrast to Its Phosphorylation Mutants
1
Laboratory of Biomolecular Dynamics, KU Leuven, Celestijnenlaan 200G, Leuven B-3001, Belgium
2
Laboratory of Biochemistry, KU Leuven Kulak, Etienne Sabbelaan 53, Kortrijk B-8500, Belgium
3
Laboratory of Protein Phosphorylation and Proteomics, KU Leuven, O&N I Herestraat 49-bus 901, Leuven B-3000, Belgium
4
Laboratory for Neurobiology and Gene Therapy, KU Leuven, Kapucijnenvoer 33, Leuven B-3000, Belgium
*
Authors to whom correspondence should be addressed.
Received: 17 October 2013 / Revised: 6 January 2014 / Accepted: 7 January 2014 / Published: 15 January 2014
Abstract
The aggregation of alpha-synuclein (α-SYN) into fibrils is characteristic for several neurodegenerative diseases, including Parkinson's disease (PD). Ninety percent of α-SYN deposited in Lewy Bodies, a pathological hallmark of PD, is phosphorylated on serine129. α-SYN can also be phosphorylated on tyrosine125, which is believed to regulate the membrane binding capacity and thus possibly its normal function. A better understanding of the effect of phosphorylation on the aggregation of α-SYN might shed light on its role in the pathogenesis of PD. In this study we compare the aggregation properties of WT α-SYN with the phospho-dead and phospho-mimic mutants S129A, S129D, Y125F and Y125E and
in vitro
phosphorylated α-SYN using turbidity, thioflavin T and circular dichroism measurements as well as transmission electron microscopy. We show that the mutants S129A and S129D behave similarly compared to wild type (WT) α-SYN, while the mutants Y125F and Y125E fibrillate significantly slower, although all mutants form fibrillar structures similar to the WT protein. In contrast,
in vitro
phosphorylation of α-SYN on either S129 or Y125 does not significantly affect the fibrillization kinetics. Moreover, FK506 binding proteins (FKBPs), enzymes with peptidyl-prolyl
cis-trans
isomerase activity, still accelerate the aggregation of phosphorylated α-SYN
in vitro
, as was shown previously for WT α-SYN. In conclusion, our results illustrate that phosphorylation mutants can display different aggregation properties compared to the more biologically relevant phosphorylated form of α-SYN.
View Full-Text
►

▼

Figures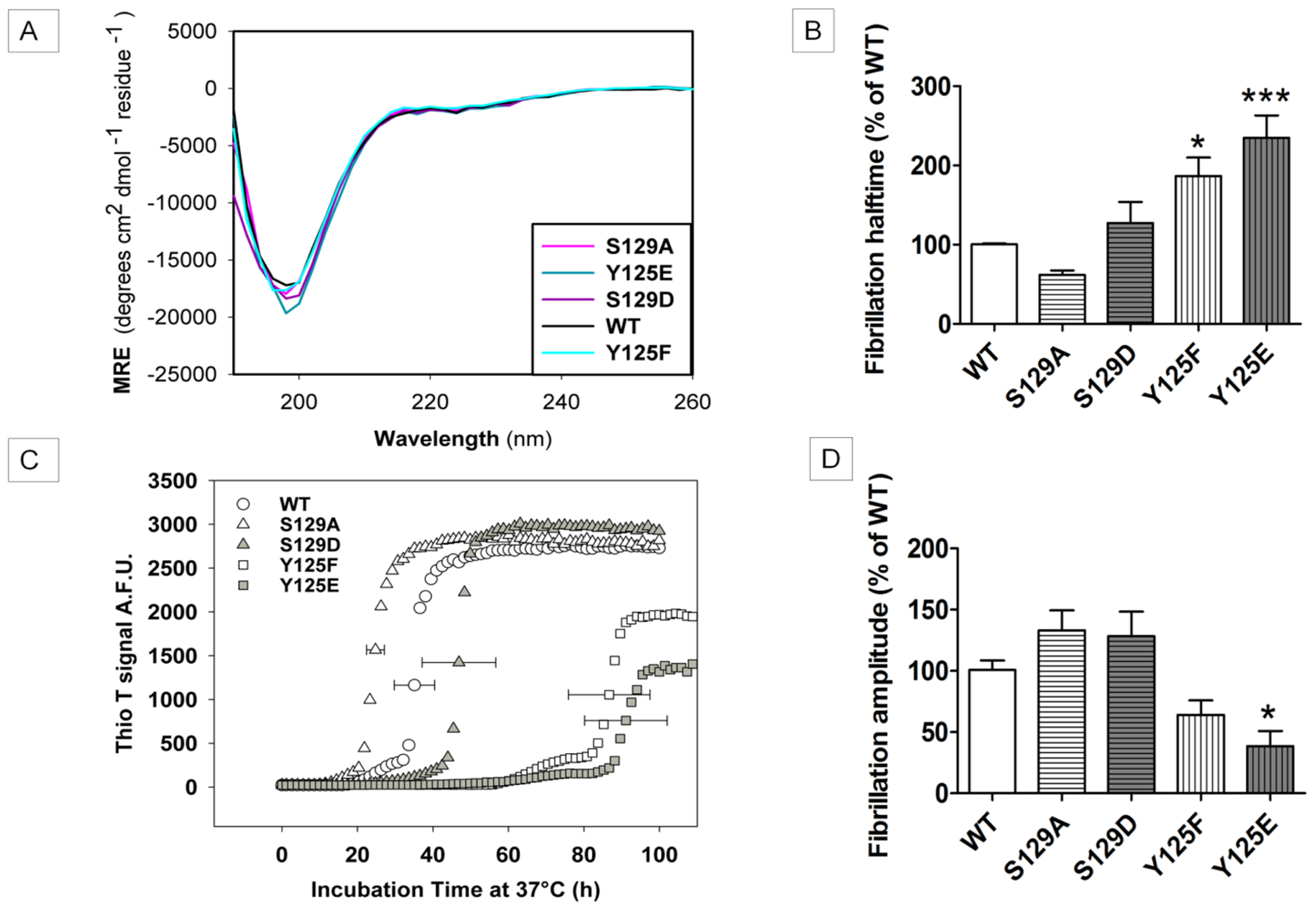 Share & Cite This Article
MDPI and ACS Style
Schreurs, S.; Gerard, M.; Derua, R.; Waelkens, E.; Taymans, J.-M.; Baekelandt, V.; Engelborghs, Y. In Vitro Phosphorylation Does not Influence the Aggregation Kinetics of WT α-Synuclein in Contrast to Its Phosphorylation Mutants. Int. J. Mol. Sci. 2014, 15, 1040-1067.
Related Articles
Comments
[Return to top]