Molecular and Functional Analyses of the Fast Skeletal Myosin Light Chain2 Gene of the Korean Oily Bitterling, Acheilognathus koreensis
1
Biotechnology Research Division, National Fisheries Research and Development Institute, Busan 619-705, Korea
2
Division of Applied Chemistry and Biotechnology, Hanbat National University, Daejeon 305-719, Korea
3
Department of Molecular Biology, Pusan National University, Busan 609-735, Korea
*
Authors to whom correspondence should be addressed.
Received: 13 June 2013 / Revised: 26 July 2013 / Accepted: 1 August 2013 / Published: 13 August 2013
Abstract
We identified and characterized the primary structure of the Korean oily bitterling
Acheilognathus koreensis
fast skeletal myosin light chain 2 (
Akmlc2f
), gene. Encoded by seven exons spanning 3955 bp, the deduced 168-amino acid AkMLC2f polypeptide contained an EF-hand calcium-binding motif and showed strong homology (80%–98%) with the MLC2 proteins of
Ictalurus punctatus
and other species, including mammals.
Akmlc2f
mRNA was highly enriched in skeletal muscles, and was detectable in other tissues. The upstream regions of
Akmlc2f
included a TATA box, one copy of a putative MEF-2 binding site and several putative C/EBPβ binding sites. The functional activity of the promoter region of
Akmlc2f
was examined using luciferase and red fluorescent protein reporters. The
Akmlc2f
promoter-driven reporter expressions were detected and increased by the C/EBPβ transcription factor in HEK293T cells. The activity of the promoter of
Akmlc2f
was also confirmed in the developing zebrafish embryo. Although the detailed mechanism underlying the expression of
Akmlc2f
remains unknown, these results suggest the muscle-specific expression of
Akmlc2f
transcript and the functional activation of
Akmlc2f
promoter by C/EBPβ.
View Full-Text
►

▼

Figures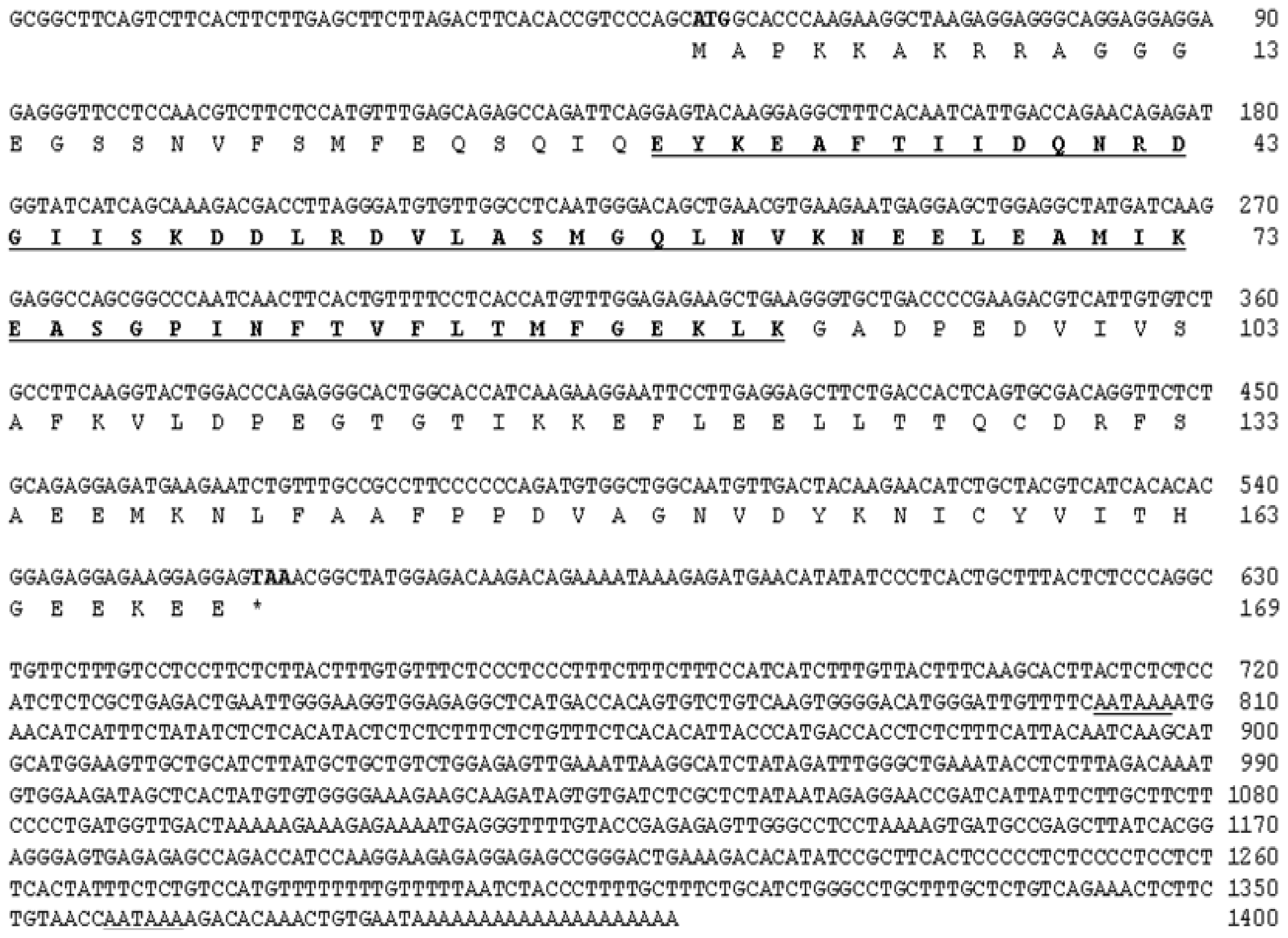 Share & Cite This Article
MDPI and ACS Style
Kong, H.J.; Lee, Y.-J.; Kim, W.-J.; Kim, H.S.; Kim, B.-S.; An, C.M.; Yeo, S.-Y.; Cho, H.K. Molecular and Functional Analyses of the Fast Skeletal Myosin Light Chain2 Gene of the Korean Oily Bitterling, Acheilognathus koreensis. Int. J. Mol. Sci. 2013, 14, 16672-16684.
Related Articles
Comments
[Return to top]