Transient Co-Expression of Post-Transcriptional Gene Silencing Suppressors for Increased in Planta Expression of a Recombinant Anthrax Receptor Fusion Protein
1
Department of Chemical Engineering and Materials Science, University of California, Davis, One Shields Ave, Davis, CA 95616, USA
2
Planet Biotechnology Inc., 25571 Clawiter Road, Hayward, CA 94545, USA
*
Author to whom correspondence should be addressed.
Received: 1 April 2011 / Revised: 18 June 2011 / Accepted: 20 July 2011 / Published: 5 August 2011
Abstract
Potential epidemics of infectious diseases and the constant threat of bioterrorism demand rapid, scalable, and cost-efficient manufacturing of therapeutic proteins. Molecular farming of tobacco plants provides an alternative for the recombinant production of therapeutics. We have developed a transient production platform that uses
Agrobacterium
infiltration of
Nicotiana benthamiana
plants to express a novel anthrax receptor decoy protein (immunoadhesin), CMG2-Fc. This chimeric fusion protein, designed to protect against the deadly anthrax toxins, is composed of the von Willebrand factor A (VWA) domain of human capillary morphogenesis 2 (CMG2), an effective anthrax toxin receptor, and the Fc region of human immunoglobulin G (IgG). We evaluated, in
N. benthamiana
intact plants and detached leaves, the expression of CMG2-Fc under the control of the constitutive CaMV 35S promoter, and the co-expression of CMG2-Fc with nine different viral suppressors of post-transcriptional gene silencing (PTGS): p1, p10, p19, p21, p24, p25, p38, 2b, and HCPro. Overall, transient CMG2-Fc expression was higher on intact plants than detached leaves. Maximum expression was observed with p1 co-expression at 3.5 days post-infiltration (DPI), with a level of 0.56 g CMG2-Fc per kg of leaf fresh weight and 1.5% of the total soluble protein, a ten-fold increase in expression when compared to absence of suppression. Co-expression with the p25 PTGS suppressor also significantly increased the CMG2-Fc expression level after just 3.5 DPI.
View Full-Text
►

▼

Figures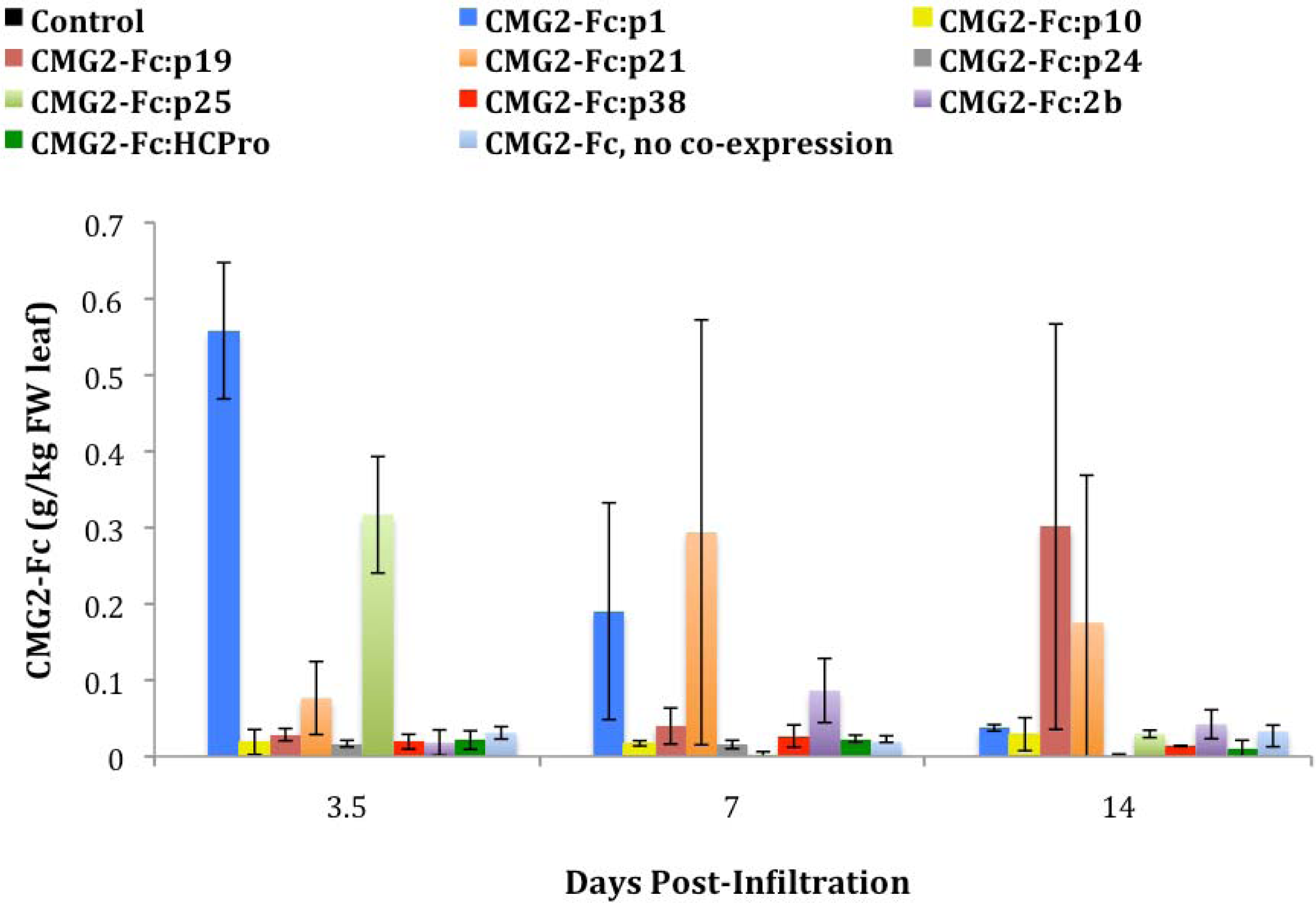 Share & Cite This Article
MDPI and ACS Style
Arzola, L.; Chen, J.; Rattanaporn, K.; Maclean, J.M.; McDonald, K.A. Transient Co-Expression of Post-Transcriptional Gene Silencing Suppressors for Increased in Planta Expression of a Recombinant Anthrax Receptor Fusion Protein. Int. J. Mol. Sci. 2011, 12, 4975-4990.
Related Articles
Comments
[Return to top]