Open Access This article is
freely available
re-usable
Article
Artesunate Activates the Intrinsic Apoptosis of HCT116 Cells through the Suppression of Fatty Acid Synthesis and the NF-κB Pathway
1
The State Key Laboratory of Pharmaceutical Biotechnology, School of Life Sciences, Nanjing University, Nanjing 210023, China
2
Department of Biological Science, National University of Singapore, Singapore 117543, Singapore
3
Changzhou High-Tech Research Institute of Nanjing University, Institute of Biotechnology, Jiangsu Industrial Technology Research Institute and Jiangsu TargetPharma Laboratories Inc., Changzhou 213164, China
†
These authors contributed equally to this work.
*
Authors to whom correspondence should be addressed.
Received: 4 July 2017 / Accepted: 27 July 2017 / Published: 8 August 2017
Abstract
:
The artemisinin compounds, which are well-known for their potent therapeutic antimalarial activity, possess in vivo and in vitro antitumor effects. Although the anticancer effect of artemisinin compounds has been extensively reported, the precise mechanisms underlying its cytotoxicity remain under intensive study. In the present study, a high-throughput quantitative proteomics approach was applied to identify differentially expressed proteins of HCT116 colorectal cancer cell line with artesunate (ART) treatment. Through Ingenuity Pathway Analysis, we discovered that the top-ranked ART-regulated biological pathways are abrogation of fatty acid biosynthetic pathway and mitochondrial dysfunction. Subsequent assays showed that ART inhibits HCT116 cell proliferation through suppressing the fatty acid biosynthetic pathway and activating the mitochondrial apoptosis pathway. In addition, ART also regulates several proteins that are involved in NF-κB pathway, and our subsequent assays showed that ART suppresses the NF-κB pathway. These proteomic findings will contribute to improving our understanding of the underlying molecular mechanisms of ART for its therapeutic cytotoxic effect towards cancer cells.
Keywords:
artesunate; fatty acid biosynthesis; HCT116; mitochondrial apoptosis; NF-κB pathway; proteomic analysis
4. Materials and Methods
4.1. Materials
HCT116 human colon carcinoma cells were obtained from the American Type Culture Collection (CCL-247). Artesunate is purchased from Sigma Aldrich (A3731, St. Louis, MO, USA). Antibodies for western blotting are purchased from Cell Signaling Technology (Danvers, MA, USA) and Abcam (Cambridge, UK): BCS1 (Abcam; ab102808), UBP1 (Abcam; ab30965), PDXK.1 (Abcam; ab119051), AOC2 (Abcam; ab83734), CDK11 (CST; 5524), Actin (CST; 3700), ACSL5 (Abcam; ab57210), HADH (Abcam; ab54477), FASN (CST; 3180), NDA (Abcam; ab81212), COX (Abcam; ab110267), Cyt-c (CST; 11940), TIM50 (Abcam; ab23938), Bax (CST; 5023), Bcl-2 (CST; 15071), AIF (Abcam; ab32516), Cleaved PARP (CST; 5625), Caspase 9 (CST; 9502), NF-κB p105 (CST; 12540), PP2Aα (CST; 2041), PP2Aβ (CST; 4953), USP15 (Abcam; ab56900), IκB (CST; 9247), p-p65 (CST; 3033), p65 (CST; 8242).
4.2. Crystal Violet Assay
HCT116 cells were cultured in 96-well plate for 24 h before exposure to varying concentrations of ART or ethanol. Medium was removed after incubation of ART and ethanol for different time spans. The cells were washed twice with phosphate-buffered saline (PBS), followed by crystal violet staining for 15 min. The cells were washed again and the plate was air dried. 1% SDS was used to solubilize the cells for 30 min and the absorbance was measured at 550 nm with a microplate reader.
4.3. Sample Preparation for iTRAQ Proteomic Approach
HCT116 cells were cultured and treated with vehicle (dimethyl sulfoxide DMSO) or 15 µM ART as reported previously for 24 h. After treatment, the cells were harvested and lysed with lysis buffer containing 0.5 M triethylammonium bicarbonate (TEAB) and 1% sodium dodecyl sulfate (SDS). Subsequently, the cell lysates were centrifuged at 14,500 rpm at room temperature for 1 h. The supernatants were collected as samples for iTRAQ labelling and stored at −80 °C until use.
4.4. iTRAQ Labelling
iTRAQ labelling of each sample was carried out according to the manufacturer's protocol (Applied Biosystems, Foster City, CA, USA). Briefly, 100 µg of proteins from the respective cell lysates were incubated with tris-(2-carboxyethyl) phosphine (TCEP) and methyl methane-thiosulfonate (MMTS). After cysteine blocking, the samples were diluted 20 times and trypsinized at 37 °C for 16 h. The digested peptides were then incubated with respective iTRAQ reagent at room temperature for 2 h to be labeled. After incubation, all iTRAQ-labelled samples were pooled together into a single fresh tube. Strong cation exchange (SCX) chromatography was subsequently performed to remove any interfering substances. The eluate obtained from SCX was further desalted by using Sep-Pak C18 cartridges, followed by vacuum drying and reconstitution with 5 mM KH2PO4, 5% acetonitrile for 1D LC-MS/MS analysis.
4.5. 1D LC-MS/MS Analysis
Eksigent NanoLC-Ultra system coupled with cHiPLC-Nanoflex system was applied to separate peptides labelled with different iTRAQ reagents. Peptides were separated by a gradient formed by mobile phase A (2% ACN, 0.1% FA) and mobile phase B (98% ACN, 2% H20, and 0.05% FA) from 12–40% of mobile phase B in 90 min, at a flow rate of 300 nL/min. The MS analysis was conducted on a TripleTOF 5600 analyzer (AB SCIEX, Foster City, CA, USA). The MS spectra were collected across the mass range of 350–1250
m
/
z
, using 250 ms accumulation time per spectrum. For each mass-spectrometry spectrum, a maximum of 20 precursors with a charge state between 2 and 4 were chosen for fragmentation. Also, the signals were accumulated for 100 ms per spectrum and dynamic exclusion time was set at 15 s. MS/MS spectra were measured in high sensitivity mode.
4.6. Peptide and Protein Identification, Data Analysis
ProteinPilot Software (4.5, AB SCIEX, Foster City, CA, USA) was applied to quantify and identify peptides. A randomized database generated by the Proteomics System Performance Evaluation Pipeline (PSPEP) was used to estimate the false discovery rate (FDR).
In this work, two biological replicates of control- and ART-treated samples were analyzed. Student's
t
test was conducted and the
p
-values of each protein based on the iTRAQ ratio indicates the significance of differentially expressed protein. Only proteins with
p
-value < 0.05 (significantly different) were selected for further analysis. Subsequently, the significant cutoff thresholds used to determine up-regulated proteins and down-regulated proteins were 1.3 and 0.77, respectively. Therefore, identified proteins with an average iTRAQ ratio larger than 1.3 were considered as up-regulated proteins, while proteins that possess an average iTRAQ ratio smaller than 0.77 were considered as down-regulated proteins.
4.7. Western Blotting Assay
Proteins were extracted from cell lysate. 10% SDS-PAGE was applied to separate the proteins according to their molecule weight. After SDS-PAGE, proteins were transferred to a nitrocellulose membrane (Millipore, Billerica, MA, USA). Then the membrane was blocked with 5% milk, and followed by incubation with respective primary antibody and secondary antibody. ECL detection reagent (Thermo Scientific, Rockford, IL, USA) was employed to detect the proteins.
4.8. GC/MS Analysis for Fatty Acid Content
Samples were prepared according to published studies [
85
,
86
]. Cell lysate was dried in nitrogen atmosphere, and fatty acid within the lysate was transesterificated. Then, the fatty acid methyl esters were analyzed with GC/MS. The average content of fatty acids was calculated by multiplying the number of double bonds in fatty acids by the percentage of those compounds and dividing by 100.
4.9. ROS Content Analysis
HCT116 cells were treated with ART for 12 h and subsequently stained with DCFH-DA. Flow cytometry was applied to quantify the fluorescence signals [
87
].
4.10. Statistical Analysis
GraphPad prism (5.0, GraphPad Software, La Jolla, CA, USA) was used for statistical analysis. Data was summarized as mean ± SEM. One way ANOVA was used to determine the significant differences between groups. Results were considered to be significant for
p
-values of <0.05.
5. Conclusions
In conclusion, based on the cell-based study, we have first shown the cytotoxicity of ART on HCT116 cells. Next, in an effort to elucidate the molecular mechanisms of ART, the present study offers comprehensive proteomic profile of untreated and ART-treated HCT116 cancer samples by using an iTRAQ technique coupled with LC-MS/MS. In our study, we have characterized the anticancer effect of ART by exploring the functional categorization of differentially expressed proteins upon ART treatment. First, ART achieves its therapeutic anticancer effect by partially regulating the fatty acid biosynthetic pathway. In addition, ART evidently augments the production of ROS and activates the mitochondrial apoptosis pathway. Lastly, inhibition of aberrant NF-κB signaling upon ART treatment has been postulated from the definite biological functions of the respective altered candidates. Therefore, we proposed that several cellular perturbations occur in response to ART cytotoxicity, including the dysregulation of fatty acid biogenesis, ROS production, and mitochondrial apoptosis pathway activation, as well as modulation of the NF-κB pro-survival pathway. This study reinforces the current understanding of the anticancer activity of ART and could provide valuable insights to identifying potential molecular targets from those perturbed pathways, thus contributing to the development of ART as an effective antitumor agent for human cancer therapy.
Supplementary Materials
The following are available online. Figure S1: General workflow of iTRAQ coupled with LC-MS/MS, Table S1: up-regulated proteins list, Table S2: down-regulated proteins list.
Acknowledgments
This study was financially funded by the project of the National Natural Science Foundation of China (81630092, 8142109), National Key Research Project (2016YFC0902700, 2014CB744501).
Author Contributions
X.C., J.W. and Z.H. conceived and designed the experiments; X.C. performed the experiments; Y.K.W. and T.K.L. assisted with cell viability assay; W.H.L. assisted with GC/MS analysis; J.W., Q.L. and X.C. analyzed the data; Z.H. contributed analysis tools; X.C. wrote the paper.
Conflicts of Interest
The authors declare no conflict of interest.
Sample Availability: Samples of the compounds used in this study are not available from the authors.

Figure 1. (a) HCT116 cell viability after treatment of different concentrations of artesunate (ART) for 24 h; (b) HCT116 cell viability after treatment with 2.2 μM ART for different span of time from 0 to 48 h.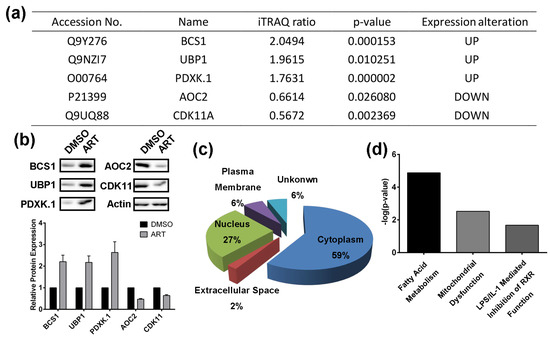 Figure 2. (a) Representative proteins modulated by ART in HCT116 cells; (b) Western-blotting validation of the selected ART-modulated proteins; (c) Ingenuity Pathway analysis of cellular localization of the ART-modulated proteins; (d) Top altered toxicity pathways regulated by ART in HCT116 cells.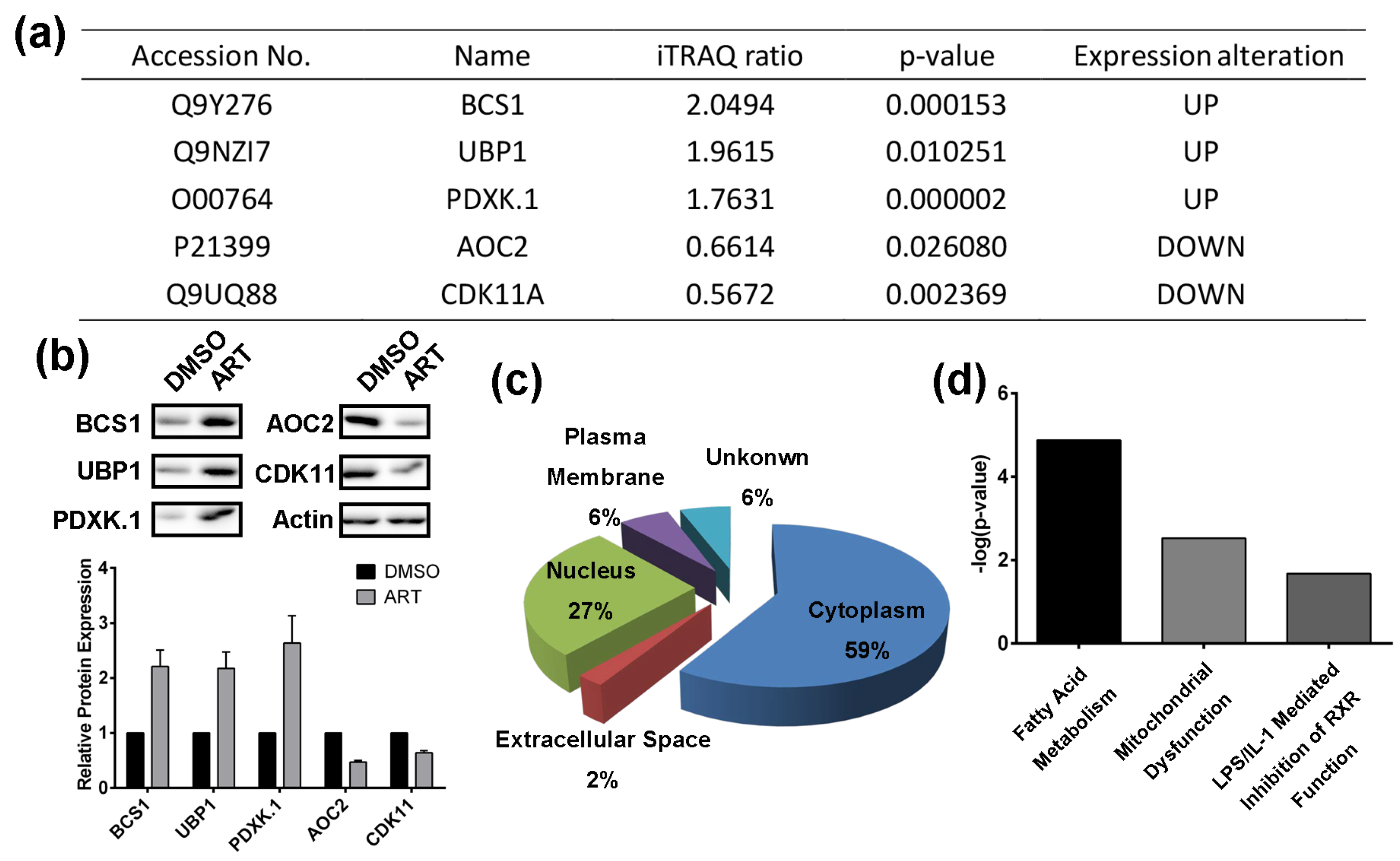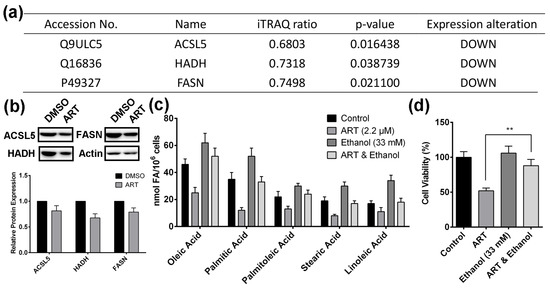 Figure 3.
(
a
) Fatty acid biosynthesis-related proteins down-regulated by ART in HCT116 cells; (
b
) Western-blotting validation of fatty acid biosynthesis related proteins; (
c
) Fatty acid content alteration in HCT116 cells with ART treatment; (
d
) The effect of ethanol on ART-treated HCT116 cell viability; (**
p
< 0.01).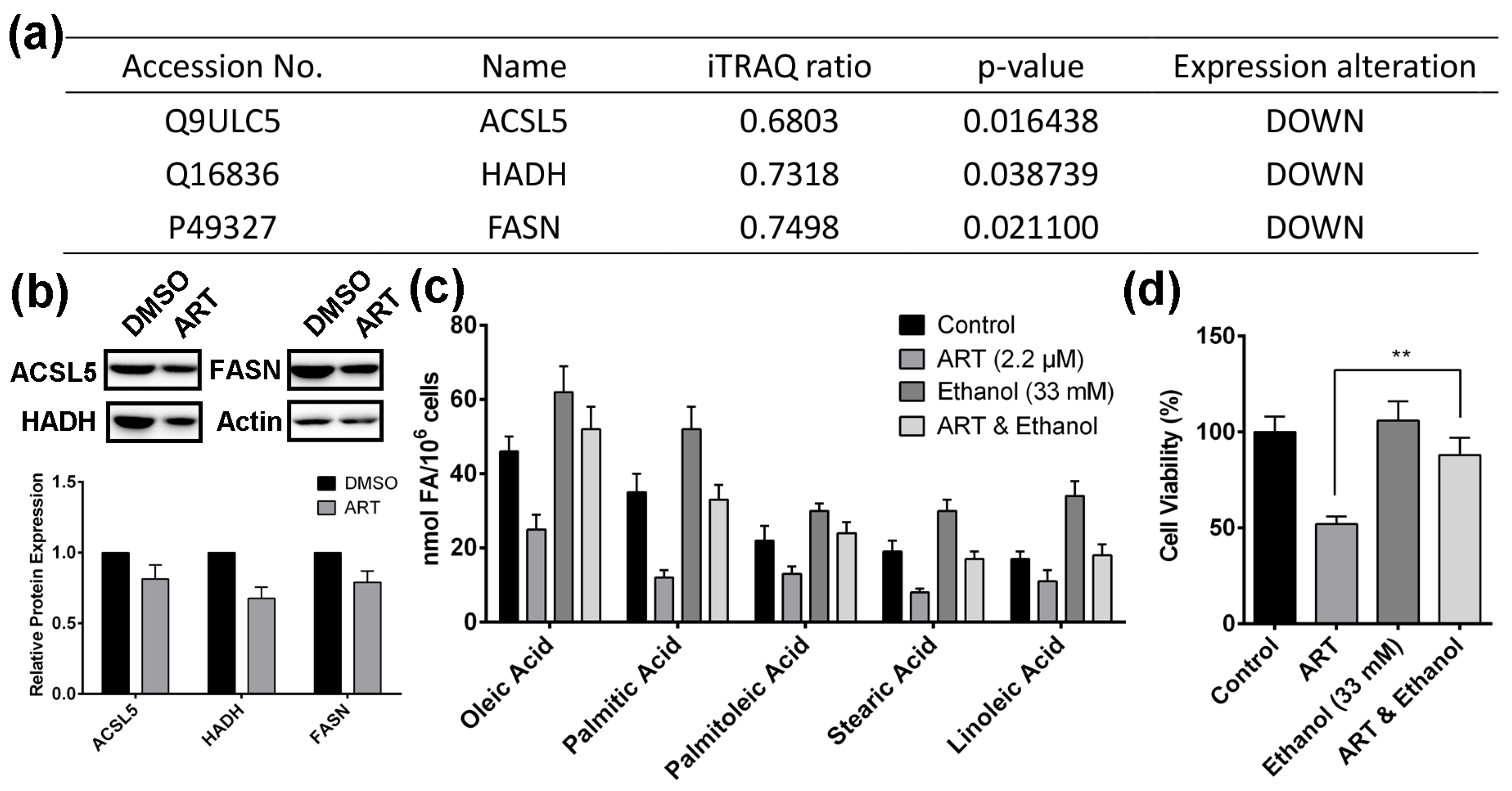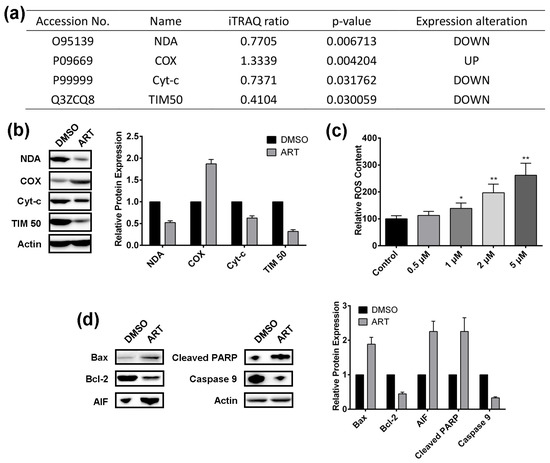 Figure 4.
(
a
) ART modulated proteins involved in mitochondrial dysfunction in HCT116 cells; (
b
) Western-blotting validation of proteins involved in mitochondrial dysfunction; (
c
) The effect of different concentrations of ART on reactive oxygen species (ROS) content in HCT116 cells; (
d
) The effect of ART on the expression of key signaling molecules of the mitochondrial death pathway; (*
p
< 0.05; **
p
< 0.01).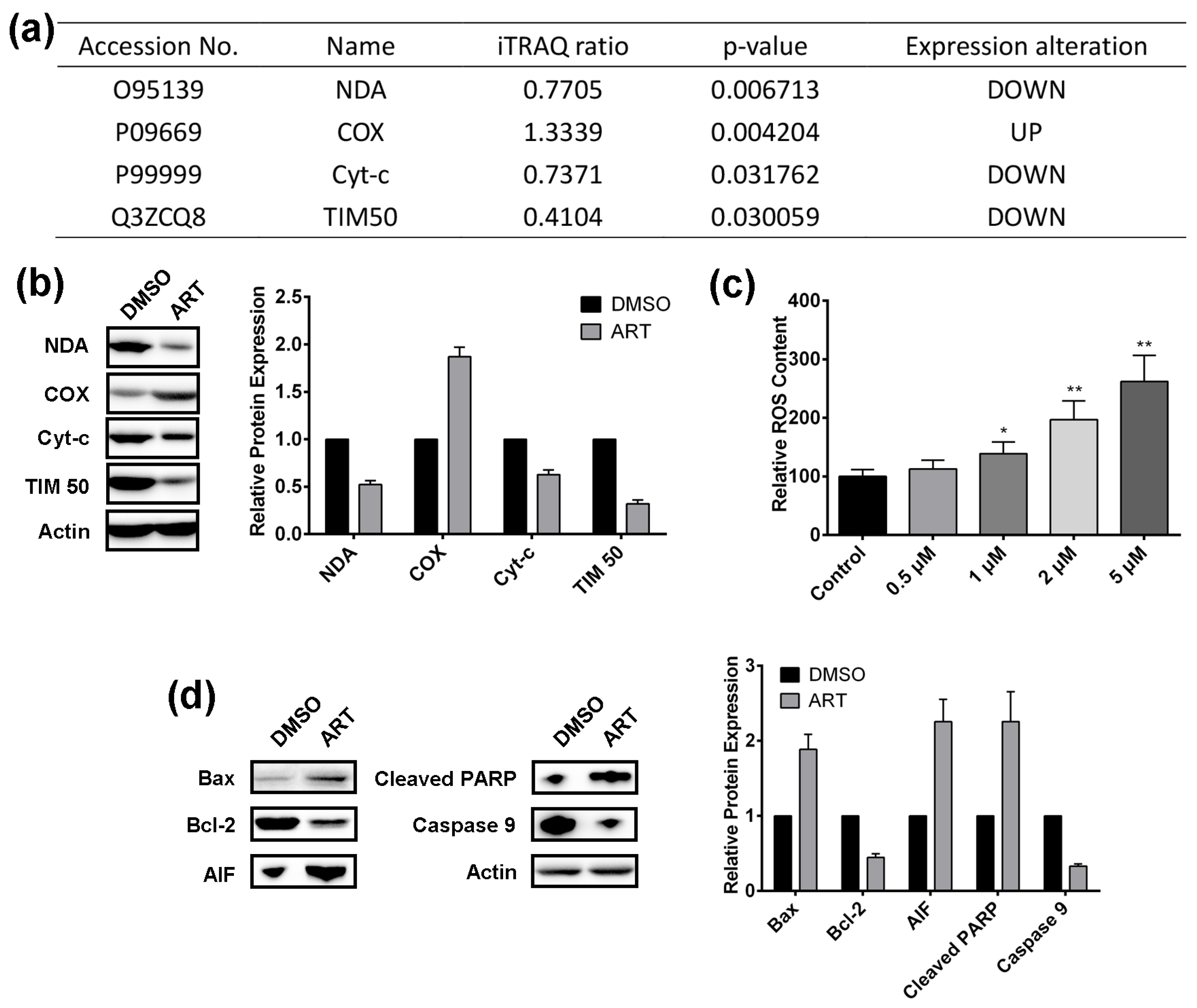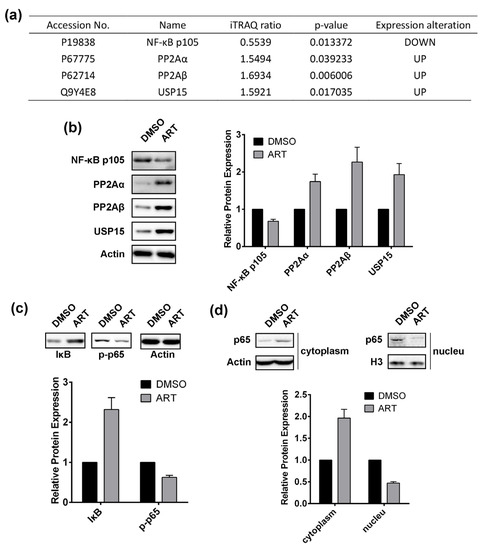 Figure 5. (a) ART-modulated proteins involved in NF-κB pathway in HCT116 cells; (b) Western-blotting validation of proteins involved in NF-κB pathway; (c) Effect of ART on the expression of IκB and phosphorylated NF-κB p65 subunit; (d) Abundance alteration of NF-κB p65 subunit in cytoplasm and nucleus of HCT116 cells with or without ART treatment.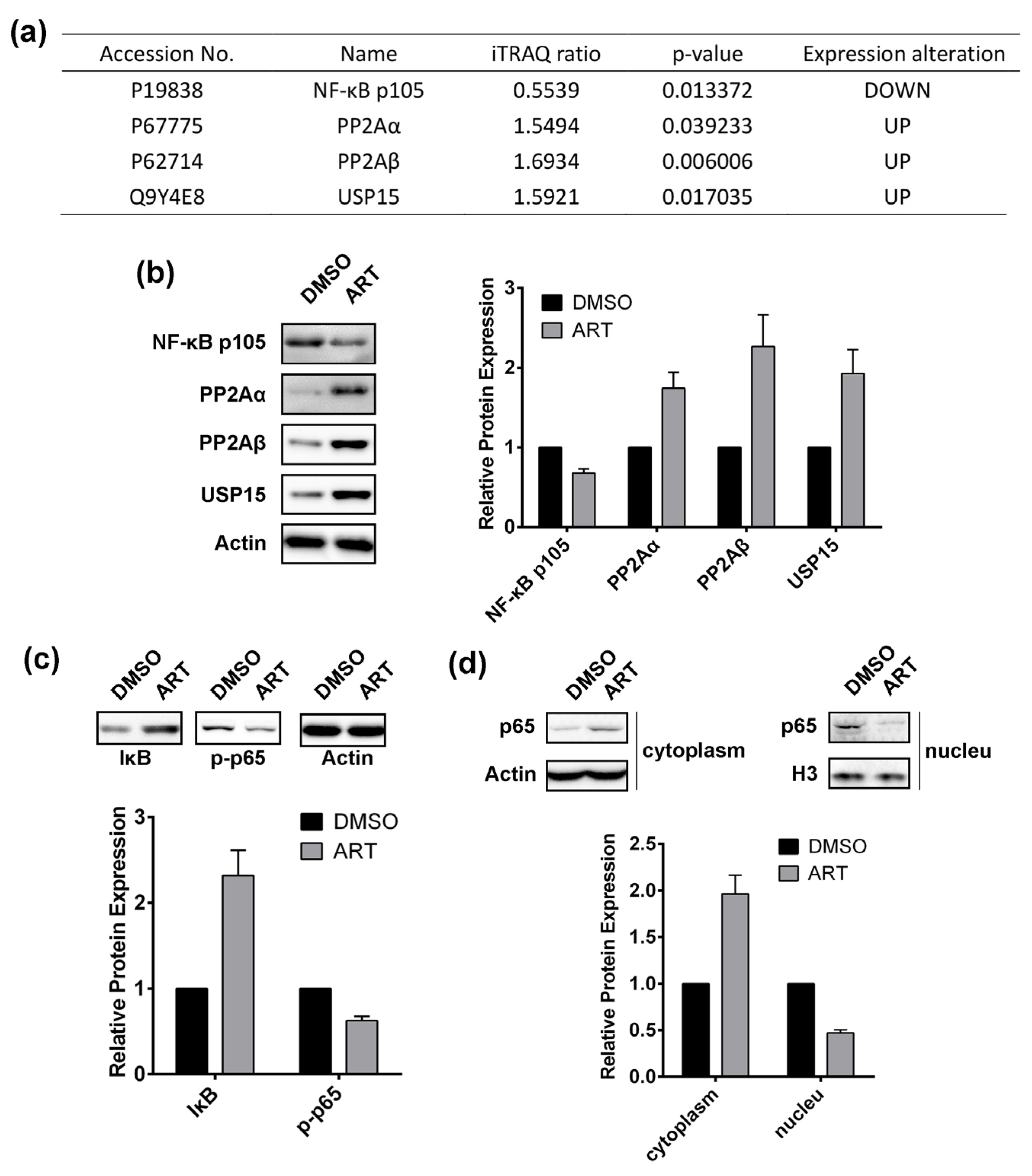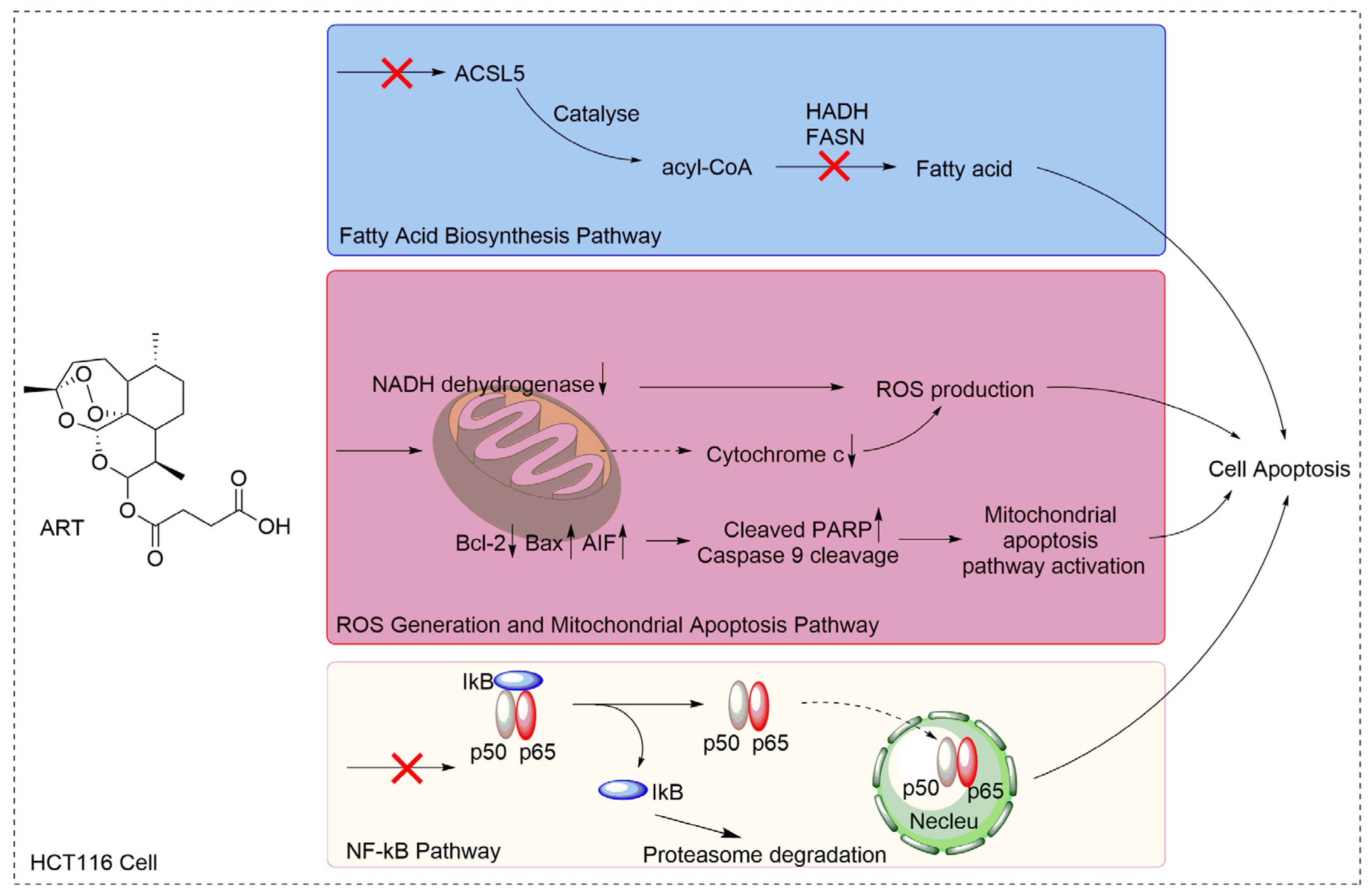 © 2017 by the authors. Licensee MDPI, Basel, Switzerland. This article is an open access article distributed under the terms and conditions of the Creative Commons Attribution (CC BY) license (http://creativecommons.org/licenses/by/4.0/).