Comprehensive Theoretical Studies on the Reaction of 1-Bromo-3,3,3-trifluoropropene with OH Free Radicals
1
School of Biomedical Engineering, Tianjin Medical University, Tianjin 300070, China
2
College of Basic Medical Sciences, Tianjin Medical University, Tianjin 300070, China
3
Hefei National Laboratory of Physical Sciences at the Microscale, University of Science and Technology of China, Hefei 230026, Anhui, China
4
Department of Theoretical Chemistry and Biology, School of Biotechnology, Royal Institute of Technology, Stockholm SE-10691, Sweden
5
School of Science, Anhui Agricultural University, Hefei 230036, Anhui, China
*
Author to whom correspondence should be addressed.
Received: 16 May 2013 / Revised: 18 June 2013 / Accepted: 20 June 2013 / Published: 4 July 2013
Abstract
The potential energy surfaces (PES) for the reaction of 1-bromo-3,3,3-trifluoropropene (CF
3
CHCBrH) with hydroxyl (OH) free radicals is probed theoretically at the CCSD/aug-cc-pVDZ//B3LYP/6-311++G(d,p) level of theory. All the possible stationary and first-order saddle points along the reaction paths were verified by the vibrational analysis. The calculations account for all the product channels. Based on the calculated CCSD/aug-cc-pVDZ potential energy surface, the possible reaction mechanism is discussed. Six distinct reaction pathways of 1-bromo-3,3,3-trifluoropropene (BTP) with OH are investigated. The geometries, reaction enthalpies and energy barriers are determined. Canonical transition-state theory with Wigner tunneling correction was used to predict the rate constants for the temperature range of 290–3,000 K without any artificial adjustment, and the computed rate constants for elementary channels can be accurately fitted with three-parameter Arrhenius expressions. OH addition reaction channel and the H atom abstraction channels related to the carbon-carbon double bond are found to be the main reaction channels for the reaction of 1-bromo-3,3,3-trifluoropropene (CF
3
CHCBrH) with hydroxyl (OH) free radicals while the products leading to CF
3
CHCH + BrOH and COHF
2
CHCBrH + F play a negligible role.
View Full-Text
►

▼

Figures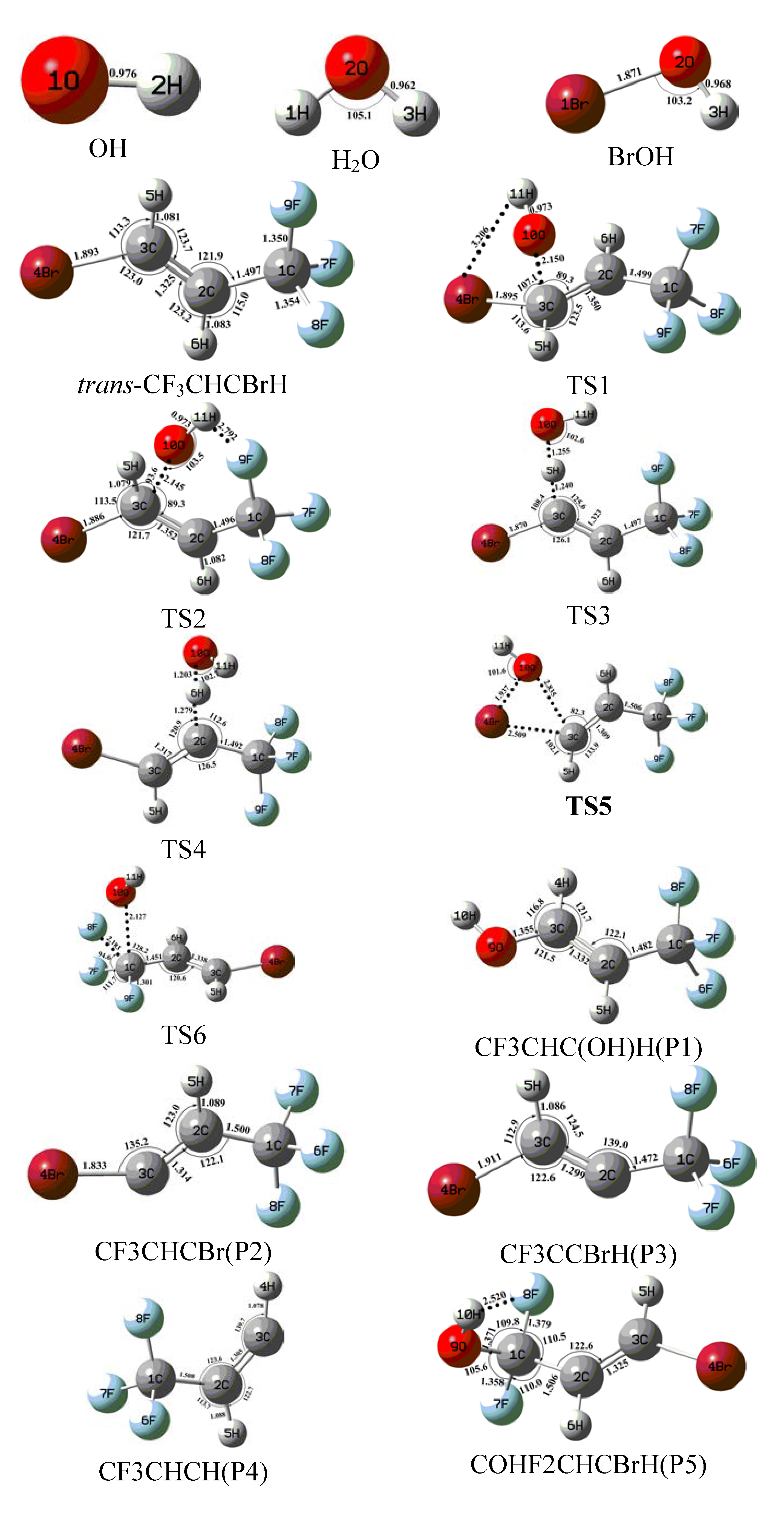 Figure 1
Scifeed alert for new publications
Never miss any articles
matching your research
from any publisher
Get alerts for new papers matching your research
Find out the new papers from selected authors
Updated daily for 49'000+ journals and 6000+ publishers
Share & Cite This Article
MDPI and ACS Style
Zhang, M.; Song, C.; Tian, Y. Comprehensive Theoretical Studies on the Reaction of 1-Bromo-3,3,3-trifluoropropene with OH Free Radicals. Molecules 2013, 18, 7873-7885.
Related Articles
Comments
[Return to top]