Blog 25
These 25 years represent a quarter of a century of successful publication.
Open Access Workshop at Oxford Brookes University – a Recap from IOAP Director, Oliver Hill
Insight Faster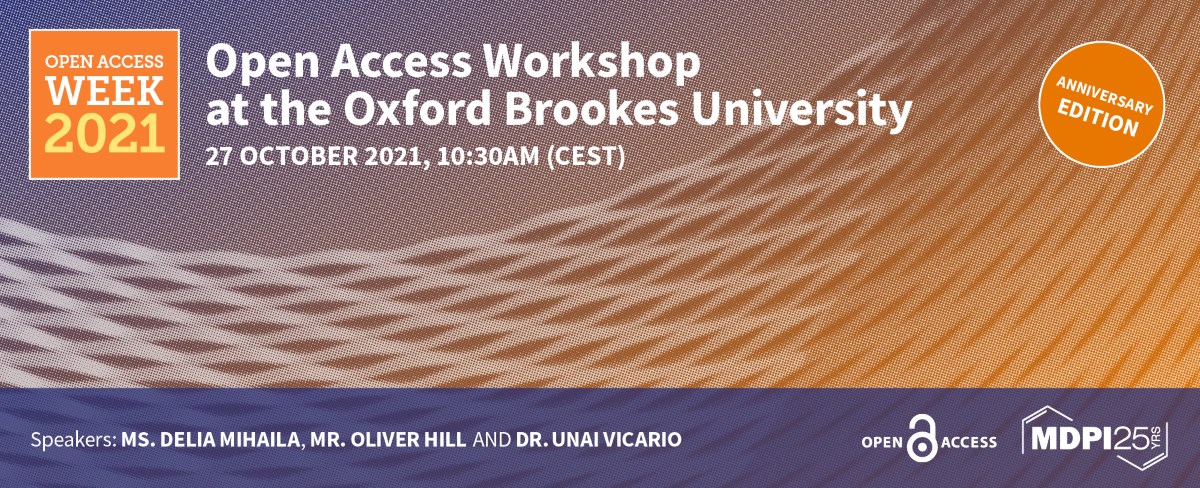 Open Access Workshop at Oxford Brookes University – a Recap from IOAP Director, Oliver Hill
22 November 2021 | by Oliver Hill
Last month, I was fortunate enough to return to Oxford Brookes University (albeit virtually!) as a part of MDPI's 25th anniversary. With the anniversary representing a significant milestone in MDPI's history, we knew we wanted to do something a little bit different, something that we hadn't necessarily done before- partly as a means of celebrating 25 years of leading the sector in pure open access publishing, but also as a means of acknowledging MDPI's position within the scholarly publishing environment as one of responsibility. In what started as a simple suggestion via email back towards the tail end of 2020, and subsequently led to a glut of online meetings, discussions and brainstorming sessions, ultimately culminated in a two-part workshop open to both students and faculty from the Oxford International Centre for Publishing, one of the world's leading institutes for media education and Oxford Brookes University (https://oaworkshop.sciforum.net/).
The first session, which I was thrilled to be able to run, provided what I dubbed as an "introductory crash course" in all things open access, ranging from the history and origins of the model itself, through to the current state of play in 2021, detailing the numerous different flavours of open access and how it ties in to active and proposed national and international policy. As a former student of the Master of Arts in Publishing program, I couldn't quite stop myself from reflecting on how just 3 years ago, I would have been on the other end of the scale and attending such workshops and events myself, only to now be running these sessions with years of experience under my belt and answering the questions I could potentially have asked previously myself. This strange sense of déjà vu aside, it was my pleasure to be a part of the planning team and subsequently run the first part of the workshop. I am really looking forward to running similar events in the future should the opportunity arise.
Following a quick pit stop for coffee, my colleague Dr. Unai Vicario, who is based in MDPI's Barcelona office, then led attendees through a second presentation, this time detailing the various different initiatives we are working on and developing here at MDPI, such as Preprints, MDPI's own preprints platform, and SciForum, our webinar and conference hosting platform. Whilst MDPI has published hundreds of thousands of manuscripts and bodies of research as open access, we don't want to stop there. We want to invest in the future through these initiatives so as to not only support our authors and researchers, but also give back to the wider scientific and research communities out there from around the world, whose work and research we are honoured to publish online and make available as open access across our portfolio of journals.
MDPI CEO, and former Oxford Brookes University alumni, Delia Mihaila was also available to engage directly with attending students and faculty, answering many of their questions and expanding further upon what MDPI is doing as a leader in the sector on a day-to-day basis. Delia, who delivered the opening to the mornings workshop sessions, was equally as thrilled to be "back" at Brookes, noting how she felt her experience studying a Masters there changed her life, and how it was particularly rewarding to be able to give back through these valuable educational sessions.
Angus Phillips, head of the Oxford International Centre for Publishing, echoed these thoughts, saying that the great sessions were a real benefit, particularly to the students who attended. A number of students, when asked to comment on the morning's sessions, said that they appreciated the workshop sessions as they weren't all too familiar with open access, and were grateful for the jargon busting employed during the presentations, particularly when discussing the different flavours of open access and some of the key concepts of open science as a whole.
Overall, I can safely say the morning was a great success, and something I am proud to have been involved with from the very beginning. I really hope that these kinds of sessions can become something of a regular occurrence as a part of the developing partnership between MDPI and Oxford Brookes University.