Special Issue "Pneumoviruses and Metapneumoviruses"
A special issue of Viruses (ISSN 1999-4915).
Deadline for manuscript submissions: closed (31 October 2012)
Special Issue Editors
Print Edition available!
A Print Edition of this Special Issue is available
here
.
Hardcover: 47.50 CHF*
Pages:
8
, 318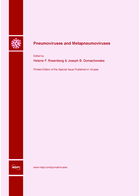 *For contributing authors or bulk orders special prices may apply.
Prices include shipping.
No papers have been published in this special issue yet, see below for
planned papers
.
Planned Papers
The below list represents only planned manuscripts. Some of these manuscripts have not been received by the Editorial Office yet. Papers submitted to MDPI journals are subject to peer-review.