Special Issue "Pneumoviruses and Metapneumoviruses"
A special issue of Viruses (ISSN 1999-4915).
Deadline for manuscript submissions: closed (31 October 2012)
Special Issue Editors
Guest Editor
Dr. Joseph B. Domachowske
Professor of Pediatrics, Microbiology and Immunology, Upstate Medical University, 5400 Upstate University Hospital, 750 East Adams Street, Syracuse, NY 13210, USA
Website:
http://www.upstate.edu/microb/faculty.php?empID=domachoj
Interests:
Pneumovirus pathogenesis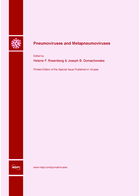 No papers have been published in this special issue yet, see below for
planned papers
.
Planned Papers
The below list represents only planned manuscripts. Some of these manuscripts have not been received by the Editorial Office yet. Papers submitted to MDPI journals are subject to peer-review.
Last update: 5 March 2014