22 March–5 April 2018
2nd International Electronic Conference on Remote Sensing (ECRS-2)
online
Dear colleagues,
We are very pleased to announce that the 2nd International Electronic Conference on Remote Sensing (ECRS-2) will be held online between 22 March and 5 April 2018.
Today, remote sensing is already recognised as an important tool for monitoring our planet and assessing the state of our environment. By providing a wealth of information that is used to make sound decisions on key issues for humanity such as climate change, natural resource monitoring and disaster management, it changes our world and affects the way we think.
Nevertheless, it is very inspirational that we continue to witness a constant growth of amazing new applications, products and services in different fields (e.g. archaeology, agriculture, forestry, environment, climate change, natural and anthropogenic hazards, weather, geology, biodiversity, coasts and oceans, topographic mapping, national security, humanitarian aid) which are based on the use of satellite and other remote sensing data. This growth can be attributed to the following: large number (larger than ever before) of available platforms for data acquisition, new sensors with improved characteristics, progress in computer technology (hardware, software), advanced data analysis techniques, and access to huge volumes of free and commercial remote sensing data and related products.
Following the success of the 1st International Electronic Conference on Remote Sensing (http://sciforum.net/conference/ecrs-1), ECRS-2 aims to cover all recent advances and developments related to this exciting and rapidly changing field, including innovative applications and uses.
We are confident that participants of this unique multidisciplinary event will have the opportunity to get involved in discussions on theoretical and applied aspects of remote sensing that will contribute to shaping the future of this discipline.
ECRS-2 (http://sciforum.net/conference/ecrs-2) is hosted on sciforum, the platform developed by MDPI for organising electronic conferences and discussion groups, and is sponsored by MDPI and the Remote Sensing open access Journal.
It should be noted that there is no cost for active participation and attendance of this virtual conference. Experts from different parts of the world are encouraged to submit their work and take the exceptional opportunity to present it to the remote sensing community.
Contributions to ECRS-2 should be submitted in one of the following sections:
• New Platforms and Sensors
• Big Data Handling
• New Image Analysis Approaches
• Applications
• Product Validation
• Operational Applications and Services
• Recent Trends in UAV Remote Sensing
• Posters
Accepted papers will be published in the ECRS-2 proceedings at no-cost, while full-versions of selected papers will be considered for publication in the Remote Sensing journal (http://www.mdpi.com/journal/remotesensing) at a discounted fee (20% off the APC).
We hope that remote sensing experts from all over the world will share our enthusiasm and benefit from participation at this second ECRS!
Best regards,
Ioannis Gitas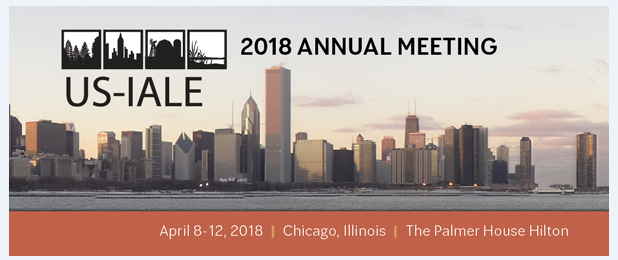 8–12 April 2018
US-IALE 2018 Annual Meeting
Chicago, Illinois, USA
The meeting will bring together leaders in landscape ecology who are dedicated to preserving and protecting our natural resources, including educators and practitioners in the fields of geology, ecology, biology, geography, urban and regional planning, and landscape preservation and design. Highlights will include in-depth, hands-on workshops, thought-provoking plenary sessions, special symposia and contributed papers, oral presentations and posters, scientific excursions, and numerous social and networking opportunities.

25–28 September 2018
New Frontiers in Forecasting Forests 2018
Stellenbosch, South Africa
With support from IUFRO Division 4 (Forest Assessment, Modelling and Management), particularly 4.01.00, 4.03.00 & 4.04.02 and Division 5, particularly Working Group 5.01.04 (Wood Quality Modelling), the Department of Forest and Wood Science at the University of Stellenbosch is proud to host an international conference on future-focussed forest modelling: New Frontiers in Forecasting Forests 2018.
This meeting will be an international conference to
benchmark the state-of-the-art,
identify emerging frontiers and
explore new innovations and technologies
in models predicting future forest growth, yield and wood properties.
An important objective of the meeting is to explore and discuss how new frontiers in forest modelling research can be implemented to empower decision makers and deliver impact, particularly in the context of changing international climate and market conditions.
The scientific committee identified the following key themes for the conference:
Understanding and evaluating uncertainties in models predicting future growth, yield and wood properties
The nexus between models of tree growth, wood formation and product properties
Model application, integration and accessibility for forest management, planning and product development
The cutting edge in process-based and statistical approaches: how we will model future forest attributes in the 3rd millennium
Leveraging big data and high technology in forest models