Open Access
Article
The Evidence of Decisive Effect of Both Surface Microstructure and Speciation of Chalcopyrite on Attachment Behaviors of Extreme Thermoacidophile Sulfolobus metallicus
Received: 25 January 2018 / Revised: 4 April 2018 / Accepted: 9 April 2018 / Published: 13 April 2018
PDF Full-text (14367 KB) | HTML Full-text | XML Full-text
Abstract
The effect of the surface microstructure and chemical speciation of chalcopyrite on the attachment behaviors of thermoacidophilic archaeon Sulfolobus metallicus was evaluated for the first time by using integrated techniques including epifluorescence microscopy (EFM) and sulfur K-edge X-ray absorption near edge structure (S
[...] Read more.
The effect of the surface microstructure and chemical speciation of chalcopyrite on the attachment behaviors of thermoacidophilic archaeon
Sulfolobus metallicus
was evaluated for the first time by using integrated techniques including epifluorescence microscopy (EFM) and sulfur K-edge X-ray absorption near edge structure (S K-edge XANES) spectroscopy, as well as scanning electron microscopy with energy dispersive spectrometry (SEM/EDS) and Fourier transform infrared (FT-IR) spectroscopy. In order to obtain the specific surface, the chalcopyrite slices were electrochemically oxidized at 0.87 V and reduced at −0.54 V, respectively. The EFM analysis showed that the quantity of cells attaching on the mineral surface increased with time, and the biofilm formed faster on the electrochemically treated slices than on the untreated ones. The SEM-EDS analysis indicated that the deficiency in energy substrate elemental sulfur (S
0
) in the specific microsize of local defect sites was disadvantageous to the initial attachment of cells. The XANES and FT-IR data suggested that the elemental sulfur (S
0
) could be in favor of initial attachment, and surface jarosites inhibited the adsorption and growth of
S. metallicus
. These results demonstrated that not only the surface microstructure but also the chemical speciation defined the initial attachment behaviors and biofilm growth of the extreme thermophilic archaeon
S. metallicus
.
Full article
►

▼

Figures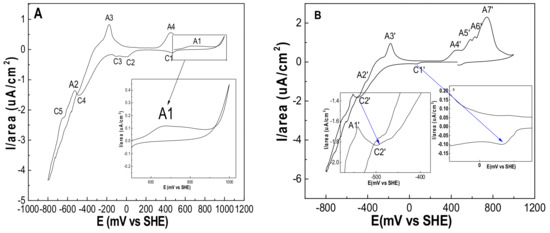 Figure 1