Effects of Cs2CO3 Additive in KOH Electrolyte Used in Ni/MH Batteries
1
Department of Chemical Engineering and Materials Science, Wayne State University, Detroit, MI 48202, USA
2
BASF/Battery Materials—Ovonic, 2983 Waterview Drive, Rochester Hills, MI 48309, USA
*
Author to whom correspondence should be addressed.
Received: 31 August 2017 / Revised: 22 November 2017 / Accepted: 24 November 2017 / Published: 18 December 2017
Abstract
The effects of Cs
2
CO
3
addition in a KOH-based electrolyte were investigated for applications in nickel/metal hydride batteries. Both MgNi-based and Laves phase-related body-centered cubic solid solution metal hydride alloys were tested as the anode active materials, and sintered
β
-Ni(OH)
2
was used as the cathode active material. Certain amounts of Cs
2
CO
3
additive in the KOH-based electrolyte improved the electrochemical performances compared with a conventional pure KOH electrolyte. For example, with Laves phase-related body-centered cubic alloys, the addition of Cs
2
CO
3
to the electrolyte improved cycle stability (for all three alloys) and discharge capacity (for the Al-containing alloys); moreover, in the 0.33 M Cs
2
CO
3
+ 6.44 M KOH electrolyte, the discharge capacity of Mg
52
Ni
39
Co
3
Mn
6
increased to 132%, degradation decreased to 87%, and high-rate dischargeability stayed the same compared with the conventional 6.77 M KOH electrolyte. The effects of Cs
2
CO
3
on the physical and chemical properties of Mg
52
Ni
39
Co
3
Mn
6
were characterized by Fourier transform infrared spectroscopy, X-ray diffraction, transmission electron microscopy, inductively coupled plasma, and electrochemical impedance spectroscopy. The results from these analyses concluded that Cs
2
CO
3
addition changed both the alloy surface and bulk composition. A fluffy layer containing carbon was found covering the metal particle surface after cycling in the Cs
2
CO
3
-containing electrolyte, and was considered to be the main cause of the reduction in capacity degradation during cycling. Also, the Cs
2
CO
3
additive promoted the formations of the C–O and C=O bonds on the alloy surface. The C–O and C=O bonds were believed to be active sites for proton transfer during the electrochemical process, with the C–O bond being the more effective of the two. Both bonds contributed to a higher surface catalytic ability. The addition of 0.33 M Cs
2
CO
3
was deemed optimal in this study.
View Full-Text
►

▼

Figures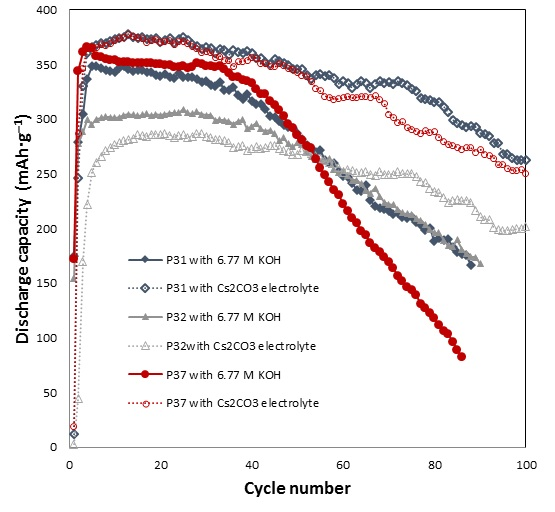 This is an open access article distributed under the
Creative Commons Attribution License
which permits unrestricted use, distribution, and reproduction in any medium, provided the original work is properly cited. (CC BY 4.0).
Share & Cite This Article
MDPI and ACS Style
Yan, S.; Nei, J.; Li, P.; Young, K.-H.; Ng, K.Y.S. Effects of Cs2CO3 Additive in KOH Electrolyte Used in Ni/MH Batteries. Batteries 2017, 3, 41.
Note that from the first issue of 2016, MDPI journals use article numbers instead of page numbers. See further details here.
Related Articles
Comments
[Return to top]