Development and Function of the Cardiac Conduction System in Health and Disease
Leon H. Charney Division of Cardiology, New York University School of Medicine, New York, NY 10016, USA
*
Author to whom correspondence should be addressed.
Academic Editor: Robert E. Poelmann
Received: 26 March 2017 / Revised: 31 May 2017 / Accepted: 1 June 2017 / Published: 7 June 2017
Abstract
The generation and propagation of the cardiac impulse is the central function of the cardiac conduction system (CCS). Impulse initiation occurs in nodal tissues that have high levels of automaticity, but slow conduction properties. Rapid impulse propagation is a feature of the ventricular conduction system, which is essential for synchronized contraction of the ventricular chambers. When functioning properly, the CCS produces ~2.4 billion heartbeats during a human lifetime and orchestrates the flow of cardiac impulses, designed to maximize cardiac output. Abnormal impulse initiation or propagation can result in brady- and tachy-arrhythmias, producing an array of symptoms, including syncope, heart failure or sudden cardiac death. Underlying the functional diversity of the CCS are gene regulatory networks that direct cell fate towards a nodal or a fast conduction gene program. In this review, we will discuss our current understanding of the transcriptional networks that dictate the components of the CCS, the growth factor-dependent signaling pathways that orchestrate some of these transcriptional hierarchies and the effect of aberrant transcription factor expression on mammalian conduction disease.
View Full-Text
►

▼

Figures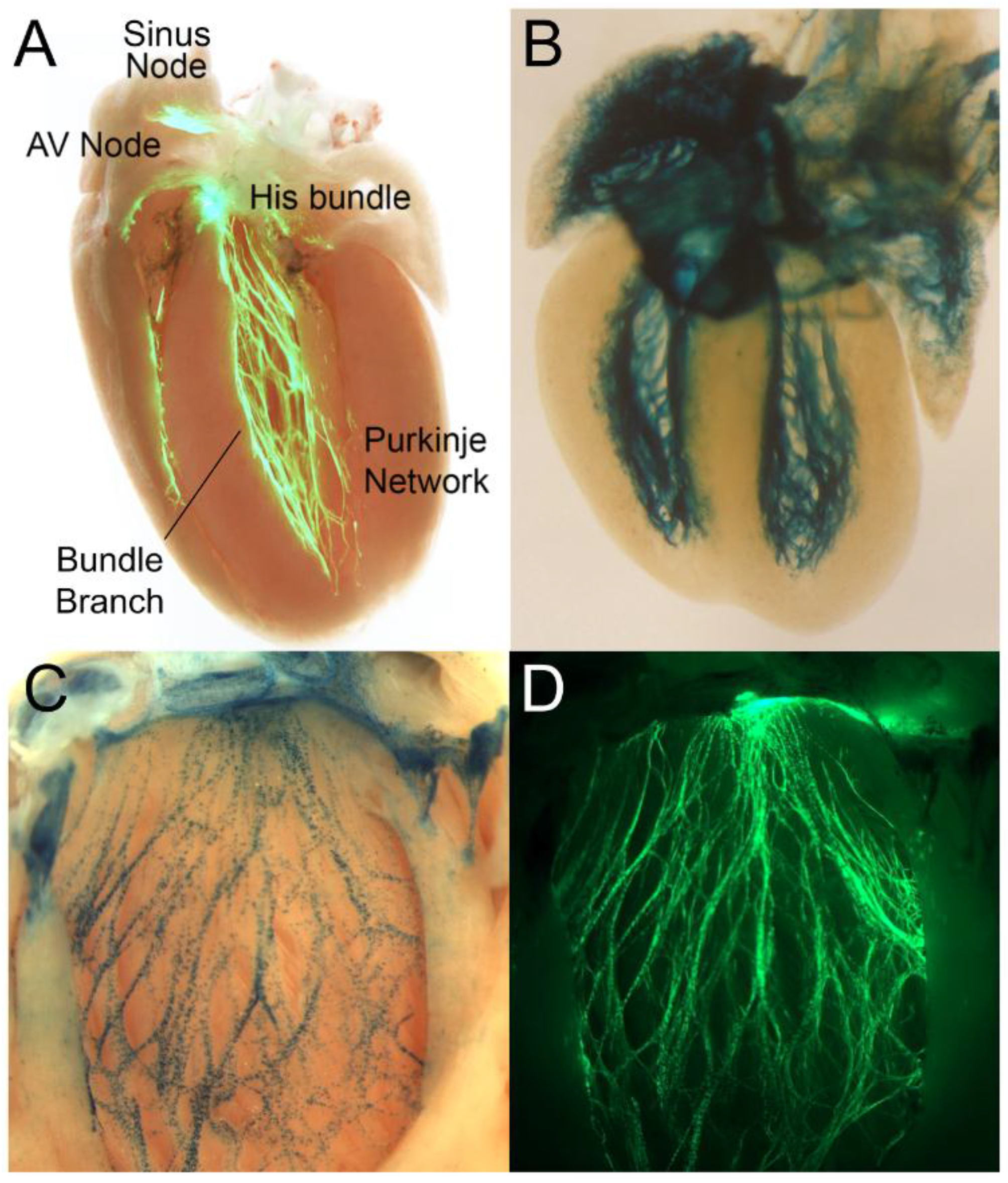 Figure 1
This is an open access article distributed under the
Creative Commons Attribution License
which permits unrestricted use, distribution, and reproduction in any medium, provided the original work is properly cited. (CC BY 4.0).
Share & Cite This Article
MDPI and ACS Style
Park, D.S.; Fishman, G.I. Development and Function of the Cardiac Conduction System in Health and Disease. J. Cardiovasc. Dev. Dis. 2017, 4, 7.
Note that from the first issue of 2016, MDPI journals use article numbers instead of page numbers. See further details here.
Related Articles
Comments
[Return to top]